Cake is a wonderful dessert for family or friends gathering. Here are two cakes recipes for you to enjoy.

Lemon Cake
If you like things that are sweet with a bit of a tang, the following low sugar cake recipe is the right one for you. It's also healthy because it provides daily servings of dairy and vitamin C without too much sugar.
1
Ingredients (makes enough cake to fill an 8 x 8 cake pan)
9 ounces of yellow cake mix

½ ounce of instant vanilla pudding mix (sugar free)

1 ½ ounces of instant lemon pudding mix

1 ¼ cup of water

2 egg whites (jumbo eggs)

¼ teaspoon of lemon extract

4 ounces of light frozen whipped topping (thawed).

1/3 cup of skim milk
2
Directions
1. Preheat the oven to 350 degrees Fahrenheit.
2. Spray the 8 x 8 inch cake pan with a non-stick spray.
3. Mix the cake and pudding mix into a large bowl, then pour in the water and egg whites. Beat on low for 1 minute, then high for 4 minutes until airy and light.
4. Pour batter into the 8 x 8 inch cake pan and bake for about 25 minutes. Cake will be done when a toothpick inserted into the center of the cake comes out clean.
5. Once the cake is done, remove the cake from the oven and allow it to cool until it reaches room temperature.
6. While the cake is cooling, mix milk, lemon extract and vanilla pudding mix together; then beat on low for 2 minutes.
7. Fold the whipped topping into the milk and lemon extract mix. Spread this topping over the lemon cake once it has cooled to room temperature.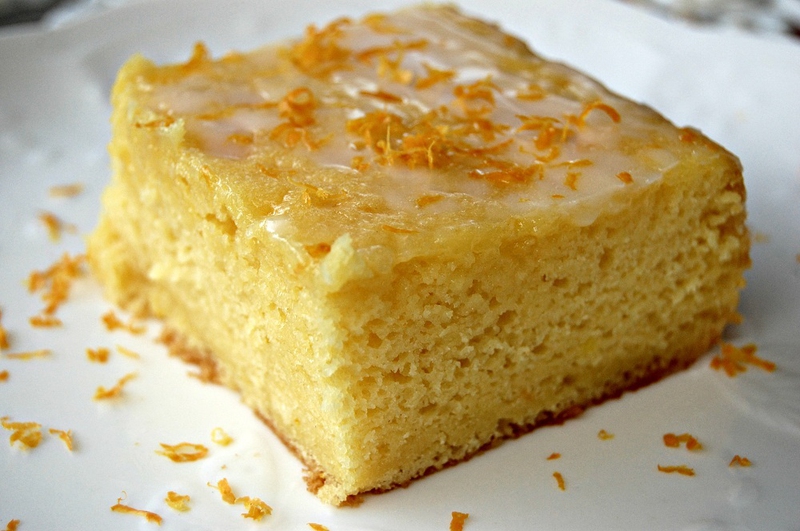 Chocolate Pecan Cheesecake
This recipe is great for anyone looking to get their chocolate or cheesecake fix, but do so in a healthy manner. It has less fat and sugar than most comparable recipes, but still tastes great.
1
Ingredients (makes about 8 servings)
3 tablespoons of bran cereal crumbs

½ teaspoon of instant coffee (optional)

3 egg whites and 2 egg yokes

1/3 cup of unsweetened cocoa powder

¼ teaspoon of cinnamon (ground)

1/3 cup of water

10 ounces of fat free cream cheese

2 ounces of reduced fat cream cheese

2 tablespoons of vanilla extract

½ cup of fat free ricotta cheese

½ cup of dark chocolate (shaved)

2 tablespoons of pecans (finely chopped)

2/3 cup of powdered sugar
2
Directions
1. Preheat the oven to 325 degrees Fahrenheit. Arrange an oven rack so that it is located in the bottom third of the oven.
2. Mix the bran cereal crumbs and ground cinnamon in a bowl.
3. Coat the entire insides of an 8 inch pan with cooking spray, then evenly drizzle the bran cereal and cinnamon mixture on the inside of the pan.
4. Mix the cocoa powder and water in a bowl. Mix in the instant coffee (if desired).
5. Mix both types of cream cheese and ricotta cheese into a bowl by using an electric mixer. Mix until the cheeses have blended and are smooth; then add the powdered sugar until fully mixed.
6. Add and mix the 3 egg whites and 2 yolks slowly into the cheese mixture.
7. Add vanilla extract, cocoa and water mixture into the cheese mixture. Make sure all the ingredients are fully mixed.
8. Pour the completed mixture into the pan and bake for about 33 minutes. The cheesecake will be done when the center wiggles slightly, but the edges are firm and set.
9. Sprinkle the chocolate shavings and pecans over the cheesecake, then return to the oven for a few minutes, until the chocolate shavings have melted.
10. Remove the cheesecake from the oven and allow it to cool on a wire rack before serving.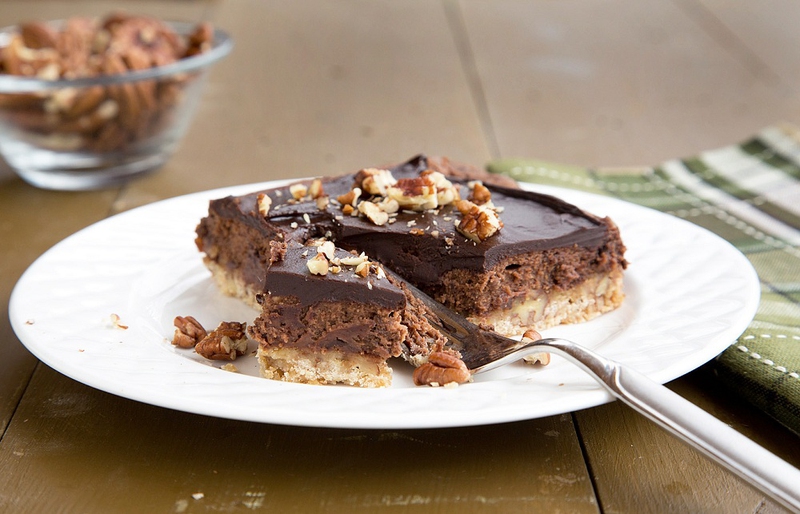 ANY IDEAS ABOUT THIS TOPIC?