Crispy French fries are a first choice for many! No one can resist crispy and fluffy French fries. Most importantly, the crispy nature of French fries has been the overriding factor while choosing French fries. If you like them, surely you would like to know about how to make crispy French fries.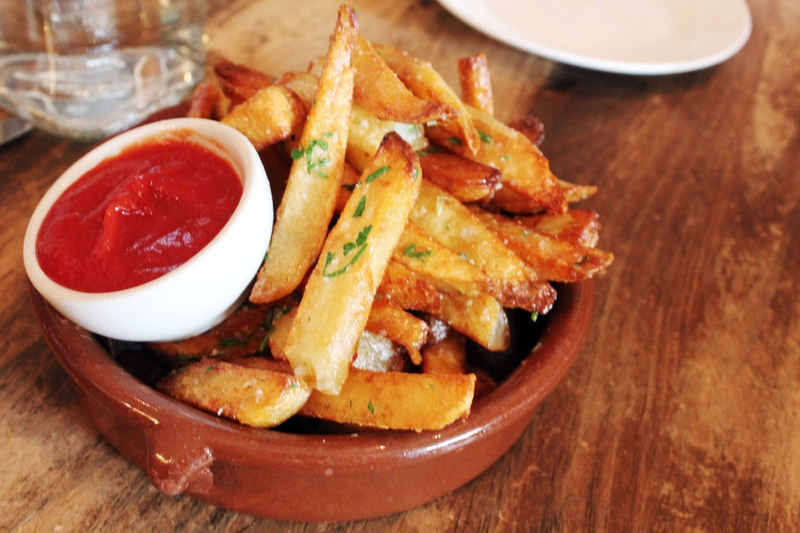 How to Make Crispy French Fries—Recipe 1
What you need
Olive/Canola oil

Potatoes

Oven

Baking tray

Salt

Water
Instructions
Slice the potatoes into wedge shapes.

Boil chopped potatoes for about 7-9 minutes in salted water.

Drain the water from the boiled potatoes.

Place the potatoes in olive oil inside a shallow baking tray and make sure they are fully coated by the oil by tossing them around.

Put the tray in an oven. Set the temperature to be at least 425 ºF. -450ºF.

Toss them periodically as they cook by scooping and flipping them.

Increase the temperature to 500 degrees when they are almost done. Cook for some few extra minutes for the potatoes to get crispy.
How to Make Crispy French Fries—Recipe 2
What you need
4 large russet potatoes (about 2 pounds)

Kosher salt

Distilled white vinegar – 2 tablespoons

Peanut oil- 2 quarts

Water

Sauce pan
Instructions
Peel the potatoes and cut them into ¼ by ¼ inch chips


Place them in a bowl of water after chopping

Put the potato chips together with the vinegar in the saucepan. Add 2 tablespoons of salt together with 2 quarts of water.

Boil them over high-temperature heat for 10 minutes to a point where the potatoes are completely tender and not crumbling

Drain them and place them on a rimmed baking sheet lined with a paper towel for them to dry for about 5 minutes

Heat the peanut oil to 400°F in an oven. Add a third of the fries to the heated oil and cook them for 50 seconds. Agitate them with a wire mesh spider as they cook.

Place them on another rimmed baking sheet lined with a paper towel. Repeat the process for all batches

You can freeze the potatoes throughout the night or even up to 2 months based on your plan.

Heat oil up to 400°F and fry half of the chopped potatoes for about 3 ½ minutes to light golden brown to become crispy while reducing the heat to 360°F.

Drain the French fries in a paper towel-lined bowl. Use kosher salt to season them immediately.

Keep the cooked fries crispy and hot on a wire rack placed on a tray at 200°F oven while cooking the others. Serve soon after they are all cooked.
How to Make Crispy French Fries—Recipe 3
What you need
Cold high quality Idaho Russet Burbank potatoes


Fancy fryer or a sauce pan

Kosher salt

Peanut oil

A thermometer to measure oil temperature while cooking (optional).
Instructions
Start frying at a low temperature of between 250°F – 275°F for potatoes to cook.

Lay the potatoes on a paper. A wire basket is always available for a fancy fryer.

Increase oil temperatures to the range of 375°F – 425°F.

Fry the fries till they are golden brown in color.

Mix the fries with salt by tossing them in a bowl.
ANY IDEAS ABOUT THIS TOPIC?