Crispy French fries are a first choice for many! No one can resist crispy and fluffy French fries. Most importantly, the crispy nature of French fries has been the overriding factor while choosing French fries. You must have realized that the French fries you make at home cannot match those at restaurants looking at the crispiness. For this reason, learning how to make crispy French fries would just sort out the difference.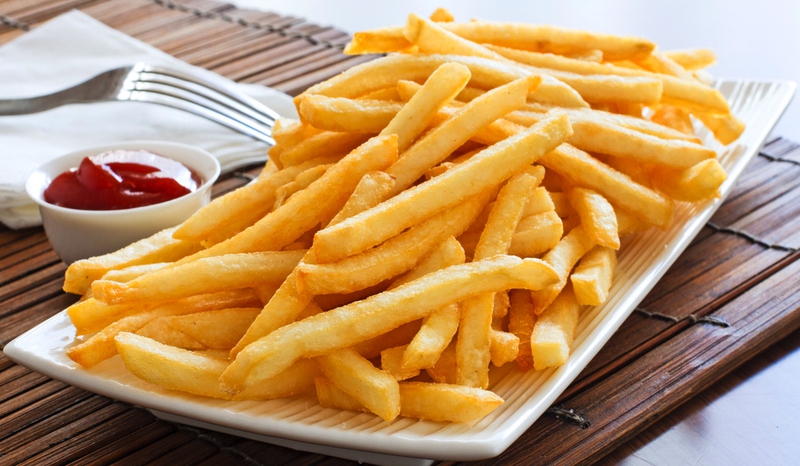 General Rules for How to Make Crispy French Fries
1
Take a pound sized Idaho Russet Potato.
2
Slice the potato into even pieces to ensure uniform frying.
3
Rinse the potato chips in cold water and then deep them in ice water prior to frying. This guarantees fluffiness to the inside and crispiness to the outside.
4
Fry the potato chips in two stages of different temperatures: first at 325 (F) and then at 375 (F).
5
Your French fries are ready for eating once you season them.
6
Watch a video to learn how to make crispy French fries:
Recommended Crispy French Fries Recipe
What you need
Russet potatoes - 2 ½ pounds

Baking sheets

Heavy pot

Water

Sea salt

Vegetable/peanut oil

Ketchup and Mayonnaise
Instructions
Peel and carefully rinse your potatoes. Cut the potatoes lengthwise into pieces (at least 4). Cut every piece into small chips. Make them as thin as possible (thinner ones makes are crispier). Cover the fries with cold water in a big bowl to soak for about 2 hours. You can soak them overnight in the fridge.

Drain the water and place the fries on two paper towels-lined baking sheets. Blot them using paper towels in order to dry.

Using a heavy pot, heat some vegetable oil to 300oF. Fry the potato chips in about 3-4 batches for about 4-5 minutes for every batch or to a soft state. Make sure they don't get brown. Remove them and drain with dry paper towels.

Fry the chips again at 400oF to golden and crispy state. Drain them on new paper towels. Sprinkle sea salt on the fries and put them in ketchup-mayo blend.
Tips
Potatoes should be placed in cold for great French fries.

A ton of salt can be placed inside ice water to remove starch at a presoaking stage. This makes the potato chips saltier.

Keep your fried fries off water to make them crispy for long. Normally, you can put them in a paper bag for a few minutes.

Uniform potato chips will ensure uniform cooking.

The smoke point of refined peanut oil is 450°F. When unrefined, it is 325°F.

Ensure even cooking temperature with a heavy sauce pan.

The addition of more fries into the sauce pan drops the cooking temperature. You need a thermometer to ensure steady temperature.
ANY IDEAS ABOUT THIS TOPIC?