A wooden outdoor deck is a place to relax and entertain. It also represents a substantial investment of money and time. Most home decks are built of wood because it is a durable, versatile and cost-effective material. Your deck can provide you with pleasure for many years when you take basic steps to protect your deck from the ravages of sun, weather, insects, animals and hard usage.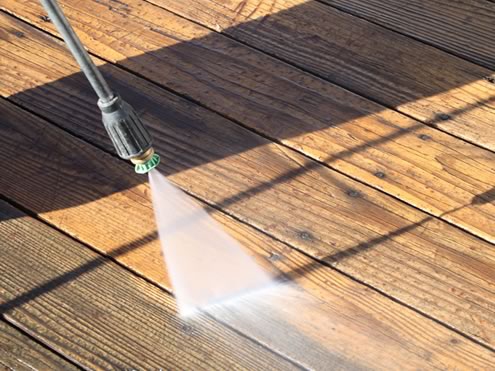 Part 1
1
Weather Protection
The main enemies of wooden decks are sun and water. The main defense is wood sealer or deck stain. A wooden deck should be refinished annually for maximum protection. The refinishing process involves surface preparation and application of the new sealer or stain. There are many deck sealers and stains available. They come as oil- or water-based, transparent or colored. Colored stains come as semi-transparent or opaque. There are also solid stains that are similar to paint.
2
Refinishing
Proper surface preparation is essential for a successful deck refinishing job. Start by washing the deck and railings with a pressure washer or by scrubbing the deck with a scrub brush and bucket of detergent solution and rinsing with a garden hose. Allow to dry for 48 hours, then sand the deck and railing with a power or hand sander until smooth. Apply the new finish with a polyester brush or painting pad. Allow to dry for at least two hours before applying any second coat.
3
Structural Protection
Deck protection includes structural inspection and maintenance. Start by inspecting the deck and railings for nails or screws that have popped up. Pound down popped nails with a hammer and tighten popped screws with a screwdriver. Check for deck and railing boards that are badly worn or that are split, rotted or curled. Replace any bad boards by pulling or unscrewing the fastenings, lifting out the bad board, cutting a replacement board and nailing or screwing down the new board.
4
Check Undersides
The shaded underside of your deck is susceptible to damage by animals, insects, rot and mold. Crawl underneath with a flashlight to check the deck joists and supporting poles. Look for chewed wood, little holes, soft and spongy wood, dank mustiness, and bird or animal nests. Wash mold and mildew from your deck understructure with a mildewcide solution. Sweep away cobwebs that can hold moisture against the wood. Repair or replace any structural element that has suffered damage. Also check for loosened nails, screws or bolts on the underside and tighten as needed.
ANY IDEAS ABOUT THIS TOPIC?