Baking soda, a very inexpensive but extremely useful item, is found in almost all households. Chemically known as sodium bicarbonate, this salt was discovered by Nicholas LeBlanc in 1791. Since then, it has proved to be useful in a multitude of spheres: from the kitchen to the salon. It has a notably alkaline taste and is generally in the form of white powder. Let's now take a look at baking soda uses which can make you more beautiful and charming.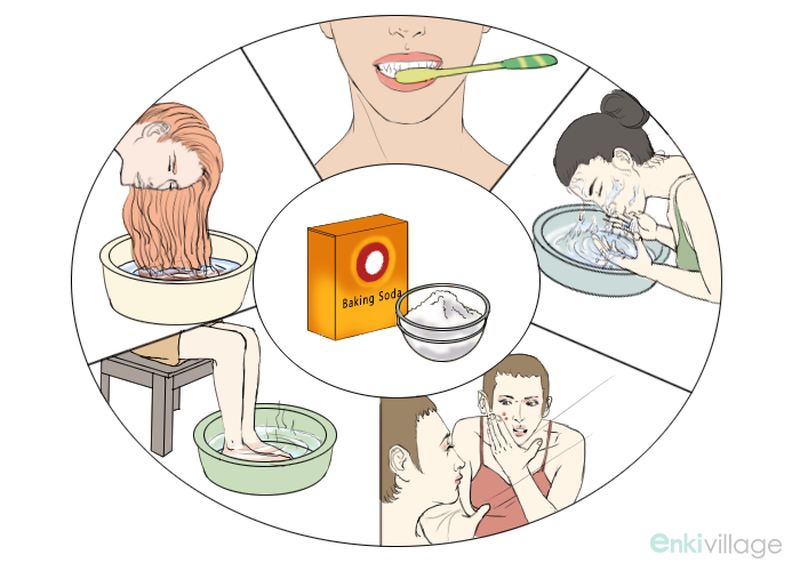 10 Benefits of Baking Soda for Beauty
These baking soda uses may not be that perfect for all. Do not apply baking soda mask on sensitive skin and immediately wash them away with cold water if you feel burning or the skin turning red.
1
Exfoliating Facial Scrub
Baking soda will remove the top layer of your skin leaving it refreshed and free of dead cells.
How to use:
To add it into your everyday routine, add a teaspoon of baking soda to your facial cleanser and use it twice or thrice a week.

Another recipe for this scrub involves adding one part oatmeal and one part baking soda into one part water.
2
Teeth Whitening and Oral Equipment Soak
Get rid of food and tea stains on your teeth with baking soda.
How to use: Dab a very small pea-sized amount onto your toothbrush and use it to clean your teeth, while avoiding too much direct contact with the gums. You can also mix baking soda with your toothpaste so that it reaches your teeth more easily.
Not only will baking soda whiten up your smile, but it will also help out with any oral equipment that you use. Use baking soda to keep your retainers clean and to help in the removal of bacteria by raising the pH level of your mouth, along with improving your oral odor.
3
Natural Deodorant
This is one of the most popular baking soda uses.
How to use: Blend three tablespoons of baking soda in a bowl of your favourite oil – it can be sunflower, coconut or even mustard. Apply this mixture every time you get ready and notice a significant improvement in your body odour and your confidence.
Learn more about this baking soda use.
4
Fresh Face Wash
Replace those chemical face washes and turn to the wonders of baking soda instead.
How to use: Mix a teaspoon of warm water with two teaspoons of baking soda to form a soft paste. Clean your face with water and apply the paste to your face. Rinse with warm water and pat your face dry to get the most benefit out of this baking soda use.
5
Acne Cleanser
It has been proved that baking soda is useful at alleviating acne to some extent.
How to use: Mix a teaspoon of baking soda with water and turn it into a smooth paste. Gently apply this paste to your face leave it for two or three minutes. Remove it with water and lightly pat your face dry with a towel.
Note: Do not use this technique more than three times a week. This is trick of baking soda uses requires regularity and patience. Here are more recipes for baking soda face mask.
6
Softening Calluses
Baking soda will remove the dead skin and heal any rough sections.
How to use: Soak your hands in a bucket of warm water that contains three tablespoons of baking soda. You can also massage calluses and corns with a paste made from three parts baking soda and one part water.
7
Cheap and Effective Pedicure
This removes dry skin and unpleasant odours without emptying your pocket every month.
How to use: Add two or three tablespoons of baking soda to a tub of warm water and soak your feet for about 20 peaceful minutes – if you're particularly stressed, soak for a little longer. Afterwards, use baking soda and water as a scrub on your heels and toes.
8
Clearing Shampoo
Get luscious and clean hair with baking soda shampoo. To avoid drying or damaging your hair, do not use this method more than twice a month.
How to use: All you have to do is add a tablespoon of baking soda to you shampoo and make paste. Rinse your hair with warm water and apply this paste before massaging your scalp with your fingers. Baking soda acts as a purifier by removing chemicals and giving your hair considerable volume.
9
Chlorine Cleanser
If you swim a lot, cleaning your hair with this famous ingredient is one of the surprising baking soda uses.
How to use: Simply add one tablespoon of soda in one cup of water and make a paste. Wash your hair with this paste. This may feel slimy or uncomfortable for a while, but it will be back to normal (or better!) by the time you have rinsed and dried your hair.
10
Detoxification Bath
Just to highlight how fantastic the benefits of baking soda can be, here's another one of baking soda uses.
How to use: The next time you take a bath, add half a cup of baking soda to one quarter of baby oil in the bathtub and lay down for about 30 minutes. You will feel that your body is losing all that tension you had. Since this may lead to a little case of dehydration, be sure to drink water before and after your detox.
ANY IDEAS ABOUT THIS TOPIC?