A very popular staple at most Chinese restaurants is the salty broth full of vegetables, egg, spices, and Chinese dumplings known as wonton soup. Every restaurant or prepackaged supply company has its own variation on the soup. However, the wonton soup calories tend to remain the same through all variations.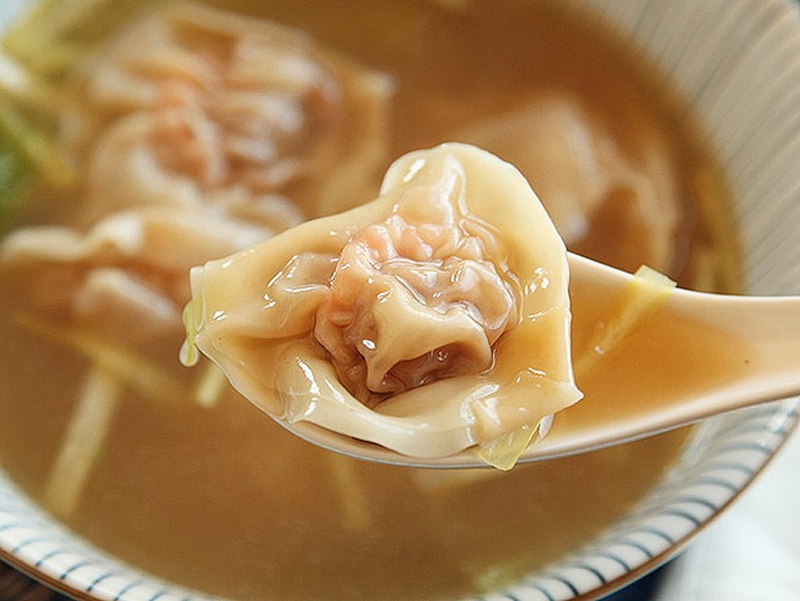 Wonton Soup Calories and Nutrition Facts
The serving size of wonton soup is 1 cup.
1 cup of wonton soup contains 71 calories. The calories in wonton soup come from fat, protein and carbohydrates as follows:
5 calories from fat

19 calories from protein

47 calories from carbohydrates
1 cup of wonton soup also contains small percentages of your daily requirements for several vitamins:
Vitamin B6 = 8% of your daily requirement

Niacin = 6% of your daily requirement

Vitamin K = 5% of your daily requirement

Thiamin = 5% of your daily requirement

Riboflavin = 5% of your daily requirement

Vitamin B12 = 5% of your daily requirement

Pantothenic acid = 5% of your daily requirement
A serving of wonton soup also contains 1%-5% of all the minerals that the USDA recommends you consume daily.
You do have to keep in mind that although the calories in wonton soup are very low, the sodium content is very high. Wonton soup contains about 905 mg of sodium in each serving. Most nutrition sources, such as the Institute of Medicine, recommend that you only consume between 1,500 mg and 2,300 mg of sodium each day, staying toward the lower end if you are at risk for heart diseases and high blood pressure.
Is Wonton Soup Healthy?
Based upon the above nutrition facts, wonton soup is definitely a healthier alternative to many other foods. It is high in protein while being low in fats and carbohydrates, which makes it low in calories.
Eating foods that are rich in protein help keep our bodies satiated, feeling full longer as well as being able to maintain higher energy levels. This is great for everyone who wants to live a healthy life, especially if you are trying to lose or maintain your weight.
Protein is also a great source of fuel for building lean muscles to burn excess fat, plus it does not convert into stored fat as easily as other food choices. As a health tip, eating foods higher in protein and lower in carbohydrates help aid in two huge ways. First, they help keep blood sugar levels balanced and secondly they keep the sweet cravings down.
Being low in fat also makes wonton soup a great healthy alternative, however it is important to note that the filing is generally made of pork or red meats that do contain more saturated fats.
In response to your question, "Is wonton soup healthy?" Yes, although it is important to pay attention to portion size. As work toward eating healthier, whether you are eating wonton soup or other foods, it is important to remember the portion size you consume, which will play a large role in the amount of calories, fats, carbohydrates, and proteins that you consume.
Wonton soup is great on the pocketbook as well. Being made of very few ingredients, all of which are very inexpensive, helps you eat healthy on a budge. This being said, it is good for you to note that if you do not feel full after eating a serving of wonton soup, you may need to add in a few other carbs with your meal.
A Healthy Wonton Soup Recipe Recommended
Wonton soup calories are very low per serving; the next time you want to try a healthy meal, try this soup recipe.
1
Wonton Soup Base
Ingredients
2 tbsp. vegetable Oil

1 tbsp. minced garlic

1 tbsp. peeled & chopped fresh ginger

½ cup sliced green onions

2 gallons turkey broth
Directions
Heat oil in large pot over medium heat.

Add in 1 tbsp. garlic and tbsp. ginger.

Continue to cook and stir for 1-2 more minutes.

Add in ½ cup scallions and turkey broth. Then, bring to a boil

Once boiling, reduce heat and simmer for 30 minutes.
2
Wonton Soup Dumpling
Ingredients

1 lb. chopped or pulled cooked turkey breast

2 tbsp. minced garlic

1 tbsp. peeled & chopped fresh ginger

½ cup sliced green onions

2 eggs, whipped

3 tbsp. soy sauce

1 tsp. rice wine vinegar

1 tsp. sesame oil

1 tsp. red pepper flakes, crushed

30 square wonton skins
Directions
Mince the turkey in a food processor.

In a large bowl combine the turkey, garlic, ginger, scallions, eggs, soy sauce, red wine vinegar, sesame oil, and red pepper. Mix well.

Pull out a few wonton wrappers at a time while keeping others moist in plastic wrap.

Find a small bowl, fill with water and set aside.

Put 1 tsp of the turkey mixture into each wonton wrapper.

Moisten the edges of the wrappers by dipping your fingers into the small bowl of water.

Seal the wrappers by bringing the opposite edges together and pressing with fingertips. Then, overlap the opposite corners.

Continue until you fill all wontons and set them aside.
3
Finishing the Soup
Ingredients

2 cup Bok choy thinly sliced

1 cup sliced shiitake mushrooms

1 cup sliced bamboo shoots
Directions
Add the Bok choy, mushrooms, and bamboo shoots to the soup base.

Cook for 3 minutes.

Add in the wontons, one at a time to avoid sticking.

In about 5 minutes the soup will be done when the wontons begin to float.

Serve warm and enjoy.
ANY IDEAS ABOUT THIS TOPIC?