If you think about it, mayonnaise is a bit of a miracle. Seriously, consider its ingredients: does emulsifying oil, raw egg yolks and vinegar into fluffy goo sound delicious to you?
Being more than the sum of its ingredients isn't the only trick up mayo's greasy sleeve. We all know summer's dominant condiment is great on burgers and sammies, but it also makes a super chocolate cake, toothsome cookies and a tender baked salmon. For reals!
Here's how to your take your favourite mayo — homemade or jarred — beyond the spread.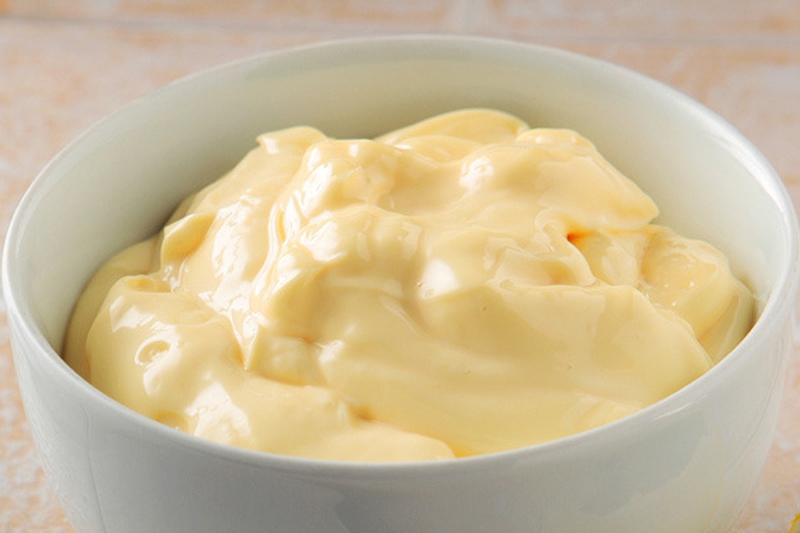 Part 1
1
FAKE & BAKE
Mayo is basically eggs and fat, which makes it a great substitute for (you guessed it!) eggs and fat. In times of scarcity, like the Depression, mayonnaise was an alternative to rationed ingredients such as eggs and butter.
But you don't have to hit hard times to appreciate its appeal. Try it in cookies and this chocolate cake from Liddabit Sweets' Liz Gutman, who says that the oil "makes the cake beautifully moist and tender" while "the vinegar punches up the chocolate flavour." If you're not feeling up to a full production, mayo can replace the eggs and oil in your favourite cake mix, too.
2
GET BASTED
Mayonnaise's delicious fat content guarantees a smooth finish when you smother it on fish, chicken or mussels before baking.
3
FRY HARD
Dying to take your grilled cheese to the next level? Replace butter with mayo for a crispy sandwich with a hint of added tang.
4
SLATHER IT ON…YOURSELF
Not interested in taking your love of mayonnaise beyond trusty sandwiches and potato salads? That's fine. But don't judge us when we reach for a jar next time we run out of lotion or conditioner, because it turns out mayo's miracle powers can add moisture to skin and hair just as well as food. Now you know.
ANY IDEAS ABOUT THIS TOPIC?