Thank you notes are a simple yet effective way of showing your gratitude. Whether you attended a dinner party, celebration or even an overnight stay at a friend's house, proper etiquette requires that you show your gratitude by sending a thank you note. This is a way of appreciating the host or hostess for the invite and the nice time that you had. The note doesn't have to be too long. However, it should be sincere. This is small gesture that has a lasting effect and, it will be appreciated.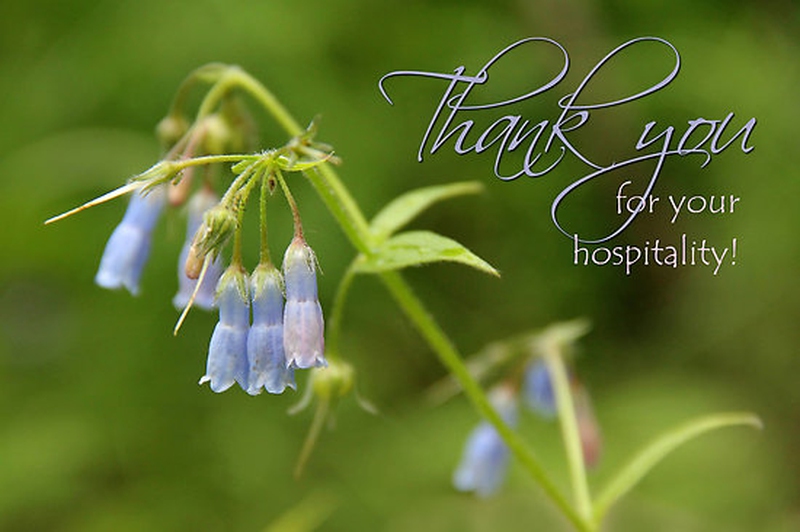 Part 1: How to Write a Thank You for Your Hospitality Note
Writing a thank you note is quite simple. To begin with, start with a thank you comment then add something specific about your experience at the event. You can also add that you look forward to seeing the host again and make sure that sign out with your name. Though not necessary, you can send a gift to showcase your gratitude while sending the note. Below are tips to help you write a good 'thank you for your hospitality note:
General Rules
A thank you note should be sent in a timely manner. The earlier you send it the more meaning it bears. As a general rule of thumb, do not let a week pass by before sending the appreciation note.


A hand written note is more special than simply buying an imprinted card. Use good quality paper or card and, draft your message. If you are already accustomed to sending gratitude messages via email, you don't need to buy a card. Nonetheless, take some time to think through the message. Make it special.

Sincerity is the most important element when writing a thank you note. Thank the host in the introduction of the note then single out some of the highlights of the event such as the food, fun times you had meeting after such a long time and anything else specific to the event. Every note should begin with the date followed by the recipient's names.

Make the note personal and affectionate. If you are sending the note to a close friend or relative, affirm you affection by including a sentence on how much the person means to you. If the note is for an acquaintance, you can express your wish to meet up again.

End the note with a closing such as: 'With warm regards,' Sincerely' or 'Love.' Sign off with your name after the closing.
Notes to Bear in Mind
If you are sending the note to close friends or family, you can ask for a recipe that you liked or enclose photos you took during the event. This shows that you really had a good time and showcases your gratitude for being included in the special event.

Unless you are used to sending email thank you notes to one another, do not use this route.
Part 2: Samples of Thank You for Your Hospitality Note
1
Sample Thank You Note after a Visit
Dear Jack and Jill,
Thank you for hosting us over the weekend. My family and I had a great time and, we loved your cabin. Jill, your meals were delicious and I can't stop thinking of the apple pie dessert you served us.
We felt at home during our entire stay and we'd like to return the favor. If you are ever in Chicago, please let us know as we'd be honored to host you. We'd love to see you again.
Warm regards,
Mary and Scott.
2
Sample Thank You after a Celebration
Dear Maggy,
Thank you for inviting me to your luncheon, I had a fantastic time. It was good to meet all those wonderful people and the game of office charades you initiated really helped break the ice. We got to know each other in a fun way.
I wish you success with your endeavors.
Kind regards,
Seanice.
3
Sample Thank You Note after an Evening Party
Dear Brenda,
Thank you for inviting me to your evening party, I had a delightful time with you and your family. I particularly loved the meal you cooked for dinner. The veal was perfectly cooked and your wine selection was wonderful. It was nice catching up with you and, I hope that we can meet up again real soon.
Your old friend,
Peter.
4
Sample Thank You Note after a Party
Dear Henry,
Thank you for inviting my family and I to celebrate your 60th birthday. We all had so much fun last night and Betty can't get over your wine cellar. We hope that you had as much fun.
The food was delectable and the service was really good. I can't believe you had a band and they let us sing, that was too much fun for one night.
Again, thank you for the great time.
Love,
Perry and family.
ANY IDEAS ABOUT THIS TOPIC?