The delicious Middle Eastern food known as Tahini is made from crushed sesame seeds which are soaked. Tahini is usually topped with vegetables and meat and served on the side. It is the basis for hummus, which, made from chickpeas, is packed with protein and tastes delicious. Tahini is becoming more and more popular as a source of natural nutrition that contains necessary vitamins and nutrients and prevents disease. Tahini is a food that offers many health benefits.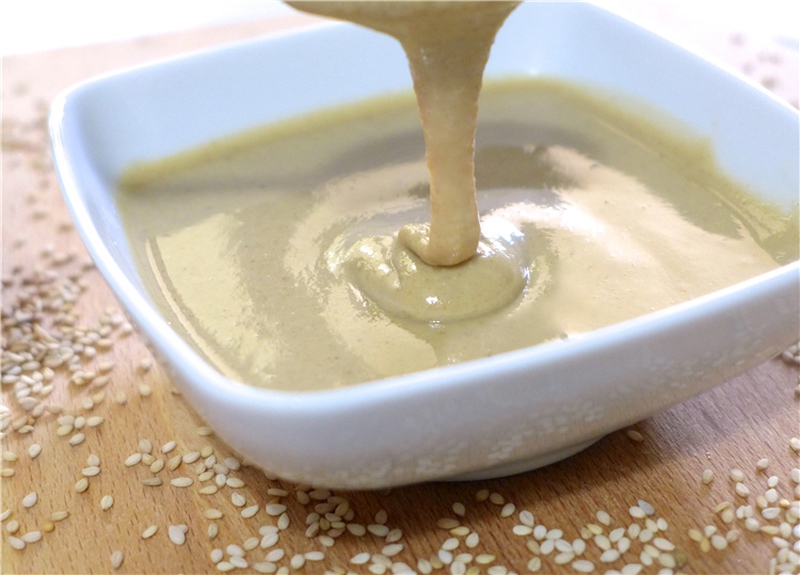 5 Tahini Health Benefits
1
Nutritional Value of Tahini
Tahini provides an excellent source of the essential fatty acids, omega-3 and omega-6. Even though sesame has a high fat content, 90% of this is made up of these good fats. Each tablespoon of tahini paste has 85 calories, 65 of which are made up of these essential fats. Tahini also contains necessary nutrients such as vitamin B1, manganese, phosphorous, magnesium, iron and copper. A tablespoon of tahini contains one gram of dietary fiber and three grams of protein. With so many important vitamins and nutrients found in tahini it's easy to take advantage of the health benefits of tahini.
2
Healthy Brain
Healthy fatty acids omega-3 and omega-6 help the body's nervous tissues to develop which improves brain health. They also assist with optimizing emotional health and cognitive brain function. The development of Alzheimer's disease can be slowed down by consuming these healthy fatty acids, and both memory and thinking are enhanced by the consumption of Omega-3. Brain and nerve function are enhanced by manganese, which is included in sesame paste.
3
Source of Antioxidants
Another of the many tahini health benefits is that it includes copper, which is known to help reduce swelling and relieve pain. Its anti-inflammatory effects can be used to treat the symptoms of rheumatoid arthritis as well as help to expand the airways in those who suffer from asthma. Specific enzymes in the body's immune system are also assisted by copper in order to utilize their antioxidant properties. Phytonutrients are also included in sesame paste, which helps to keep the liver from suffering damage from oxidation. Asthmatics can also benefit from the magnesium included in tahini nutrition, which can help relieve their symptoms.
4
Healthy Heart
The Harvard School of Public Health has indicated the importance of how the kind of fat consumed affects your health. Omega-3 unsaturated fat not only reduces cholesterol, but also helps to treat cardiovascular disease caused by inflammation. Even though there are 8 grams of fat in each tablespoon of tahini, 80 percent is unsaturated fat. Although the exact amount of omega-3 in a tablespoon of tahini cannot be calculated since the number of sesame seeds vs oil is not identical in every tablespoon, Tufts University suggests that each ounce (4 tablespoons) of sesame seeds contains 0.1 gram of omega-3 fatty acids, which makes up 6-9 percent of the recommended daily intake of omega-3.
5
Immune System
Tahini health benefits include four important nutrients which provide support to your immune system, which include copper, zinc, selenium, and iron. Both copper and iron are included in enzymes that support the immune system and help to make white blood cells. Zinc is a nutrient that is necessary in order to develop white blood cells and support their function of killing germs in the body. Selenium is a nutrient that is needed to help the enzymes perform their jobs, such as creating antibodies and antioxidants, and for helping the immune system to work efficiently. A tablespoon of tahini contains 9-12 percent of the daily recommended intake of zinc, selenium and iron, and 26 percent of zinc.
5 Ways to Use Tahini
Tahini health benefits can be experienced by serving tahini in many different ways. You could combine it with garlic and lemon juice to make a tasty salad dressing, include a couple of spoonful when you're making hummus in your food processor, or spread a piece of sprouted grain toast with it for a nutritional breakfast. Here are 5 easy ways to serve and enjoy tahini.
1
Use tahini by spreading it on toast as a part of a healthy breakfast. Try it on whole wheat bread with a touch of agave syrup or honey.
2
Use it on falafel. For an easy meal, place heated up frozen falafel into a pita. Add a bit of lemon juice and hot water to the tahini to make it thinner, and use it as a delicious topping.
3
Use it as a burger condiment. Tahini can be used as a delicious condiment for any meat, including burgers. Try using it alone or add a bit of paprika and lemon juice. To complete the Mediterranean experience, add some cucumbers and feta cheese.
4
Use it as a salad dressing. Instead of using store-bought dressing, make your own dressing with tahini. Mix ½ cup olive oil, 2 tsp. apple cider vinegar, 2 tsp. lemon juice, 2 tsp. of grated ginger, and ½ cup tahini using a blender and pour over your salad ingredients.
5
Use it with your favorite baba ghanoush meal. After roasting a baby eggplant until it is soft, cut a slit in it and place it aside. Mix 2 tbsp. of tahini with lemon juice, a crushed garlic clove, and salt and pepper. Spread the mixture into the slit in the eggplant for a new take on baba ghanoush.
ANY IDEAS ABOUT THIS TOPIC?