Nothing screams of home cooking and summer like banana bread. For many, this delectable dish causes reminiscent memory to surface. It is a staple of summer, like apple pie.
This super moist banana bread recipe is made without a mixer and is easy to clean up; it can be made using one bowl. And when it comes to ingredients, the best are necessary. Bananas are a vital component, and the best bananas are those that are slightly overripe, starting to brown, with the inside being a little squishy.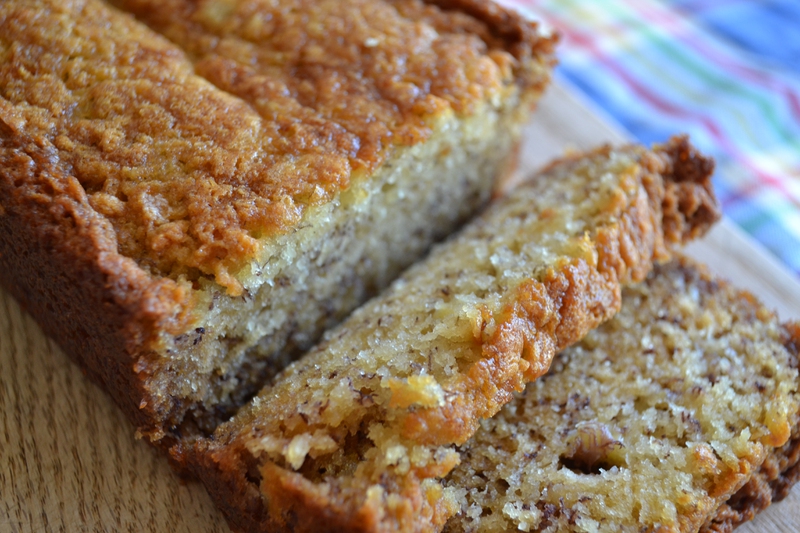 Super Moist Banana Bread Recipe
Serving
This super moist banana bread recipe makes 9"x 5" loaf
Time needed
This recipe takes about 1 hour and 15 minutes: 10 minutes prep time and an hour to cook.
Ingredients
This super moist banana bread recipe requires:
½ cup softened butter

½ cup chopped walnuts

1 cup white sugar

2 eggs

1 teaspoon baking soda

1 teaspoon vanilla extract

1 ½ cups all-purpose flour

½ teaspoon salt

½ cup sour cream

2 medium bananas, sliced and mashed
Instructions
In order to create this moist banana bread recipe, first you have to preheat the oven to 350 degrees Fahrenheit and grease a 9x5 inch loaf pan.

Secondly, stir the ½ cup melted butter and 1 cup white sugar in a big bowl. Then add the 2 eggs, the 1 teaspoon vanilla. Mix it well!

Then you combine the 1 ½ cup flour, 1 teaspoon baking soda, and ½ teaspoon salt and stir into the buttery mixture until the substance is smooth.

Fold in the ½ cup sour cream, ½ cup walnuts, and the 2 bananas.

Then spread the mixture evenly across the pan.

Finally, bake at 350 degrees Fahrenheit for one hour, or until the toothpick test comes clean (insert a toothpick into the center; if it comes out clean, the bread is done).

Allow the bread concoction to cool on a wire rack. And lastly, enjoy!
If you want another super moist recipe with minor change from the above, but provides visual and detailed instruction, see the video below:
ANY IDEAS ABOUT THIS TOPIC?