Personal space feels comfortable when it's cozy, but that private getaway can challenge your best organizational talents. When clutter and necessities overstuff the drawers and fight for floor space, it's time to tame everything with small bedroom storage solutions and smart self storage tips.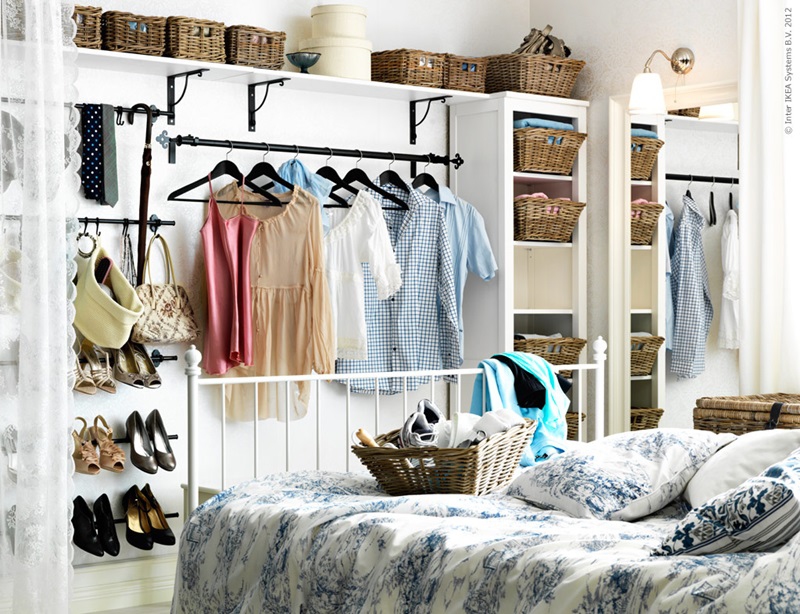 Part 1
1
Finesse the Furniture
Convert simple nightstands into functional units with shelving, and fill them up with pretty boxes that disguise your stuff. Leave enough room at the bottom to slide in a low-profile basket, and you have a convenient drawer. A pretty, lidded bench nicely doubles as extra seating and additional storage space. Design a playful headboard with colorful cubby boxes, and don't forget that space under your bed. Put it to use with large, shallow roller trays for hidden storage that keeps dust bunnies at bay.
2
Create Clever Closets
It's easier to win the small bedroom storage game when your closets are on your side. Organize clothes so that blouses and tops hang on one rod above a lower level for skirts and slacks. On the other side of the closet, move the rack up 6 inches for long items, and fill in below with a roomy chest of drawers. Even the door has storage potential when you create a clever system of hanging hooks, bath towel rods and suspended shoe organizers.
3
Expand Storage Horizons
When bedroom space feels tight, relocate things you don't use on a regular basis to a modern storage facility. Send seasonal clothes on vacation in wardrobe boxes, and park important documents and personal papers in a climate controlled unit. Inexpensive shelving and wood palettes keep everything off the floor and take advantage of fresh, circulating air. Affordable self storage expands your space without sacrificing convenience or security, so make it first on your list of smart self storage tips, and reclaim your cozy space at home.
ANY IDEAS ABOUT THIS TOPIC?