One look at a venti cup of coffee and you're lured into the wonderful world of fancy drinks and sinful baked goods. The wave of coffeehouse smells and impressive embellishments like whipped cream and chocolate drizzle are hard to resist.
As awesome as a Starbucks coffee is for your psyche and your belly, your wallet may not get the same feel-good vibrations. A Starbucks habit is an expensive one, so here are some of the best copycat Starbucks favorites you can make at home.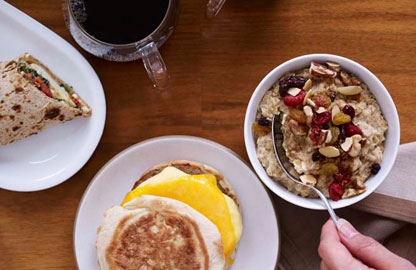 Part 1
1
Pumpkin Spice Latte
The pumpkin spice latte has all the quintessential elements of fall. Cozy up with a big mug of this amazing brew.
Pumpkin Cream Cheese Muffins
These copycat pumpkin cream cheese muffins are super moist and chock full of spices. You'll get cream cheese and pumpkin in every bite.
Double-Glazed Pumpkin Scones
If you love the double-glazed pumpkin scones at Starbucks, you can whip them up at home and go for seconds with this spot-on clone recipe.
Pumpkin Spice Frappuccino
Warm up on a cold fall morning with a sweet and spicy pumpkin spice frappuccino that will take care of that bad case of the Mondays.
Cranberry Bliss Bars
Eat the whole batch of these lightened-up cranberry bliss bars without any of the guilt.
2
Apple Fritter Muffins
Skip the deep fryer and go baked. Get all the flavor and less guilt with these apple fritter muffins.
Frozen Caramel Macchiato
Get a one-up on Starbucks with this easy-to-make frozen caramel macchiato recipe. It's a great dessert drink any time of the year.
Raspberry Swirl Pound Cake
The pound cake is a staple at any Starbucks location. And this raspberry swirl version may be the only dessert you ever make again.
Cheesecake Brownies
This recipe is everything you want in a brownie: rich, dense chocolate balanced by a creamy topping. These cheesecake brownies will totally win you over.
Salted Caramel Mocha Frappuccino
Salted caramel is all the rage, and you'll find yourself licking the inside of this mocha frappuccino glass to get the very last drop.
3
Blueberry Coffee Cake
You'll get a moist texture and great flavor from this copycat blueberry coffee cake recipe. It's got half the fat of the Starbucks version, that tastes every bit as good.
Cranberry Orange Scones
These cranberry orange scones make a great breakfast treat, but they work just as well for an afternoon snack to feed a hungry bunch of kids too.
Cinnamon Dulce Latte
Do your kids always ask for a sip of your coffee? Now you can serve them their own cinnamon dulce latte as it's missing the caffeine, but not the flavor.
Carrot Muffins
You don't have to wait in line at Starbucks for your favorite Carrot Muffins- you'll get moist, tender, sweet and spicy muffins with this fabulous recipe.
Java Chip Frappuccino
For a decadent drink that doubles as a treat, this java chip frappuccino can be made at home with a blender and a few simple ingredients.
ANY IDEAS ABOUT THIS TOPIC?