Bad days come and go, and for lots of different reasons. Whether it's a big blowout with your parents, a particularly trying day at work or school, or a bitter fight with the one who holds your heart close, these sad feelings are normal, and it's healthy to face them head on in order to get over them. Sometimes when you're feeling sad, you need to let out a big ugly cry in order to feel better. But what if you can't work up the nerve to get the cry out? Here's a carefully curated list of songs to listen to when sad so you can just lock yourself in your room or in your car and sob it out.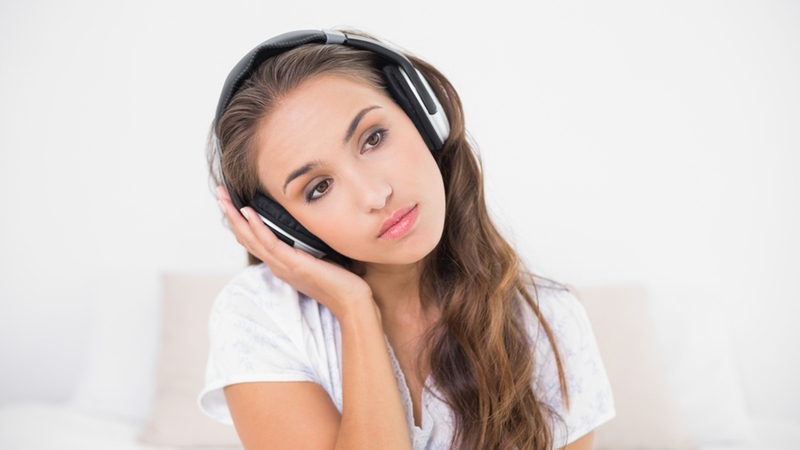 Songs to Listen to When You're Sad
1
Everybody Hurts – REM
"Everybody Hurts" by REM is one of those classic sad songs that don't ever seem to get old. It's so relatable to all kinds of people, young and old, which is probably why it's so successful and is one of the best songs to listen to when sad. And if you aren't feeling sad, beware, because this song will give you all the feels.
2
Say Something – A Great Big World Featuring Christina Aguilera
A more modern sad song to listen to when you're sad is "Say Something" by A Great Big World featuring Christina Aguilera. When this song was originally released, no one even noticed it until Amy Yakima did a powerful and emotional dance performance to this song on So You Think You Can Dance in 2013. Christina Aguilera rerecorded the vocals and made it the beautifully tragic and heartbreaking song we know today.
3
Creep – Radiohead
Radiohead' front man Thom Yorke says that "Creep" is about a guy who gets drunk and tries to gain the affection of a woman he's attracted to, but he hasn't got the self-confidence to follow through. The feelings of self-pity in this song are so strong and Radiohead's "Creep" is one of the best songs to listen to when you're sad, especially if you wish you were special.
4
Nothing Compares 2 U – Sinead O'Connor
Controversial singer Sinead O'Connor's "Nothing Compares 2 U" was originally written and performed by Prince (hence the "2 U" in classic Prince style), but her version of the song is far more successful. Even boys cry when they hear Sinead sing heart wrenching lines like "It's been so lonely without you here/Like a bird without a song/Nothing can stop these lonely tears from falling/Tell me baby, where did I go wrong?"
5
Unchained Melody – Righteous Brothers
The lyrics in "Unchained Melody" by the Righteous Brothers are about people pining for the lover they haven't seen in an awfully long time ("And time goes by so slowly/And time can do so much/Are you still mine?"). The literal melody of "Unchained Melody" is enough to deduce you to a puddle of tears, let alone the sheer power in Bobby Hatfield's voice when he exclaims "I need your love" at the climax of the song.
6
I Will Remember You – Sarah McLachlan
"I Will Remember You" by Sarah McLachlan is one of those classic songs that naturally becomes the soundtrack for just about anything sad. It's a great song to help you cope with serious grief and the loss of a loved one.
7
Landslide – Fleetwood Mac
Among all songs to listen to when you're sad, this one definitely should be put on the list. Stevie Nicks' heartache is evident in every word she sings on "Landslide," and that's because of the sordid love affair between her and bandmate Lindsey Buckingham. This epic song is perfect for blasting super loud and crying like crazy after a breakup, because Stevie knows how it feels to build your life around someone and then watch it fall apart.
8
I Can't Make You Love Me/Nick of Time – Bon Iver
Bon Iver's "I Can't Make You Love Me/Nick of Time" is such a beautiful and sad song to listen to when you need to cope with love unreciprocated. Unrequited love is one of those topics that everyone can relate to and understand. Although the original tune was performed by Bonnie Raitt, Bon Iver's raw, slowed down version is the one you need to get your cry on.
9
Tears in Heaven – Eric Clapton
Don't listen to "Tears in Heaven" by Eric Clapton unless you want to lock yourself in your room for the rest of the night. "Tears in Heaven" was originally penned through the pain Eric Clapton was experiencing after the death of his son who was only 4 years old. When he sings "Would you know my name/If I saw you in heaven/Will it be the same/If I saw you in heaven", tears will start flowing.
10
Last Kiss – Pearl Jam
"Last Kiss" by Pearl Jam is another cover on this list of songs to listen to when you're sad, but it seems these versions just convey a little more sadness, a little more feeling. This tragic love song about the death of a lover will make you want to call everyone you know and love and tell them how much they mean to you.
ANY IDEAS ABOUT THIS TOPIC?