You know the glorious summer season is headed your way when you see a swarm of men choosing their favorite pair of shorts over the full-length pants they have been sporting all winter. But it's when your gaze travels towards their feet that you immediately switch to thinking about how those shoes just don't go with those shorts. Sure this can be a tricky concept for a few, but with the right kind of guidance, every man can pull off shorts, no matter what the occasion! The sames goes to women.
Below is a list of best shoes to wear with shorts for both gentlemen and ladies.
Shoes to Wear with Shorts – for Men
1
Shorts and sandals
Except for the fashion impaired who team up a great pair of sandals with socks, sandals are just in tune with all of the latest fashion trends. Their flexibility makes them ideal to be worn with anything starting from scoop neck tees to blazers. They can be worn with all sorts of shorts that fall in the smart-casual category. This includes the lean tailored pair of shorts to your standard boy next door shorts. To pick the right kind of sandal, all you need to do is focus on a few key points.
Tips to bear in mind:
Firstly, go for neutral colors such as brown or black which essentially work with all other colors. Secondly, carefully select the sandal that best suits your legs and feet. If you have long legs you can be daring enough to wear gladiator style sandals while for shorter legs, we recommend sandals with straps that end just below the ankles, which visually elongate your calves.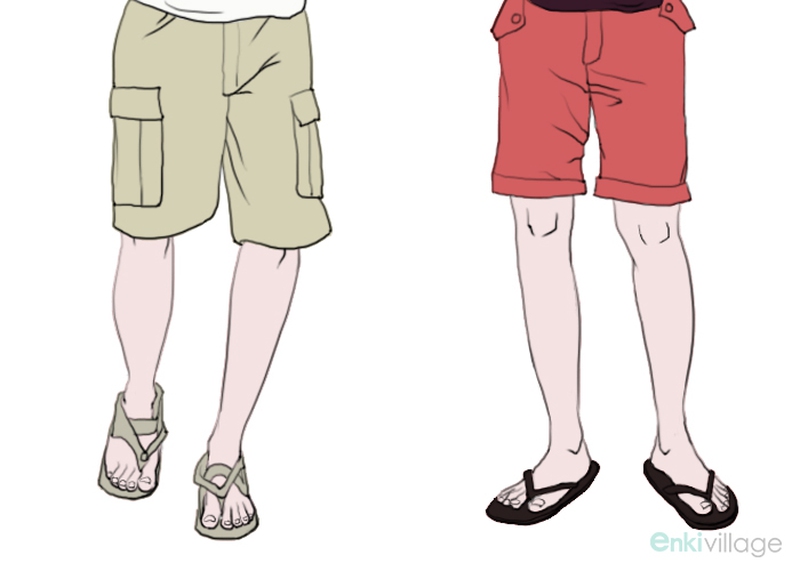 2
Shorts and shoes
Most men consciously try to stay away from this because they think it's a big fashion no-no, but if done right, it can be one of the most on trend looks. What we want is to avoid a clash by pairing formal shoes with smart-casual shorts. For this reason, opt for no lace loafers or distressed leather shoes as compared to patent leather shoes. To master the art of this particular look, simply focus on colors and materials. Forgo all dark colors, such as chocolate brown, black and navy blue, and select from among lighter and brighter tones. Materials such as suede are perfect for putting the whole look together.
Tips to bear in mind:
Men with shorter legs should generally avoid hefty looking shoes and should opt for something with a thin sole and sleek silhouette. Men with bulkier legs can afford to carry a wider range of shoes, which include chunkier shoes with broader toes. If you don't have the height of a male model, you can compensate by getting shoes with a small heel to go with the shorts of your choice.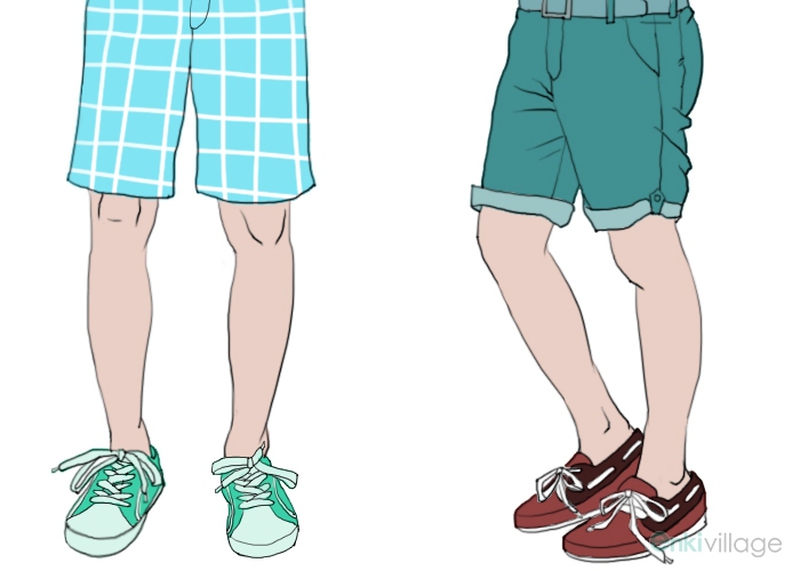 3
Shorts and boots
Boots are to shorts like makeup is to men right? Wrong! Shorts with boots are all the rage and fashion gurus have been trying to set this into motion for a while now. The great thing about boots is that they add another dimension to your outfit. Additionally, they can be accessorized with all kinds of socks (tall socks, patterned socks, colored socks). Military boots and hiking boots are two options that go really well with khaki and cargo shorts while short boots styles are perfect for a more diverse selection of men's shorts.
Tips to bear in mind:
For men with muscular legs, boots also reduce the chance of error as they can pull off most styles. Men with shorter legs are advised to steer clear of high to mid length boots and limit themselves to ankle boots. Tall men with long legs on the other hand, can benefit from coupling boots with socks so as to break up the revealed portion of the skin.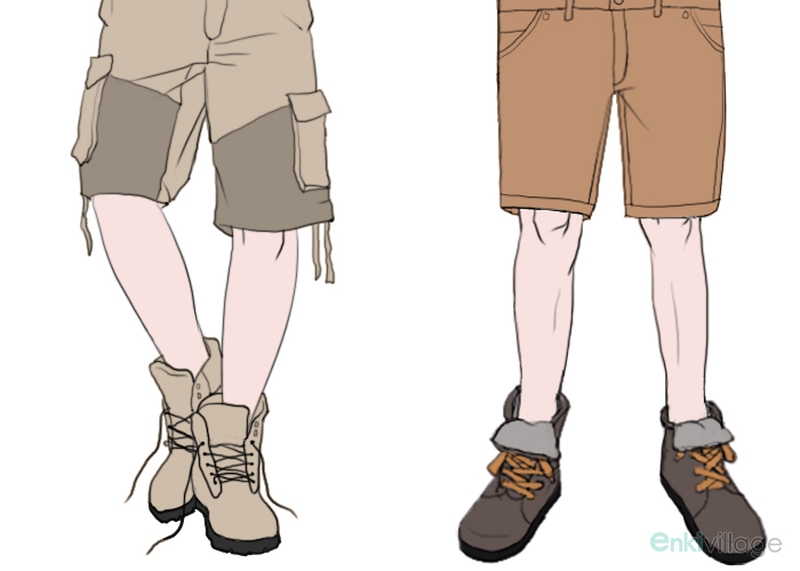 4
Shorts and trainer shoes
Last but not the least, pair up your shorts with your trainers and you are all set to go. This is the ultimate relaxed and boyish look that all men are pretty well acquainted with.
Tips to bear in mind:
For busier and brighter outfits, you can select basic and neutral colors, whereas plainer outfits and shorts can allow you to be a bit more experimental. The same goes for hi tops as those pretty much fall in the same domain as well. Just remember, the leaner you are, the lighter the trainer should be on the eyes and vice versa.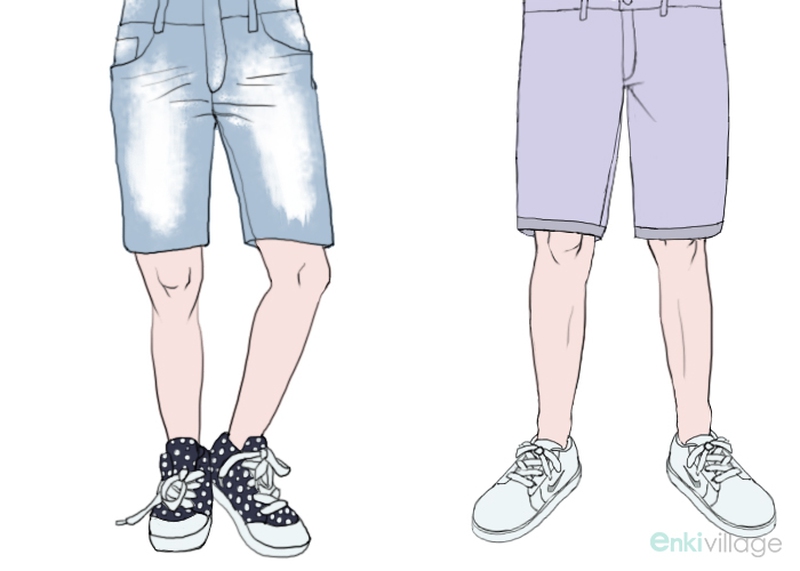 5
Note: How your shorts should fit
As a rule of thumb, your shorts should always fit perfectly, otherwise that alone can contribute to the entire look falling apart. Even the shortest of shorts should not be more than 1.5 inches above your knees. A moderate choice would be shorts halfway down the kneecap or just covering the kneecap. They should also be no longer than knee length or too baggy.
The following video provides more tips on how to choose and what to wear with shorts:
Shoes to Wear with Shorts – for Women
The summer season brings its own set of dilemmas for women. Take for instance the problem of what to wear with your best pair of shorts that show off your long legs and wonderful tan. The wrong shoe selection could potentially ruin the whole effect that you are going for.
1
Rule of thumb
Just always make sure that whatever the shoe; it suits your body type and legs. Stay away from bulky shoes if you are short or have heavy calves. Similarly, only go for taller/lengthier shoes such as gladiators if you have enough height.
2
For a night out
If you plan on wearing shorts and want to glam things up, then go for a pair of dazzling heels. Make sure they are comfortable and not too high.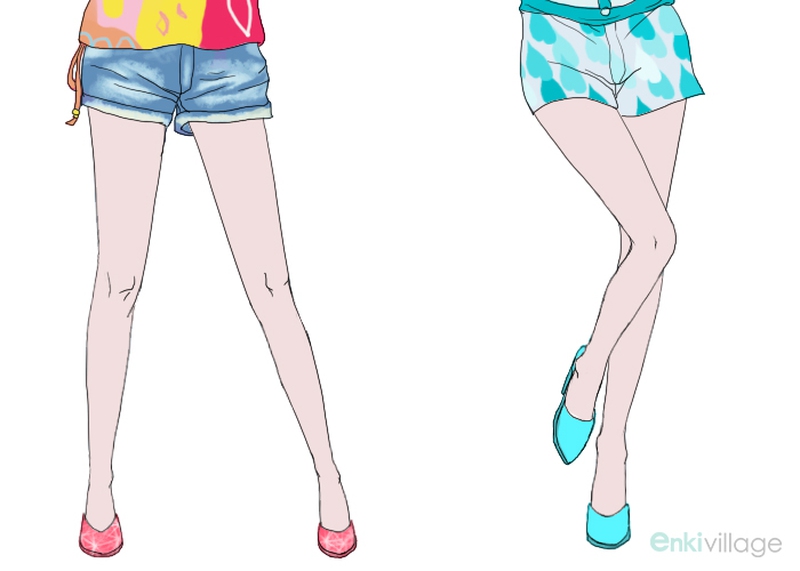 3
For a casual on the go look
For a casual on the go look you can wear your shorts with a pair of converse or sneakers. These will not only be comfortable but will look fantastic too.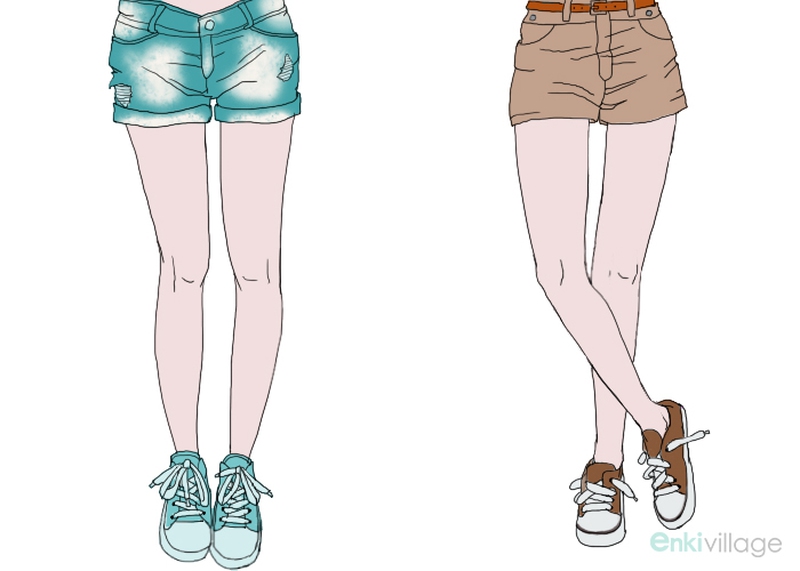 4
For that feminine summery look
Flaunt your feet and a pedicure in some delicate or blingy pair of sandals. These are just perfect for summer as they'll tie together your whole look and keep you cool.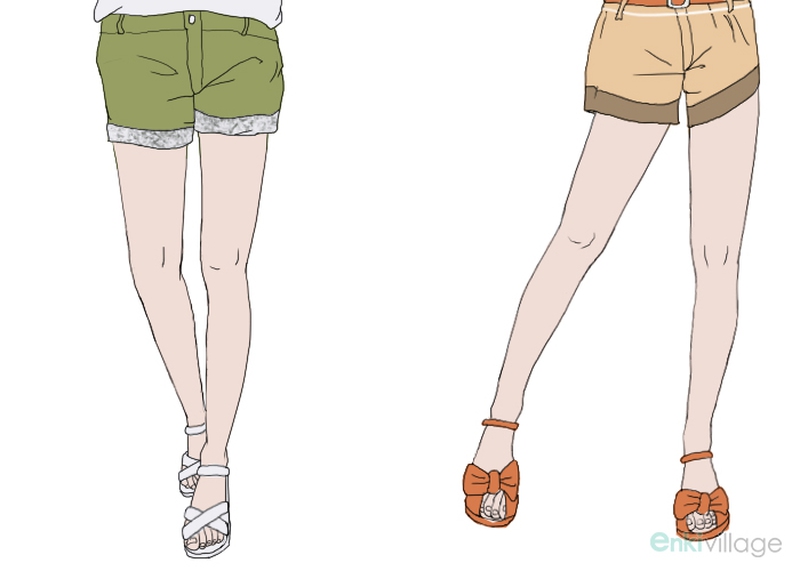 ANY IDEAS ABOUT THIS TOPIC?