Pacific rockfish, also known as rock cod or pacific snapper, is kind of bass-like fish which is firm, lean and mild in flavor. You will find these fishes most commonly on the North America's West coast and more than 70 varieties are found along the shorelines in depths of 300 feet or more. Here we list some rockfish recipes for you to enjoy!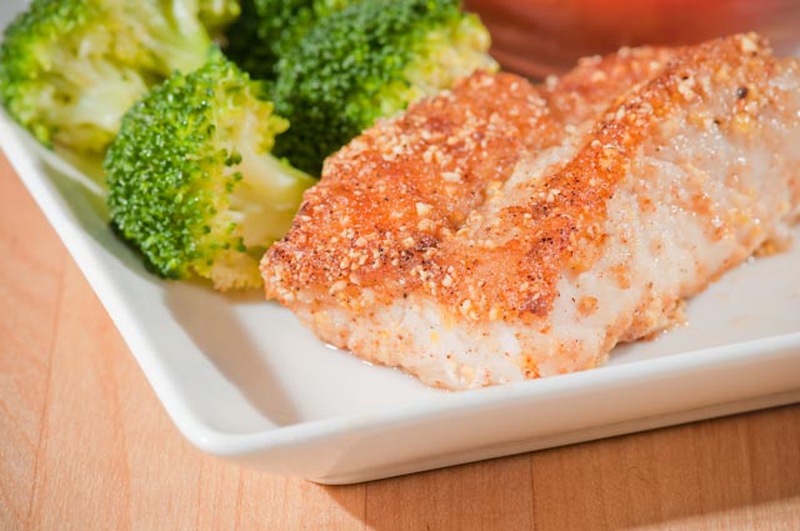 Baked Panko Rockfish with Gingery Cabbage
Ingredients
Ingredients

Amount

For Gingery Cabbage

Napa cabbage

1 small head

Carrots

2 small

Green onions

2

Rice vinegar

1 tablespoon

Soy sauce

1 teaspoon

Toasted sesame oil

1 teaspoon

Ginger peeled

½ inch

Sugar

½ teaspoon

Salt

½ teaspoon

For Rockfish

Rockfish fillets

1 ½ pounds

Soy sauce

2 teaspoons

Egg, beaten

1

Panko

1 cup

All-purpose flour

½ cup

Vegetable oil

2-4 tablespoons
Directions
Cut the cabbage into ribbon like pieces and bite-sized pieces, julienne the carrots and thinly slice the onions. Place them in colander and season with the salt, and then keep aside for 30-60 minutes

Preheat the oven to 450 degrees F.

Cut the fish fillets in bite-sized pieces and brush with soy sauce and refrigerate.

Grate ginger, and then mixture it with vinegar, soy sauce, sesame oil and sugar in a large bowl, and then whisk together.

Coat the fish pieces with flour that is seasoned with salt, dip them in egg and coat with panko crumbs, and line the pieces in the pre-heated bake pan greased with 2 spoons of oil.

Bake for 4 minutes or 2-3 minutes of thin pieces.

Squeeze excess moisture from cabbage and toss in the dressing, serve with hot fish.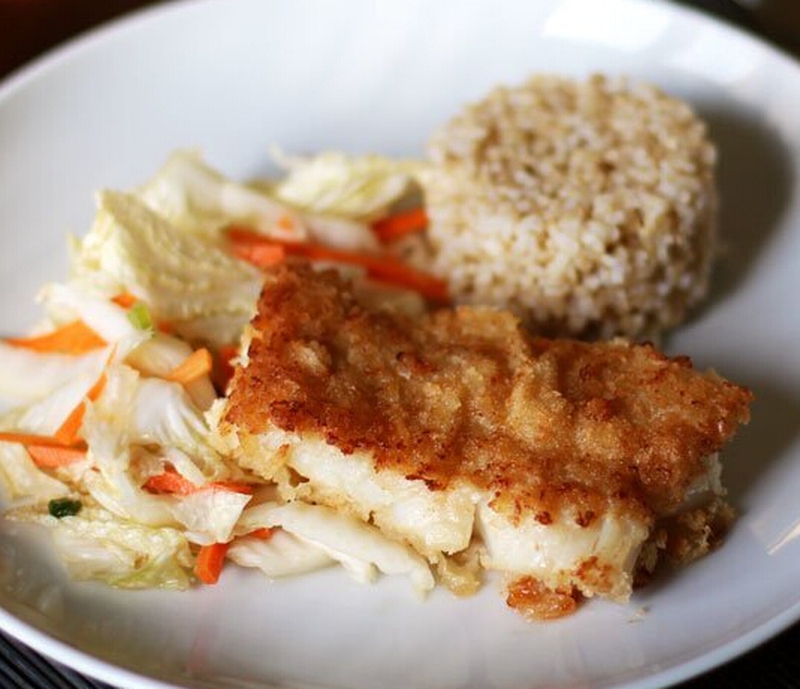 Grilled Rockfish with Garlic and Basil
Ingredients
| | |
| --- | --- |
| Ingredients | Amount |
| Rockfish fillet | 2 pounds |
| Lemon juice | 1 tablespoon |
| Cayenne pepper | 2 teaspoons |
| Basil, fresh chopped | 2 tablespoons |
| Vegetable oil | 3 tablespoons |
| Butter | 4 tablespoons |
| Garlic | 4 cloves |
Directions
Create a marinade of oil and lemon juice and marinate the fish for 30 minutes.

Grill the fish for 10-15 minutes, turn just once in between.

Heat the butter and cook the garlic in it without browning it.

Add the cayenne and basil, and then remove from heat.

Pour the garlic butter over the fish or serve separate.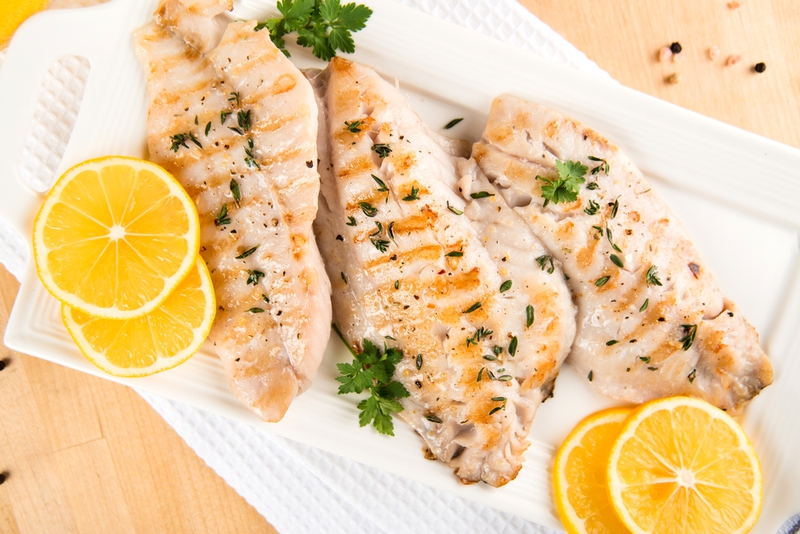 Rockfish in Black Bean Sauce
Ingredients
| | |
| --- | --- |
| Ingredients | Amount |
| Rockfish fillets, thinly sliced | 1 ½ pounds |
| Cornstarch | 1 teaspoon |
| Canola oil | 1 tablespoon |
| Minced ginger | 1 tablespoon |
| Green onions | 2 |
| Black bean sauce | 1 tablespoon |
| Chicken broth | ½ cup |
| Sugar | A pinch |
Directions
Heat oil in a wok, add ginger and minced onions. Cook for 15 seconds, add the black bean sauce, broth and sugar, and then bring to simmer.

Add fish to the sauce and simmer for 3-4 minutes or till it starts to flake. Remove only fish pieces to plate.

Mix cornstarch with water to make paste and add this to the sauce, cook till the sauce thickens and gets glossy appearance.

Pour sauce on fish pieces and garnish with sliced onions. Serve hot.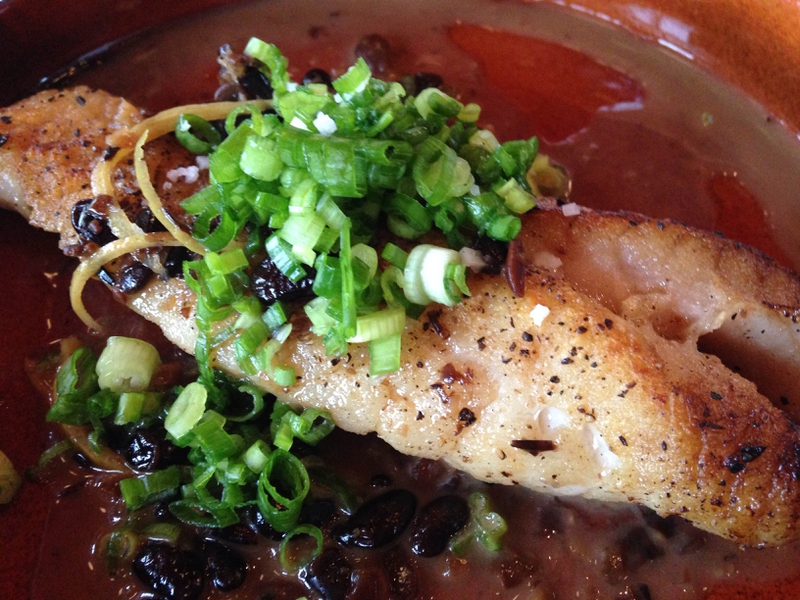 Grilled Rockfish in Foil with Summer Vegetables
Ingredients
| | |
| --- | --- |
| Ingredients | Amount |
| 4 rockfish fillets | 6 ounces |
| Small red onion | 1, sliced |
| Tomato | 1, sliced |
| Yellow squash | 2 small, cut diagonally |
| Red bell peppers | 8, wide strips |
| Extra virgin olive oil | 1 teaspoon |
| Black pepper | To taste, freshly grounded |
| Fresh basil leaves | 2 tablespoons, chopped |
| Salt | To taste |
Directions
Line fish fillets on foil and then sprinkle with salt and pepper.

Place the onion, tomatoes on the fish and sprinkle with basil.

Next, layer it with squash and bell peppers, season with salt & pepper.

Drizzle the fish with olive oil and close the foil to make packets.

Cook in pre-heated grill for 10-12 minutes.

Remove the fillets from foil and serve on a platter.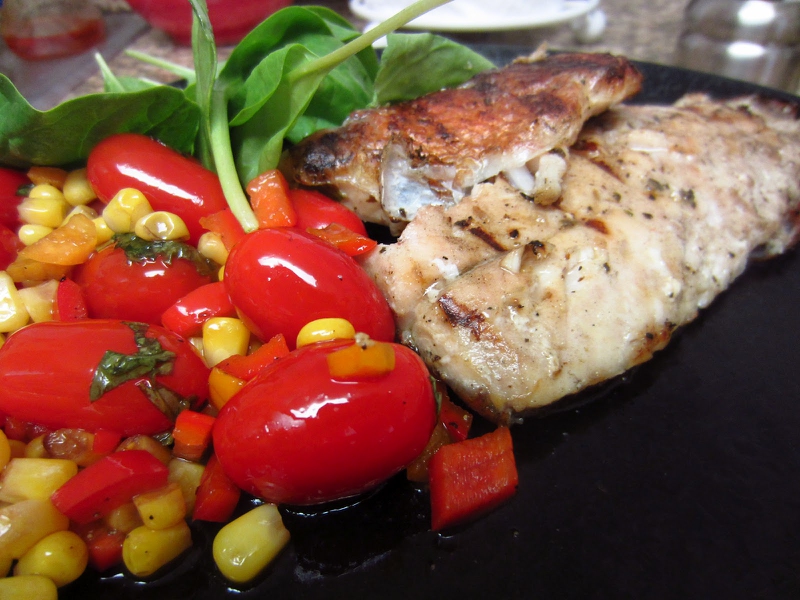 Rockfish with Smoked Paprika & Lentils
Ingredients

Amount

Lentils

Brown lentils

1 cup

Water

2 cups

Olive oil

2 tablespoons

Onion, diced

1 small

Tomato, diced

1 cup

Garlic, minced

1 tablespoon

Lemon juice

1 tablespoon

Fish

4 rockfish fillets

12–14 ounces

Cornstarch

½ cup

White pepper powder

½ teaspoon

Pimenton picante

1 tablespoon

Olive oil

4 tablespoons

Lemon wedges

To garnish

Salt

To taste
Directions
Bring lentils and water to boil in a sauce pan, simmer for 15 minutes with lid covered. Drain and set aside.

Heat olive oil in a large pan and cook onion till translucent.

Add the tomatoes and garlic, cook for another 2 minutes.

Add lentils, lemon juice and season with salt and pepper.

Mix cornstarch, salt, white pepper and pimento in a baking dish.

Dredge the fish fillets in the mixture.

Cook fish fillets in a large sauté pan with olive oil for 2-4 minutes on both sides.

Place lentils on a plate, and then place fish fillet and garnish with lemon wedges.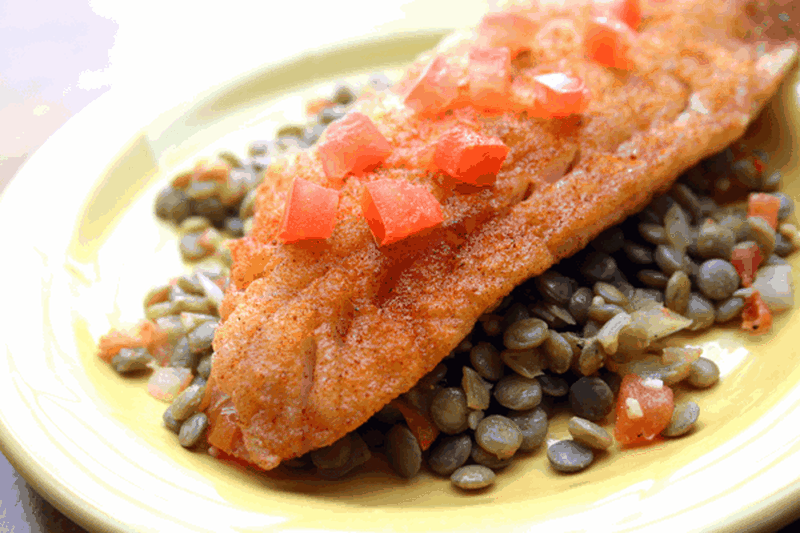 ANY IDEAS ABOUT THIS TOPIC?