Most if not all teenagers and adults encounter natural skin problems such as acne, smudges, pimples, and zits. Some experience occasional breakouts while some experience recurring problems. A pimple is a skin inflammation that occurs when bacteria infect the fatty oil glands. The skin puffs up and is filled with pus. The primary cause of pimples is excess discharge from oil glands. Here is a guide on how to deal with the pimples that won't pop.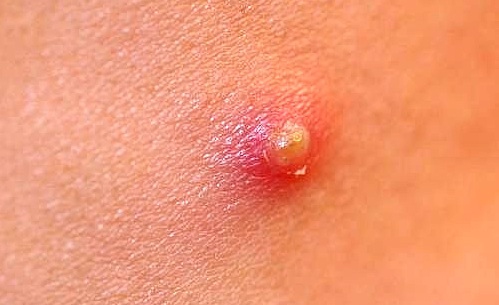 What to Do When You Have a Pimple that Won't Pop
1
Do Not Try to Pop It
Do not pop, squeeze, or use a needle to poke a deep pimple. Prodding, squeezing, poking, and interfering with the blemish prolong the healing process. It also makes a pimple bigger and worse. Popping a pimple damages your skin and leads to scars. Do not drain the pimple by yourself.
2
Apply Acne Medication
If you are on any acne treatment, continue to use the medications. But do not use too much medicines on your face because it will dry out and irritate your skin. Spot treating is effective for pustules or pimple with white heads. It is less effective in cysts or deep nodules. Start on acne treatment if you breakout often and have not been using any medication. Using acne treatment consistently may inhibit the formation of pimples.
3
Apply a Warm Compress
Placing a warm compress on a pimple encourages it to pop naturally. Make a warm compress by soaking a washcloth in warm water. Apply the compress on the pimple for about 20 minutes several times in a day. You may do this for a couple of days to heal a pimple that won't pop.
4
See Your Doctor for a Drainage or an Incision
If home-treatments do not work and the blemish persists for more than a few weeks, visit your doctor. Deep cystic breakouts may at times require medical draining and lancing. Your dermatologist will drain the pimple by making a small incision on the skin. The skin heals naturally after the drainage.
5
Get an Intralesional Cortisone Injection
During this treatment, a dermatologist injects a dilute steroid into the area using a tiny needle. The pimple will shrink and disappear in a few days.
Home Remedies to Heal Your Pimple Faster
ANY IDEAS ABOUT THIS TOPIC?