Networking is one of those "must-do" tasks for all small business owners. After all, new clients and projects don't automatically show up at your doorstep. They're often the result of connecting with other business owners in your community and work niche. But what do you do if the thought of striking up conversations with strangers makes your palms sweat?
Shift your mindset, suggests Jill Lublin, business consultant and author of "Networking Magic: How to Find Connections That Transform Your Life."
"Networking today is less about acting like a car salesman and more about making real connections with people, being authentic and offering your help," Lublin says.
Lublin also notes that most business owners relax a little when they call the process "connecting" instead of "networking."
Here are some simple ways to connect with potential new customers and colleagues — even if you're a bit on the shy side: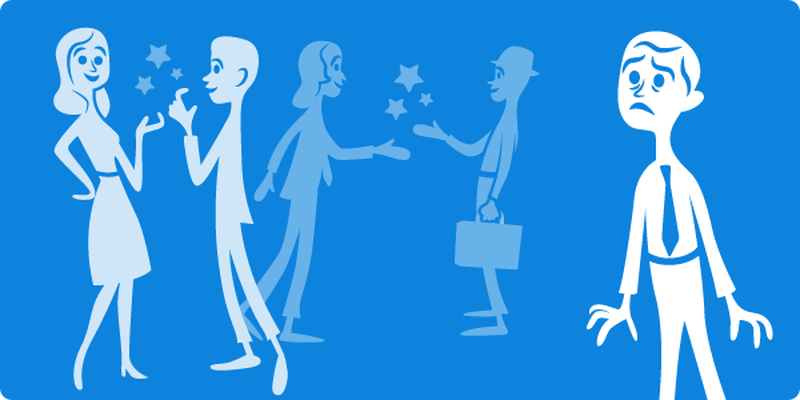 Part 1
1
At events, take advantage of ambassadors.
Lublin says most conferences and Chamber of Commerce-type meetings usually have greeters, whose jobs are to show around attendees. "At the registration table, say, 'This is my first time here. Is there anyone who could help me meet a few people in the XYZ industry?" she suggests. This removes the pressure to walk up cold and introduce yourself and may be a faster way to find the people you'd like to meet, she says.
2
Listen more than you talk.
Focus on asking new contacts about their companies and whom they'd like to meet in the next month or so to help support their business, suggests Lublin. When you're nervous, it's often easier to ask new people about themselves rather than promoting yourself. "Asking questions also makes you look helpful and interested, which is a great way to sell yourself and your business without really doing anything," she says.
3
Develop a quick "about-me" script.
Prepare a brief description of your small business, suggests Lublin. Practice your script ahead of time it so it sounds natural. And be descriptive. "Instead of just saying, 'I'm a chiropractor,' say, 'My chiropractic practice focuses on helping stressed-out people relax and get healthy,'" Lublin notes. The added detail makes it easier for the other party to follow up with questions.
4
Make referrals.
A great way to show your value to a would-be client is to offer help, says Lublin. If the person you met is looking for help with publicity, for example, can you email them the names of a few firms that you know do good work? A no-strings-attached referral can leave a good feeling in your contact's mind and encourage him or her to consider working with you in the future, according to Lublin.
5
Volunteer and join activities you like.
Some of your best business contacts might be made while you're helping with a park cleanup or attending a ceramics class, says Lublin. Volunteer activities and hobbies are a very low-pressure way to make connections. "People like to do business with people with whom they have something in common, so you may meet clients when you're not even trying," she says. Just in case, always carry business cards with you.
Of course, be sure to join organizations you authentically enjoy — not just groups you think will be good for networking, advises Lublin. Most people can spot someone who is just out to make work connections and can get turned off by that, she says.
6
Follow up, follow up, follow up.
When you meet a new contact, it's ideal to follow up with a phone call or email within 48 hours, Lublin advises. Later is OK, too, however, if time is tight. "Remind the person of when and how you met, and what you talked about. Then ask, 'I wondered if we could have a further conversation about working together on X. Could we set a time to do that in the next week or so?'" she says.
Once you've talked, touch base every month or so by email, suggests Lublin. You could offer a helpful article, make a referral, or even say, "Just wanted to make sure I'm still on your radar. I'd love to help you with your business whenever you're ready."
The bottom line: Networking honestly doesn't have to be a hard sell, says Lublin. "If you approach it with the attitude of finding good people you'd like to work with, and being helpful to them, the right connections will happen automatically," she says.
ANY IDEAS ABOUT THIS TOPIC?