It's music festival season. Have tickets will party, right? Better make sure you also have your festival look essentials ready to go.
SXSW was in March. Coachella is quickly approaching on April 10th. And there are tons of other shows and festivals coming up, too.
Sure, you are going to hear great music and have lots of fun, but we all know music festivals are a fashion show of their own. You've located the perfect hat, comfy sandals, and adorable wellies for the shows. Want to know what makeup and hair to pair with them? Gotcha' covered.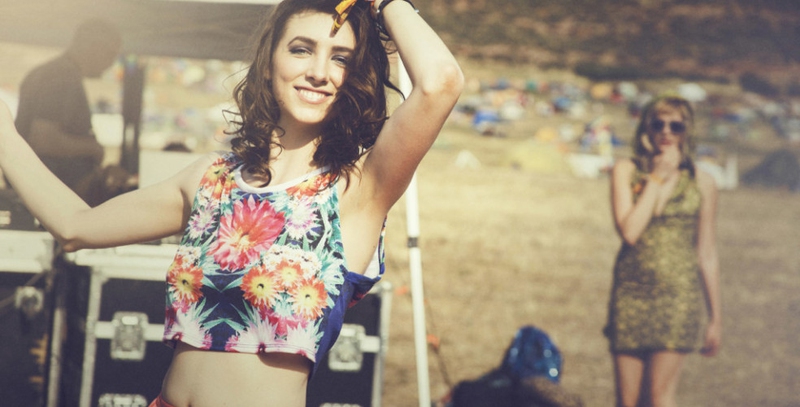 Part 1
1
Whether you go for the natural look or the whole Swarovski-crystaled nine yards, there are some makeup basics that will keep you party ready. Most important, sun protection. You will likely be catching some good sun time. Getting fried will ruin your experience, not to mention the long term damage. Be sure to use mineral sunscreen for max safety.
Suntegrity 5-in-1 Natural Moisturizing Tinted Face Sunscreen SPF 30
2
To get that modern festival chic vibe, black eyeliner is a must. A thicker pencil eyeliner not only lasts longer than the creamier kind, but looks great after a little (or a lot!) of smudging.
Dr. Hauschka Eyeliner in Jet Black
3
You may be able to pull off full on sparkle for Day 1, but the look has a shelf life. Shimmer is much more doable and can be easily reapplied. A highlighter stick gets your glow on in an instant.
Ilia Beauty Illuminator in Polka Dots & Moonbeams
4
If you only take one beauty item along this season, it has to be a glossy lip balm. One that hydrates and protects lips, while offering glam shine.
Suvana Beauty Paw Paw & Honey Organic Lip Balm
5
Comfort and longevity are key to happy festival hair. One word … braid. Simple, durable, and, of course, fest-worthy. Added bonus, hair looks great when taken out of braid too. Dry shampoo will be your BFF over a long, shower-less weekend to absorb greasiness and turn up volume.
Lulu Organics Travel Size Organic Hair Powder
6
And don't forget a wrist full of cute hair ties and headbands for a quick up do. Double as accessories.
Free People Organic Braided Headband
Now make sure you've located your Camelback and solar phone charger, and you are good to go.
ANY IDEAS ABOUT THIS TOPIC?