Despite all the amazing advancements in our society (the iPhone, Google glasses, stem cell research), our perception of beauty has, annoyingly not evolved with the times! In fact, it's dwindled down to one ideal - skinny.
The widening gap between the female body seen on the street and the one seen in magazines is alarming. According to the UK's Office of National Statistics, the average UK woman weighs 11 stone. However, the average weight of today's fashion models is between 7 and 9 stone.
So there we have it - the proof is in the numbers. Curvy women ARE the norm and deserve to have positive representations in the media! Luckily, as plus-size models achieve more notoriety in fashion, they've showcased the many gorgeous shapes and sizes women come in (and psst - they're healthy women too! Crazy, riiiiight?).
In an industry that privileges a specific idea of what a woman should look like, these ladies have to remain confident. Here are a few life lessons we could all learn from these models.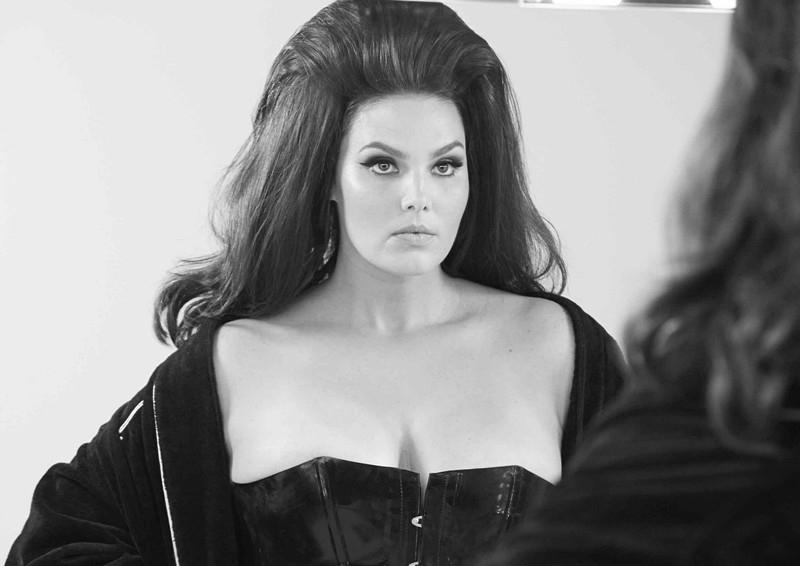 Part 1
1
Your character is what people fall in love with, not your hip size.
Kate Dillon is a veteran of the modeling game and has been stomping runways for two decades now. However, behind the glamor of her early career as a 17-year-old model was an eating disorder that got so bad she had to take a break from the overly critical industry. During her hiatus, she learned to accept her healthy body, which was forty pounds heavier than her 120-pound days, and entered a new era of her modeling career.
2
You have to be your biggest cheerleader
Tiffany Bank turned heads and stereotypes when she posed with Atlanta Falcons player, Ray Edwards, in a stunning editorial for Plus Model Magazine in October 2013, but she's got a lot more up her sleeve! Bank's models, acts, writes, and gives lectures on positive body image. She's absurdly gorgeous proof that women - no matter what their size - can accomplish their dreams.
3
Healthy doesn't exclusively mean skinny
Toccara Jones didn't win her cycle of America's Next Top Model, but in the ten years since the third season ended, Toccara has been steadily working as an in-demand model. She received a FOURTEEN page spread in Vogue Italia in 2008, showed off her acting chops in 2011's Think Like a Man, and was the face for the "I Will Not Lose" plus-size line campaign under Rocawear.
4
Don't surrender to disordered eating just to say you're a size 2
Barbara Brickner radiates elegance and confidence - qualities that won her the admiration of numerous plus-size designers and a lengthy career in fashion. She's modeled for Eddie Bauer, Nordstrom, and Mode magazine. In 2001, the Italian clothing company, Elena Mirò, chose Brickner to model solo for that year's calendar because the execs considered her a true representation of "twenty-first century womanhood."
5
All women deserve recognition and praise
The upstate New York native, Marquita Pring, has been modeling with Ford Models since her early teens. She's shot several Levi campaigns, walked the runway for Jean-Paul Gaultier, and was featured in Italian Vogue.
6
There is beauty in our differences
Whitney Thompson is a blonde bombshell and the first and only plus-sized winner of America's Next Top Model. She earned the coveted title back in 2008 at 20-years-old and hit the ground running. Thompson has donned the cover of Plus Model Magazine, was the most recognizable face for Forever 21's plus-size line, Faith 21, and shot a CoverGirl commercial with superstar Rihanna.
7
You WILL learn to love your body
Emme Aronson, real name Melissa, paved the way for plus-size models. She took her athletic rowing body into a groundbreaking career in modeling through the 90s. Since then she's become an outspoken advocate for positive body image, penning a book True Beauty: Positive Attitudes and Practical Tips From the World's Leading Plus-Size Model in 1998.
8
Negative thinking will damage you more than fashion mags
Christina Mendez has forged an inspirational career in TV and fashion. She's posed for Glamour, Latina Magazine, and Source Magazine, as well as appearing on BET's model search, Rip the Runway. In case you still aren't impressed, Mendez is a mother to a son with autism and is a dedicated advocate for autism awareness. Also, she's gorg!
9
Ignore the haterz; don't let them block your shine
Tess Munster has endured harmful criticisms from Internet "trolls" since she started modeling professionally in 2010. She started Tweeting her hashtag "effyourbeautystandards" last year because of the "intense pressure I felt from everyone to be something/someone I'm not." Tess has an enviable amount of talents; besides being beautiful, she's also a make-up artist and blogger who only launches positivity into the world.
10
Conformity is to lose all your power!
Ali Tate is a newbie model; she used to play soccer and was then recently signed with Ford and Muse modeling agencies. We love her unwillingness to change herself. This woman has got a great head on her shoulders, and we can't wait to see how far she goes!
ANY IDEAS ABOUT THIS TOPIC?