The kiwi, or kiwi fruit, is a berry that can be eaten and is roughly the size of a chicken egg. It has a fuzzy outer skin that can be eaten if it is organic; however, if it is not organic, it must be peeled. This fuzzy greenish-brown peel covers a green fruit with a creamy white center and edible black seeds. The kiwi has a slightly sweet and tangy or sour flavor, much like a strawberry, but more exotic. The texture of the kiwi is creamy, much like a banana.
The kiwi fruit is available year-round in most grocery stores. It can be eaten alone, in a salad (whatever your tastes are), in tarts, or in smoothies. The kiwi smoothie is probably the best and easiest way to enjoy this large berry, among which the banana kiwi smoothies is my favorite. A few recipes included below will provide you a number of interesting and exotic flavors.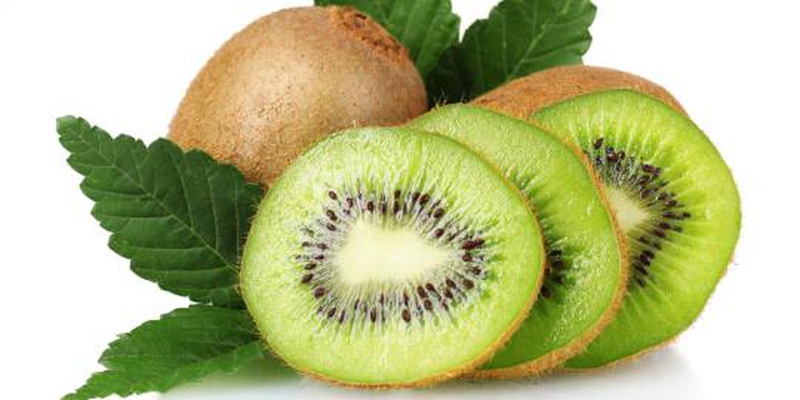 10 Delicious Kiwi Smoothies to Try
The reason that people are mainly attracted to the kiwi is because of its exotic flavor and bright green color. The health benefits of eating the kiwi fruit are many. For example, it is a rich source of vitamin C, vitamin A, as well as folic acid, and magnesium. The seeds are edible and contain a good source of Omega-3 fatty acids. Studies have shown that eating between 2 and 3 kiwi fruits a day for about a month can help to get rid of clots and blockages. The kiwi also cleans out toxins, has enzymes that can aid in digestion, and protects the DNA from damage. It is also a good source of edible fiber, phosphorous, B6, vitamin K, and vitamin E.
So why not enjoy kiwi smoothies now? All you need to do is to clean your ingredients, cut them to roughly the same size, put them in blender and blend until both creamy and smooth. Enjoy!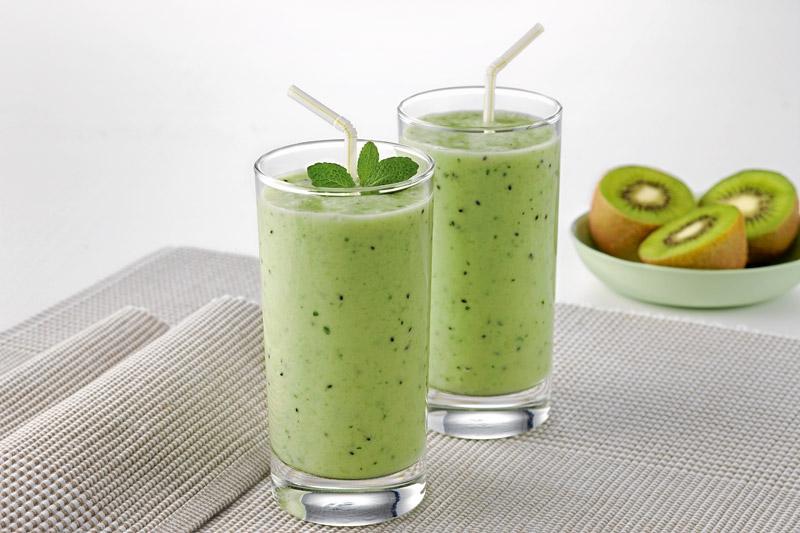 Kiwi Smoothie Recipe

Ingredients

Blueberry-Oat Smoothie

Ÿ ⅓ cup frozen blueberries

Ÿ 3 small kiwi fruits, very ripe

Ÿ 2 large bananas, frozen

Ÿ 3-5 dates, fresh or dried

Ÿ ⅔ cup rolled oats

Ÿ ½ to 1 cups water

Morning Energy Green Smoothie

Ÿ 1 medium banana, peeled

Ÿ 1 kiwi, peeled

Ÿ 3 tablespoons goji berries

Ÿ 1 tablespoon cacao powder

Ÿ 1 stalk celery, chopped

Ÿ ½ cup fresh parsley

Ÿ 1 cup fresh baby spinach, chopped

Ÿ 8 ounces coconut water

Ÿ 2-3 ice cubes to chill if desired

Starburst Smoothie

Ÿ 2 bananas, frozen and sliced

Ÿ 1 cup kiwi fruit

Ÿ 1 cup strawberries, frozen

Ÿ ¾ cup of apple juice

Kiwi-Cucumber Green Smoothie

Ÿ 1 medium frozen banana

Ÿ 1 cup frozen broccoli, chopped

Ÿ 3 kiwis with peeled only if organic

Ÿ 2 small cucumbers, or ½ a large one

Ÿ 8 ounces, filtered water

Strawberry-Kiwi Smoothie

Ÿ 1 pound fresh strawberries, hulled

Ÿ 2 kiwi fruits, peeled and quartered

Ÿ 1 cup orange juice

Ÿ 6 ounces vanilla yogurt

Ÿ sugar

Creamy Coconut-Chocolate Smoothie

Ÿ ¼ cup unsweetened coconut milk

Ÿ 2 medium bananas, peeled

Ÿ 1 kiwi, peeled

Ÿ 1 tablespoon raw cacao nibs, ground

Ÿ 3 cups or handfuls fresh baby spinach

Kiwi Fruit Frappe

Ÿ 1 cup apple juice, unsweetened

Ÿ ½ cup chopped pineapple

Ÿ 1 cup kiwi, peeled and chopped

Ÿ 1 tablespoon lemon juice

Ÿ 1 ½ cups ice cubes

Oasis Smoothie

Ÿ 1 large banana

Ÿ 1 cup plain yogurt

Ÿ 1 kiwi fruit, peeled and chopped

Ÿ 1 cup crushed ice

Ÿ 1 nectarine, peeled and chopped

Ÿ ¼ teaspoon nutmeg

Ÿ 1 cup orange juice

Ÿ 1 teaspoon, raw and thick honey

Ÿ 1 teaspoon fresh lime juice

Ÿ ½ teaspoon vanilla extract

Boysenberry-Kiwi Smoothie

Ÿ 1 kiwi fruit, peeled

Ÿ 100 grams boysenberries

Ÿ 100 ml orange juice

Ÿ 2 tablespoons vanilla yogurt

Banana-Kiwi Smoothie

Ÿ 1 banana, peeled and cut into chunks

Ÿ 1 kiwi fruit, peeled and sliced

Ÿ 1 cup low fat yogurt

Ÿ ½ cup ice cubes

Ÿ 2 teaspoons maple syrup (optional)
ANY IDEAS ABOUT THIS TOPIC?