In all honesty, we all have been in situations where we try to feign ignorance when actually all we are thinking is finding ways to get relief. An itchy butthole might seem an embarrassing or sensitive issue to you but the fact is that it is fairly common and can be caused by a number of reasons.
An itch on the skin around the anus or directly in the anus is known as Pruritus ani or anal itching. The typical accompanying symptom of this condition is a strong desire to scratch the area which often results in embarrassment and discomfort. Additional symptoms include soreness and burning in and around the butthole.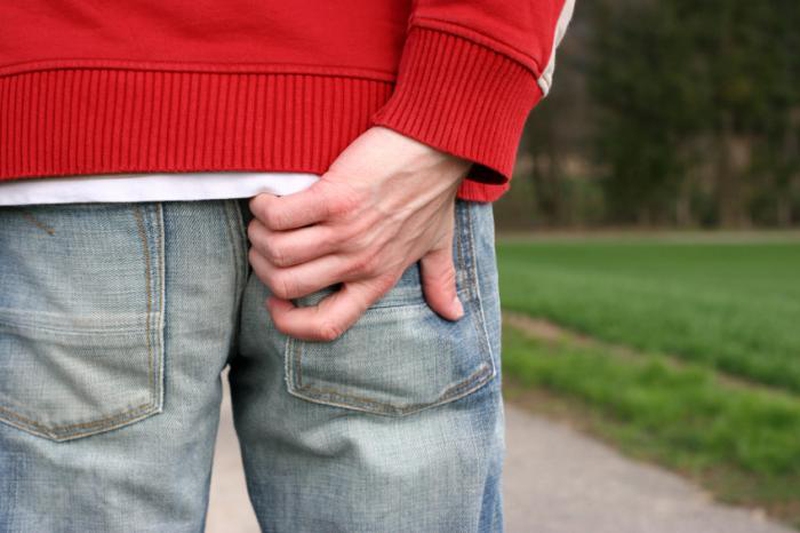 Possible Causes of Itchy Butthole
The following are some of the possible causes of itchy butthole.
Skin irritation: Moisture and friction can lead to irritation of the anal area's sensitive skin. This irritation can cause itching in the anus. Use of products like toilet paper and soap containing softening agents, scents and dyes can also cause anal irritation and itching while their overuse can aggravate it.

Digestive problems: Multiple diarrhea episodes can cause anal itching and irritation too. One of the contributing factors of this condition is fecal soiling or accidental leakage of feces.

Hemorrhoids: Hemorrhoids are swollen vessels located in the anus and rectum. Straining during bowel movements can cause hemorrhoids and anal itching can be one of its symptoms.

Infections: Anal itching can be caused due to sexually transmitted infections that involve the anus. Parasites responsible for causing pinworms in children are also known to cause persistent anal itching in both children and adults of the same house. Women usually get affected by yeast infections which can result in anal itching as well.

Skin disease: Contact dermatitis and psoriasis are skin diseases which can also sometimes result in anal itching.

Anal tumors: Cancerous or benign tumors in and around the anus can also be a cause of an itchy butthole but only rarely.
How to Deal With Itchy Butthole
The cause of the itchy butt decides the treatment for anal itching. It might include treatment of infection, diet changes, self-care measure or even surgery for correcting underlying problems.
1
Medications
Medications used for treating anal itching include:
OTC ointment or cream having hydrocortisone (Preparation H Anti-Itch Cream, Cortaid): Itching and inflammation can be minimized by apply it in small amount on the affected areas.

Protective ointment containing zinc oxide (Balmex, Desitin): It may offer relief if it is applied to the affected area.

Antihistamine: The doctor might suggest an antihistamine to minimize itching until the topical treatments become effective if your symptoms worsen at night.

Anti-parasite treatment: Pinworm infections can be treated using various medications. The infection can be cured by a single dose but a second dose is often given two weeks later.
2
Self-Care
Several steps can be taken at home for treating anal itching.
Apply Vaseline or petroleum jelly on the affected area.

Wash the affected area with soft washcloth and water during bath.

Dry the area around the anus after bathing or using the restroom.

Avoid scratching the affected area.

Avoid using bath products that have dyes or perfumes, which can cause an allergic reaction or irritate the skin.

Use toilet paper that is devoid of bleaches or harsh dyes.

Wear flexible, breathable and loose cotton underwear.

Wipe the anus with water moistened toilet paper or moistened wipes to stop stool from remaining on the skin of the anus.
3
Home Remedies
Apple cider vinegar: General acidity is among the main causes of anal itching. Taking 2 tbsp. of apple cider vinegar diluted in 8 ounces of water on a daily basis can alkalize the body and help in treating an itchy butthole.

Coconut oil: For an itchy anus, coconut oil is considered to be the best natural remedy. The antibacterial, antimicrobial and antifungal properties of coconut oil help in eliminating the infection and quickening the pace of healing. Rub the coconut oil on the affected area to alleviate burning and getting instant relief.

Tea tree oil possesses natural infection fighting properties which makes it an excellent remedy for eliminating the infection causing anal itching. It can also help in minimizing inflammation.

Garlic can help in treating this condition from the inside by eliminating the intestinal infection that is responsible for this condition. It can help in relieving inflammation throughout the body too.

Aloe vera has calming and soothing properties which makes it an ideal remedy for anal itching. Take a fresh aloe vera leaf and slit it in the middle. Rub the gel inside the leaf for five minutes on the affected area. Repeat after every few hours to stop soreness and itching.

Ghee too has antimicrobial, anti-inflammatory and antibacterial properties and can deal with the infection and swelling as well. Rub warm ghee on the affected area using the index finger for a few minutes. Get rid of the itching by reapplying the ghee in the same manner after every few hours.

Psyllium husks help in cleaning bowel and eliminating the bacteria in the stool that might cause anal itching. If you have constipation, you can take one tbsp. of Psyllium husks with hot milk while people suffering from diarrhea should consume mixture of Psyllium husks with curd twice a day.
ANY IDEAS ABOUT THIS TOPIC?