When people hear the phrase "Hunan beef", they automatically ask, what is Hunan beef? It is fairly common in the Chinese culture, as it is a tender piece of beef that most people love, especially those who love spice food. Hunan is a province in China, a region where its cuisine is known for its spiciness. The beef is very spicy because it has hot chili peppers that are used in the dish. It can also be cooked with peppers, red wine, onions and soy sauce for flavor.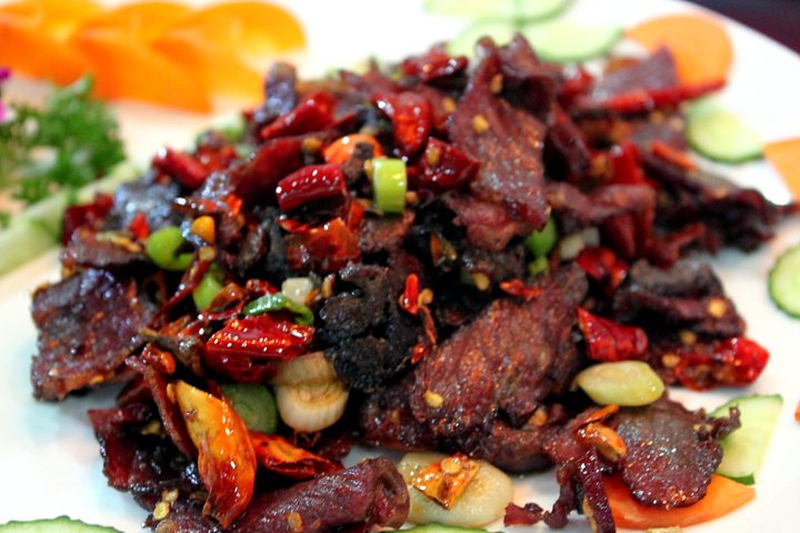 Hunan Beef
Ingredients
| | |
| --- | --- |
| Ingredients | Amount |
| Lean beef | 1 pound |
| Meat tenderizer | 1/4 teaspoon |
| Soy sauce | 3 tablespoons |
| Cornstarch | 1 tablespoon |
| Peanut oil | 2 1/2 tablespoons |
| Thai red peppers | 4 large peppers |
| Salt | 1 teaspoon |
| Chopped garlic | 1/2 teaspoon |
| Rice wine vinegar | 2 teaspoons |
| Sugar | 1 teaspoon |
| Ground ginger | 1/8 teaspoon |
Time & Yield
| | |
| --- | --- |
| Total Time | 25 minutes |
| Yield | 2 servings |
Directions
All the fat needs to be removed from the beef for better flavor. This can be partially frozen to make it easier. Cut the beef into 1 1/2-inch slices.

Start making the marinade by adding meat tenderizer to the beef that is in a bowl. Then add in 1 tablespoon of soy sauce, the cornstarch and 1/2 tablespoon of peanut oil.

Let the meat sit in this marinade at room temperature for at least 30 minutes.

While marinating, chop the Thai peppers into small chunks and set aside.

Bring a pot of water to a boil with the 1 teaspoon of salt and 1 tablespoon of peanut oil.

Add the meat to the pot and let it cook for 1 minute.

Take the last tablespoon of peanut oil and put this into a wok for heating. Add the chilies and garlic to the wok.

Add the beef and remaining ingredients into the wok and heat together.

Serve with rice and enjoy.
Spicy Hunan Beef with Cumin
Ingredients
Ingredients

Amount

Flank steak that is sliced about 1/4 inch thick

1 pound

Peanut or vegetable oil

1 tablespoon

Chopped ginger

1 tablespoon

Chopped garlic

1 tablespoon

Dried red chilies

6 to 8

Scallions sliced thin

2

For the marinade

Chinese rice wine or dry sherry

1 tablespoon

Soy sauce

1 tablespoon

Cornstarch

2 tablespoons

For the sauce

Soy sauce

1 tablespoon

Chinese rice wine or dry sherry

1 tablespoon

Chili oil

2 teaspoons

Chili sauce

1 tablespoon

Ground cumin

2 teaspoons

Black pepper

1/4 teaspoon
Time & Yield
| | |
| --- | --- |
| Total Time | 45 minutes |
| Yield | 4 servings |
Directionos
Add the marinade ingredients together and then pour this over the beef in a bowl which can be sealed and let it sit for 10 to 15 minutes.

Take a small bowl and make the sauce with the ingredients listed by mixing them well.

In a pan, add the peanut oil and heat this. Then add the meat to this pan. Let this sit for at least 1 minute without touching.

Add the garlic, ginger and chilies to the mixture and let cook for about half a minute.

Add the sauce into the pan and let this cook until the meat is no longer pink. Then serve the hot dish!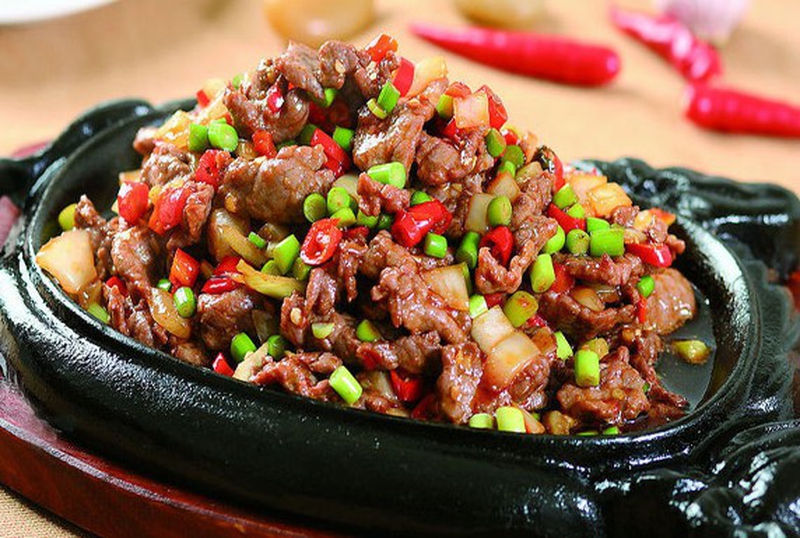 ANY IDEAS ABOUT THIS TOPIC?