Summer's coming and that means one thing. Tanned or untanned (either is fine BTW), it's time to unleash those pins. Whether you're a high waisted shorts kinda girl or hooked on denim cut offs, with our help you'll know exactly how to dress for your body type come festival season. Here's all the style inspiration you need for shorts to suit your body shape.
Too big, too small, too tight? Shopping for shorts is no easy task and somewhere down the line, you just learn to live with two eventualities: embrace the camel toe or bare some butt cheek #tallgirlproblems.
That said, it's nothing some simple style pointers can't fix. We've sussed out the styles to flatter your figure whatever your body type.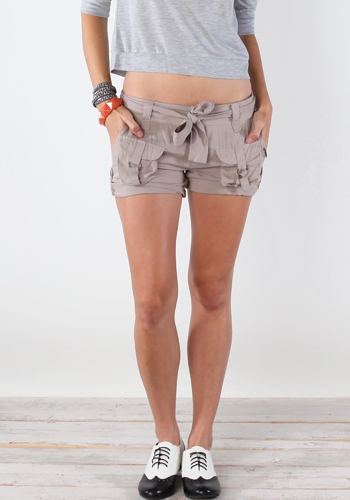 Part 1
1
Best for apple shape
With legs like yours you've got your pick of the pants. You've been blessed with gams for days which makes shorts your go to summer purchase.
The only thing you need to stick on your avoid list is frills and front pockets. Delicate chiffon and soft casual styles are a great shout as any padded detailing will add inches to your tummy - what you want to do is focus on your lower half! Permission to get leggy? Granted in full.
Alternatively, you can always brave a touch of pattern á la Miss Palermo, just make sure you style them up with layers and you'll be slaying it.
2
Best for pear shape
Pear shapes characteristically have wider hips, a defined waist and a fuller bottom half but that doesn't mean you're limited to a summer of full length errrthing.
Plenty of pear shaped celebs kick back on vacay in a triangle bikini and bun hugging bottoms. Rihanna – case in point numero uno. Go for gathered shorts that nip you in at the waist and skim your hips or stick to darker colours with clean lines if you don't want to accentuate your curves.
3
Best for hourglass
Congrats, you're one of the chosen few. Your iddy biddy waist is made for showing off and that means high-waisted shorts are your calling in life but your options don't stop there. Since your body is already proportional, you can pull off just about any pair of shorts you like. Lucky thing.
If you're shorter avoid any culotte/cropped styles as these will sit on the thickest part of your legs, making you look unbalanced.
Shorts that emphasise your waist and fall a few inches above the knee will work wonders for accentuating your curves as well as flattering them. Bingo.
4
Best for athletic
The main traits of an athletic or 'boyish' body type (hello style icon Keira Knightley) is an undefined waist, narrow hips and a small bust.
You can do one of two things, add curves to your lower half to create the illusion of fuller hips or enhance your slimline figure with cotton threads and minimal styling.
When it comes to deets go for prints, front pockets, tie-fastenings, knots and belted styles if you want to add volume. If your focus is on creating more of a balanced silhouette then opt for high-wasited A-line shorts - they're your cheat sheet for hourglass curves.
On the flip side if you're looking to play up your streamline assets then show off some leg. Emulate the off-duty model style with short cut, frayed denim shorts, a slouchy tee and your finest pair of casua flats. Add in a bunch of layered necklaces and it's mission accomplished. Whad'ya know shorts can be a summer mainstay after all.
ANY IDEAS ABOUT THIS TOPIC?