Crop tops are always in season. Don't fret that you think that your body type could not pull it off. Everyone can pull off a crop top. Aside from being casual and glamorous at the same time, crop tops come in different flavors that can suit any occasion. Be it a basic black short top or lovely white lace, you can be sure you won't miss out on this fashion trend. As intimidating as it can be, they are considerably easy to pair and its versatility is second to none. How to wear crop tops? Here are some tips to get you stylish in no time.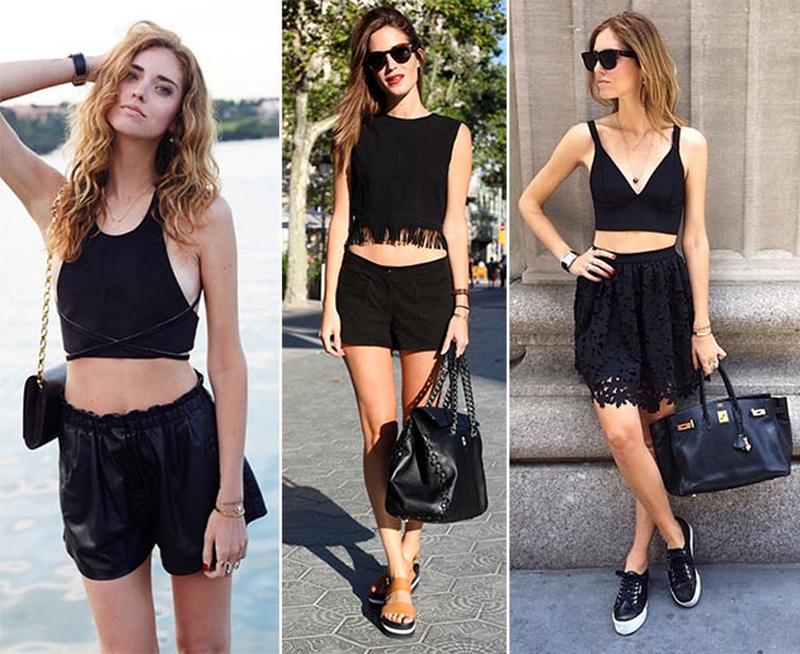 Remember: Everyone Can Wear Crop Tops!
1
Everyone can pull off crop tops
The common misconceptions ladies seem to link is that you should only wear a crop top if, and only if, you boast a flat stomach. In fact, they help to define the waist and create a shape for many body types. Anyone can rock the crop tops, it just depends on the right type of tops to emphasize your features best, along with how you pair it. In fact, the only requirement to wear one is confidence in your own body. Trust me, it's oddly empowering. Wear your stomach out with pride and be ready to feel incredible in it.
2
But you do not need to jump on the bandwagon if you don't feel comfortable for it
Fashion trends always go in and out, so it doesn't mean you have to follow every single one of them. Showing your stomach might leave you looking fabulous, but if showing the extra skin bothers you too much, then just don't wear them. You are not going to be left out, and there are still plenty of trends that share the same glamour.
Especially if you are plus sized women. If you don't feel empowered but rather more insecure and feeling persecuted, then it's alright to not wear them. It's alright to cover your stretch marks and belly fat. Feminism is more than just following trends, it's also about wearing what you want and what you are most comfortable with.
12 Important Rules You Should Know on How to Wear Crop Tops
1
Pair it with a high-waisted bottom garment
The short shirt doesn't equate exposed belly button. You can get the same sexy effect with high-waisted pants or even a draping skirt to eliminate your midriffs entirely.
2
Try a loose-fitting style
If you are anxious about the body shape you are showing with the tight crop top, try a trapeze style which covers more skin area. For the balanced pairing, wear tight fitting shorts or skirts.
3
Long sleeves or high necklines are another way to keep yourself covered
There a certain "je ne sais quoi" about a crop top that only leave your belly exposed.
4
Keep it simple for a more subtle look
The cropped style is the hero. Crazy patterns will only ruin the overall look.
5
Be confident
Look great and feel great. Be comfortable in your outfit and you will naturally attract peering eyes down every corner.
6
Choose the right length
The tops come with a variety of lengths, styles and shapes. Choose the one best for your body type and pull it off with confidence. For those more conservative, go for the ones that skim right above the waist, then pair cover the rest with your high shorts or skirts.
7
Don't over expose
One of the keys to rocking these tops is to not reveal the belly button. It's a simple change that turns a feminine, flirty look to a sleazy, cheap look.
8
Stay sophisticated
Give retro fashion a go, with a more ladylike and covered fashion, which means minimal skin exposure, with a gaudier, flowy blouse to emphasize the body contours.
9
Balancing act
The more skin you show, the more balance you should keep it mind. The general rule is to have your bottom cover more for the shorter crop tops you are wearing.
10
Cover it up
Pair your crop tops with a cute playsuit or some overalls. Along with long sleeves, you will feel less exposed to the midriffs only visible from the back and side. Another option is to pair it with a blazer and high-waisted trousers, ideal for the cooler season!
11
Go contrast
You don't need to have fancy patterns on the crop tops or even bright colors. Stick to the classy white, or darker colors that will simply pop-out with a necklace or a scarf.
12
Get matchy-matchy
Matching top and bottom will highlight your skins and body shape more, leaving you looking more ladylike.
How to Wear Crop Tops: Wear with Other Compatible Clothes
1
Pair with a pencil
The pencil skirt can be considered as the epitome of sophistication and sleekness. With the crop top, you will leave quite an impression.
2
Opt for a bright midi
Vivid colors of a voluminous midi will steal away the attentions from the exposed skin and the crop top.
ANY IDEAS ABOUT THIS TOPIC?