When it comes to choosing colors for your living room, brown may not seem like the most exciting shade. But brown paint can actually be a stylish and versatile option for the social center of your home. Whether you choose a light tan or a deep brown verging on black, there's bound to be a shade that can help warm or dress up your living room. The trick is finding the right spot to use the brown paint so you play up your living room's assets.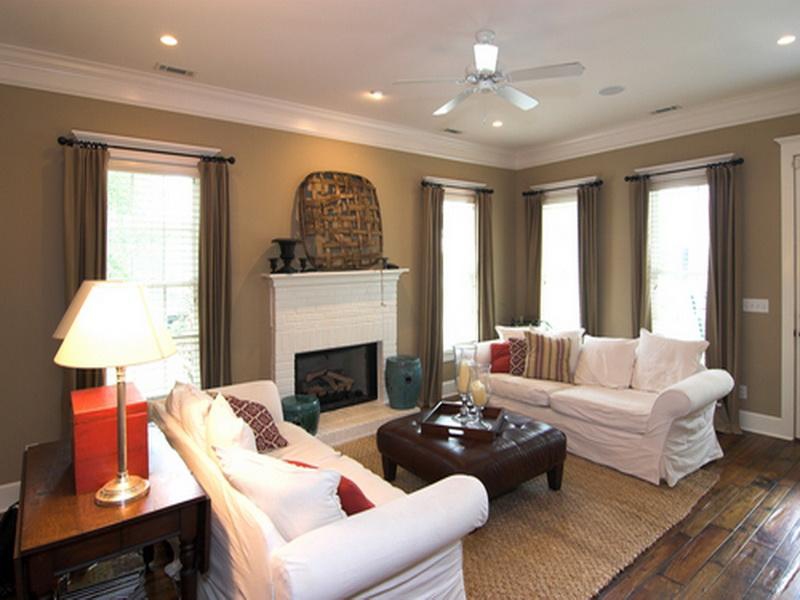 Part 1
1
Walls
With a variety of tones and shades, brown may be an ideal wall color for your living room. If the room is small, light shades like tan or taupe are good options. These shades are often considered neutral, too, so they work with a wide array of accent colors, including both warm and cool tones. In a larger living room, you can opt for a richer shade of brown for the walls. A warm chocolate shade provides an elegant look. Pair it with other warm tones like red, orange and gold to give the room a cozy, inviting look, or create a striking contrast by using cool accent shades like cornflower blue or sage green for a bold, sophisticated look. If you use a deep, rich shade of brown for your living room walls, make sure to incorporate some white or ivory elements as well to add brightness to the space.
2
Faux Finish
Creating an accent wall in your living room is an easy, effective way to direct focus to architectural elements, artwork or other accessories that you want to showcase. A faux finish allows you to use paint to give your accent wall a textured finish that helps it stand out in the room – and brown is an ideal shade for a faux finish because it adds depth and richness to the overall effect. For a simple faux finish, sponge several different shades of brown onto your accent wall for a mottled, porous look. If you want a truly striking look for your living room, however, use brown paint to create a faux leather finish for your wall. Start with a semigloss base coat in a medium brown shade and create a faux finish glaze by mixing dark brown paint with glazing liquid. Apply the glaze with a roller in small sections and let it sit for several minutes. Then scrunch up a piece of plastic sheeting, smooth it out and place it over the still wet glaze. Use a faux finish stippling brush to brush over the plastic. With the plastic still in place, repeat the process on the next section, making sure to overlap the plastic sheeting. Wait until you've covered the entire wall before removing the plastic sheeting.
3
Molding
Brown paint is also a good choice if you want to accent architectural details in your living room. In particular, it can draw attention to decorative molding and paneling to help add definition to your room. If your living room walls are a light shade like white, cream or tan, a rich chocolate brown on crown molding, wainscoting or other molding will create a striking contrast that instantly draws the eye. For a more subtle look, choose a light or medium shade of brown like tan, sand or camel and pair it with a deeper wall color like terracotta or blue gray.
4
Furniture
If you have wooden furniture in your living room, brown paint can give the pieces a more dramatic appearance than a natural finish might. Create a statement piece for the center of your living room's seating area by painting your wooden coffee table a rich red brown like mahogany or sienna. You can also call attention to a wooden rocking chair or console table by painting it dark black brown. If you want to make a large furniture item like a bookcase disappear into the room, paint it the same brown shade as the wall behind it.
ANY IDEAS ABOUT THIS TOPIC?