Travelling can be really energy consuming and long waiting at airport is a normal thing. So how can you while away that time and boredom? How about sleep a little bit at the airport? Think it is hard to do with the noisy and unfamiliar environment? Try these simple tips on getting a good rest in airports in your future travels and let me know if they work for you, and feel free to add your own 10 tips to this list or make a list of yours and link it back to here.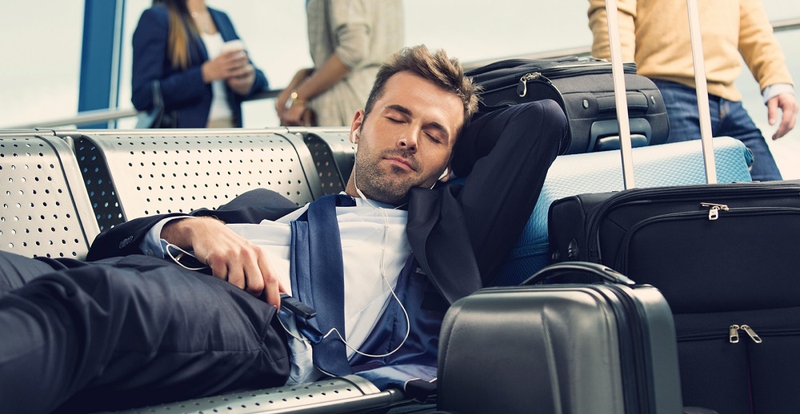 How to Sleep in an Airport
1
Verify your flight information
This is probably the first thing you should do at any airport. Verify the boarding time and gate of your departing flight, deliver your luggage, and check the TV monitors that give a flight status.
2
Get access to the airline's lounge
There are many airports with these facilities. Ask if you can use them for free or you have to pay. There are also blankets and pillows available for passengers. Ask if you can get one.

3
Find a safe and quiet place
It is much easier to sleep when it is quiet and you feel safe. Find a chair or a bench to lie across near your departing gateway if there is any that is not in use.
4
Set your alarm
Give yourself enough time to wake up and hit the head. Set an alarm, and you won't worry about being late.
5
Take eye masks and earplugs
Nothing bothers more than noise in an airport. Flight announcements, people talk… It's a good idea to have earplugs with you. Some people use music instead, but earplugs work better than music for me. Take an eye mask with you to cover your eyes while you sleep.
6
Get yourself a pillow
In case you don't have a pillow, use your backpack or carrier as a pillow. No one can steal your carrier this way. You can put your jacket on your carrier to have a softer pillow!
7
Use as few seats as possible
If the airport is crowded, it's possible that someone will wake you up and ask for a seat, so try to lie on as few seats as you can fall asleep.
8
Make sure you are warm and full
Wear a coat if you feel cold and take a snack before going to sleep.
9
Put your money and documents in a safe place
Keep smaller valuables such as passports, money, credit cards and music players in your pants or under your shirt. It is also a good idea to have a small travel bag hanging from your neck inside your shirt.
10
Check everything for security
Lock all your carriers, and put the extra ones under your feet or leg in case you can lie on a couch. Zip your purse closed and hold it under your arms.
ANY IDEAS ABOUT THIS TOPIC?