Losing weight and keeping the pounds off isn't a quick or easy process, but a few simple diet tricks can be a big help along the way. Our favorites? Eating lots of protein, fiber, and healthy carbs, which can boost your metabolism and keep you feeling full all day long. If you're not sure how to work these calorie-burning ingredients into your daily menu, start with these recipes. They all include at least one weight-loss superfood, and, best of all, they can be made in 30 minutes or less!
1
Whole Wheat Spaghetti with Garlic, Parsley and Lemon
Prep Time: 12 minutes

Cook Time: 15 minutes

Yield: Makes: 4 servings (serving size: 1 1/4 cups)
Nutritional Information
| | |
| --- | --- |
| Calories per serving: | 331 |
| Fat per serving: | 12.3 g |
| Saturated fat per serving: | 2.2 g |
| Monounsaturated fat per serving: | 7.6 g |
| Polyunsaturated fat per serving: | 1.5 g |
| Protein per serving: | 11 g |
| Carbohydrates per serving: | 49 g |
| Fiber per serving: | 8 g |
| Cholesterol per serving: | 4 mg |
| Iron per serving: | 4 mg |
| Sodium per serving: | 152 mg |
| Calcium per serving: | 133 mg |
Ingredients
8 ounces whole-wheat spaghetti

3 tablespoons extra-virgin olive oil, divided

1/2 cup chopped garlic

1 3/4 cups chopped flat-leaf parsley

3/4 teaspoon black pepper

1 tablespoon freshly grated lemon zest

1/4 teaspoon kosher salt

1/2 ounce Asiago, Pecorino, or Parmesan cheese, shaved with a vegetable peeler
Preparation
Cook the pasta according to the label until al dente. Reserve 3 TBSP cooking liquid; drain.

Meanwhile, heat 2 TBSP oil in a large skillet over medium heat. Reduce the heat to low, add the garlic, and cook, stirring frequently, until golden brown and fragrant (3-4 minutes). Stir in the parsley, pepper, and lemon zest. Cook, stirring often, until the parsley is tender (3-4 minutes).

Add the pasta and cooking liquid to the skillet with the salt and remaining TBSP oil. Toss until well mixed. Top with the cheese and serve.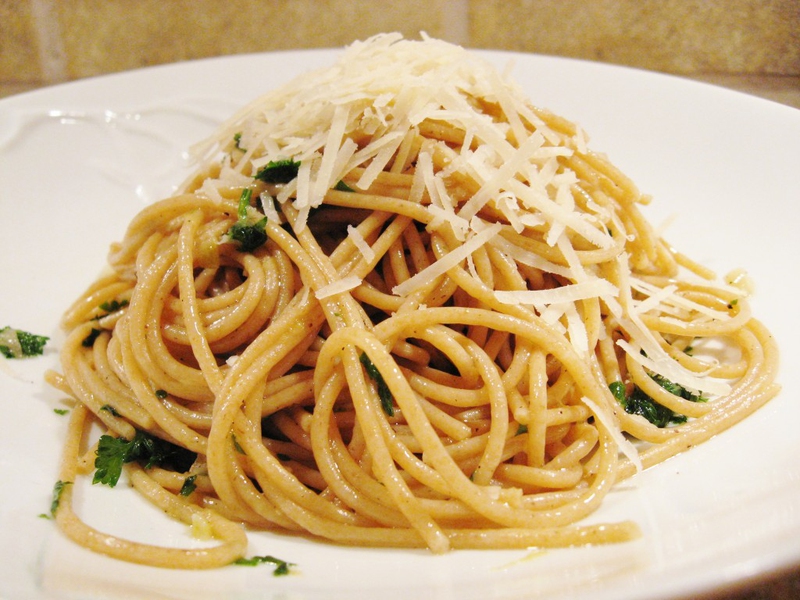 2
Tasty Blends
For a healthy energy boost, and a hearty dose of vitamins and minerals, try a freshly blended smoothie. We've put together a magic formula, as well as three creative recipes to take the guesswork out of whipping up the perfect beverage. All you need to do is choose your smoothie adventure, and pack your blender with antioxidant-rich berries, chia seeds, and fresh herbs such as basil and rosemary leaves. Then, give it a whirl and enjoy

ANY IDEAS ABOUT THIS TOPIC?