Classical fondant is the mix of sugar and water cooked until soft-ball like consistency is formed. Fondant can be pliant after it is cooked, beaten and kneaded, and then shaped into a candy or a decoration. Fondant has changed the way of decorating cupcakes and cakes. This flexible mixture can be formed into various shapes, colored, imprinted, flavored and rolled. Sometimes it is also used as an entire cake or cupcake cover. Homemade fondant is usually softer and simpler to work with but you can buy it in stores. Are you willing to learn how to make a fondant cake by yourself? Here is the best recipe
of a homemade fondant cake.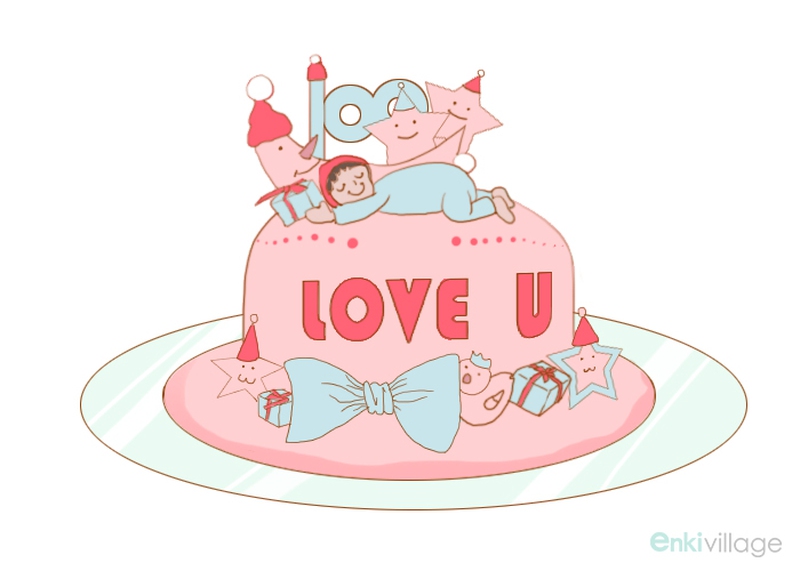 Prepare the Fondant
Place ½ ounce of finely chopped white baking chocolate with cocoa butter and 3 cups of small marshmallows in a medium microwave-safe bowl for use. Add 1-1/2 teaspoons of whipping cream or milk and 1 tablespoon of cut-up butter to it.

Put the bowl into the microwave and heat it on high (100%) power for 1 minute or when the marshmallows are melted and creamy. If it doesn't melt thoroughly, heat the mixture longer or several times to melt it. Stir the melted mixture to make it smooth.

Add 1 teaspoon of clear vanilla and 1-1/2 cups of powdered sugar into the ready marshmallow mixture and stir thoroughly.

Prepare your working surface by spreading about ½ cup of powdered sugar on it. Place your marshmallow mixture on a work surface and start kneading until it becomes smooth and nonstick. Pour more powdered sugar if needed. This might take you around 10 minutes. Once the fondant is ready, you can use it straight away or store it.
If you want to learn another way of preparing fondant for your cake, check this video:
How to Make a Fondant Cake
1
Prepare the Cake
You can buy a cake from the store or you can make one by yourself. Before you start, make sure to cover your cake with a layer of buttercream. It has to be at least ¼ inch thick. This layer will help the fondant sticking to your cake, prevent imperfections and lumps on the surface of the cake and make the fondant flawless and smooth.
2
Roll the Fondant Out
If your fondant becomes stiff, knead it like bread dough until it is smooth and pliable. The best tools for rolling your fondant out are: a cutting board or a large surface without any texture, a nonstick mat and a nonstick rolling pin.
Knead the fondant until the needed size and shape. Form a circle for a round cake and a rectangle for a rectangular cake. For a round cake of 9 inches (that is 3 inches high) the size of your circle will need to be about 15 inches around. Be sure to leave few extra inches on each side.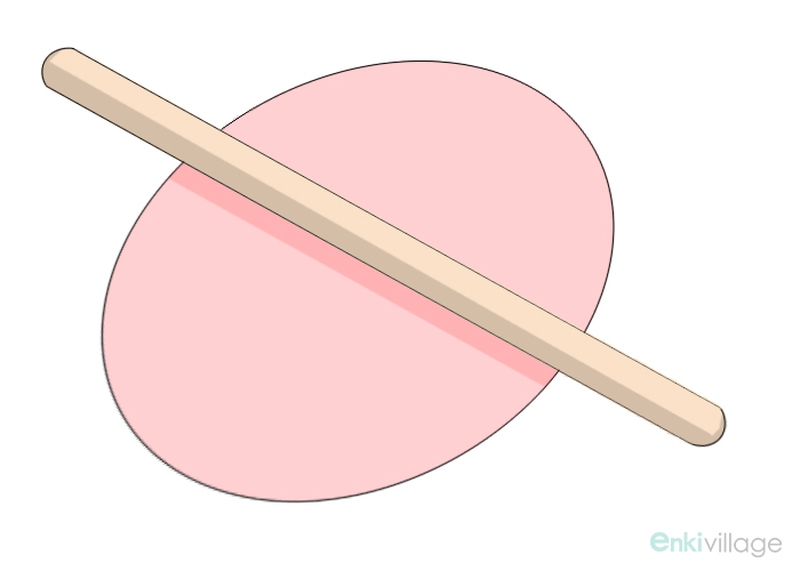 3
Put the Fondant on the Cake
Once the fondant is rolled to the desired shape, size and thickness, you should start to put the fondant on the cake. Follow the steps and once you finish, your cake should be evenly covered by the fondant.
Put the rolling pin on the furthest edge of your fondant;

Roll the fondant up around the pin directed toward you;

Lift the rolling pin rapidly and posit it on the side of your cake;

Begin unrolling the fondant from the pin until it hangs below the lowest part of the cake;

Keep unrolling your fondant across the top of the cake toward the other side.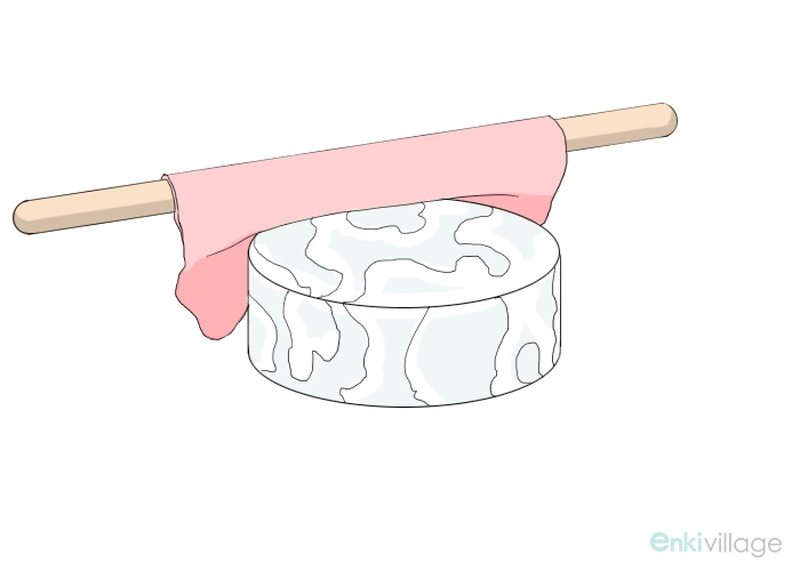 4
Smooth the Fondant
Eliminate air bubbles from under the fondant and smoothen the top of the cake using your hand. Don't use fingernails because this can leave scratches and damage the texture of the fondant. You can also use a smooth to do this. This tool not only helps avoid marks of finger, smooth the fondant and level the frosting underneath, but also works out any air bubbles that might be trapped under the fondant.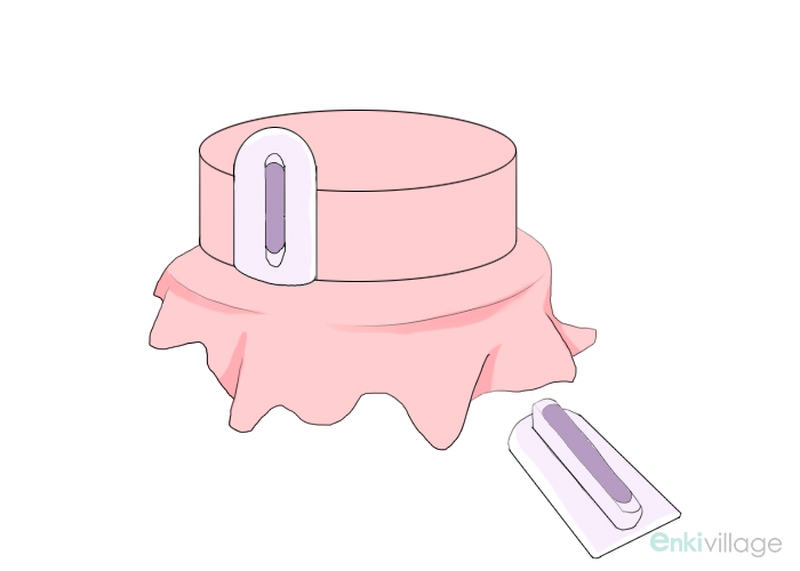 5
Trim the Excess Fondant
Trim away the excess fondant and avoid cutting too close to the cake, leaving few extra inches on each side. Once you finish, lift and press your fondant carefully and slowly into the sides of the cake. If wrinkles start to appear, stretch and gently push the fondant to the cake to transfer the wrinkles down.
When your cake is wrinkle-free, smooth and flawless, remove the remaining excess fondant with a sharp knife. Now your Fondant cake has finished and you can start to dress it up with fancy fondant decorations.
6
A Demonstration Video
If you still have questions about how to make a fondant cake, there is a demonstration video that gives you a step-by-step guidance of making fondant cakes and decorating it:
Tips on How to Make a Fondant Cake
For short-term storage, store your fondant in a plastic bag wrapped in a clingy plastic wrap.

For long-term storage, roll the fondant into a ball (or two) coated with some vegetable shortening. Wrap it in a clingy plastic wrap and store in the hermetic container.

Your hands have to be clean when working with fondant. Avoid wearing clothing with fibers as they might shed.

If possible you should avoid refrigerating your cake, as fondant readily absorbs moisture and is often sticky and wet when removed from a refrigerator. Optimally, you should store your cake in a cool location in a cake box, and eat it within a day.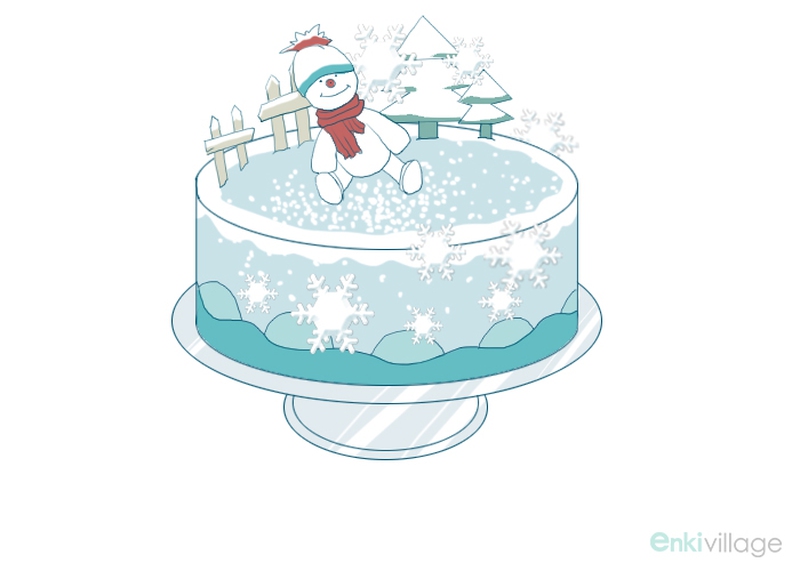 ANY IDEAS ABOUT THIS TOPIC?