Do you ever wonder why some women are always more stylish and prettier than the others? It maybe not only because they are naturally blessed with nice figure and features, but it also because they actually know some look-pretty tricks. Learning how to look pretty doesn't have to be as hard as you might think. It is sometimes about following some simple steps that in turn will improve your confidence and make you look pretty, inside out. Keep reading to discover how to look beautiful by making certain moves.
How to Look Pretty by Making Your Skin Look Beautiful
Taking steps to make your skin look clear and radiant will definitely go a long way in improving your confidence. You can also take steps to eliminate or at least hide skin blemishes and signs of aging to move with confidence. Here are a few ways to take care of your skin to learn how to look beautiful.
Use Eye Shadow Sensibly
As you age, your skin will start losing its elasticity. It will even sag and form shadows. You can, however, look pretty and luminous by applying white eye shadow to the brow bones, the inner corners of the yes, about the peaks of your upper lips, and the inner corners of your eyes. Use a white shadow for your light skin tone but opt for off-white or golden version for darker complexion.
Erase Wrinkles
Simply soak a towel in hot water, wring it, and cover your face with it for a few seconds. Now, apply a thick layer of cream to ensure that it goes into the swollen pores caused by heat treatment. You may also place small pieces of plastic wrap over your chin, cheeks, forehead, and nose to seal in hydration.
Get Bright Eyes with Long Lashes
Your long, fanned-out lashes will always make your eyes look beautiful. Use your mascara to sweep middle eyelashes upward and turn the inner corners toward your nose. Finally sweep your outer lashes toward your temples to create a perfect appearance. You may also add a touch of color on your eyelid directly above your iris to open your eyes up a bit. Use waterproof eyeliner on the upper inner rim of your eyes to have more defined eyes.
Treat Your Red Ears
Some women will worry a lot about their ears becoming hot and red. You can use foundation to treat this problem and look pretty. Be sure to prep your ears using the same base that you use on your face. To look beautiful and flawless, make sure that the entire application is seamless.
Pay Attention to Your Pretty Hands
In order to learn how to look pretty and young, it is important that you don't forget to file and style your pretty hands. You need to keep your nails in the right shape and use the perfect shade to turn back the clock. Keep your nails trimmed – keep them as close to the tops of your fingers as possible. File your nails into a straight line and buff in a single direction only to avoid chipping or splitting. Use a shimmery or frosty polish that may catch light and make your hands look bright.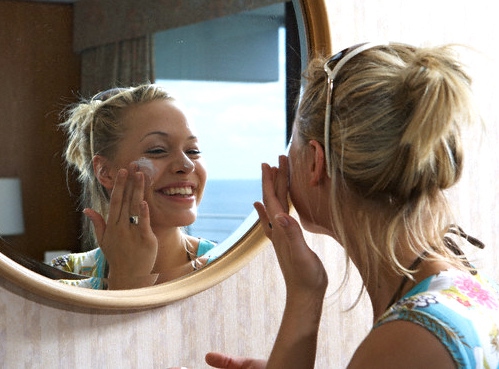 How to Look Pretty by Making Your Hair Look Perfect
To learn how to look pretty, you need to pay good attention to making your hair appear shiny and beautiful. Here are some of the ways to make your hair add to your overall personality.
Keep Frizz at Bay
Switch to a boar bristle brush to prevent frizz. You can brush your hair right before you take a picture because this is the best way to bring somebody back into your dull hair. Using it regularly will improve shine and volume of your hair.
Get Glossy Hair
Dull hair makes you look older, but simply applying a little amount of hair serum through your dry strands will bring back the sheen you've been looking for. Don't forget to blow dry your hair for a minute to make your hair look shiny.
Give Your Hair a Quick Finish
You don't need to go to a stylist just to give your hair a de-frizzing finish. Using a dab of your regular hand moisturizer will resolve the issue. Simply apply it on your hair, smooth hair back, and style.
Add Bounce to Your Hair
To know how to look beautiful, you need to know how to prevent flat, lifeless hair. Simply curling a couple of inches sections with hot rollers will add a little shape and volume to your hair. Using a shine spray on your hair will also help bring your hair back to life.
How to Look Pretty By Wearing All the Right Stuff
Be Sure to Wear Flattering Clothes
This will help boost your confidence and compliment your skin tone and body type as well. Always wear fitting clothes and add some neutrals in your closet.
Wear Perfumes
Select the right scents to go with your clothes and makeup. You can opt for scented body lotions as well. Be sure to spritz your elbows, wrist, and neck; you can also spray some perfume on your hairbrush to add a touch of scent to your hair as well.
Matching Eyeglass Frames
Be sure to select a frame with a shape that is in contrast with your face shape, but select the frame size that is in scale with the size of your face.
ANY IDEAS ABOUT THIS TOPIC?