Do you have a ton of furniture that you can no longer use? Getting rid of used furniture might seem like an easy thing to do – until you try it. Sometimes figuring out how to get rid of used furniture can leave you shaking your head in confusion. But there are several great anwers to how to get rid of old furniture that really work without nearly as much hassle as you might expect. Here are a few great ideas for how to clean out your house and find a new home for all that furniture.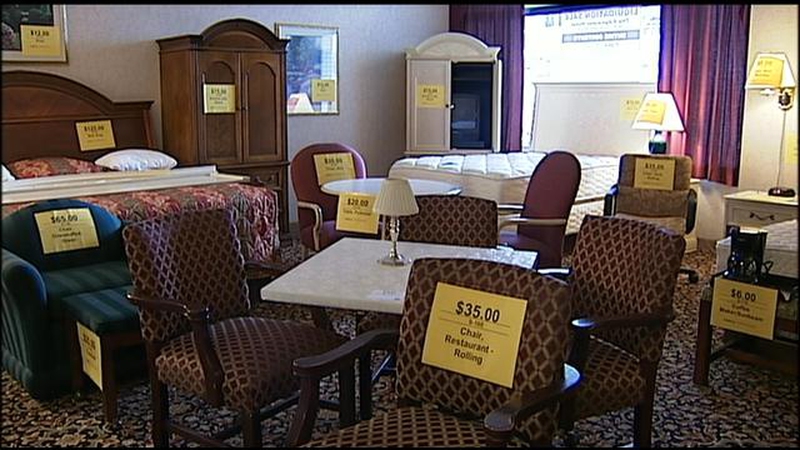 How to Get Rid of Old Furniture
1
Sell Those in Good Condition
If your used furniture is in great condition, you might have better luck selling it. Many people will look for furniture that is gently used, and will be happy to purchase it for a fraction of the original selling price. This is especially true of leather furniture, which tends to hold up well over time. But if you have other types of furniture, don't worry – you can get it sold. You might have to take a big cut in price to do so, though.
2
Hold a Garage Sale
A garage or yard sale can be a great way to unload furniture that you no longer need. Plan out your sale many weeks in advance, so you can put ads in the newspaper and online, as well as hang up plenty of signs on the big day. Clean the furniture very well, and be willing to negotiate on the price. You might be surprised how quickly a nice piece of furniture will go.
3
Put It Online
When it comes to how to get rid of old furniture, know that many online sites allow you to sell anything you can imagine. Just remember to note that it has to be a local pickup – you can't be expected to ship big furniture across the country! If you really want to get rid of something, you can offer to deliver it, or even put it on freecycle.org to get more takers.
4
Join a Rummage Sale
Often rummage sales or small flea markets will allow people to bring one or two items to sell, and they put these items in with items from other people. The result is something like a large yard sale, but you don't have to do any work – other than hauling the furniture over there, of course.
5
Turn to Consignment Shops
When you take your furniture to a consignment shop, you put a price on it, and they sell it for you. The shop takes a small bit of the proceeds and gives you the rest.
6
Ask About a Trade-In
Some furniture stores will allow you to trade in your old furniture for credit toward something new. If you are in the mood to purchase something new but don't want to pay full price, this might be the best bet.
7
Pass It Down
Some furniture can be passed down from one family member to another. Maybe a friend is moving into a new place and needs that dining room set, or your neighbor is without a sofa and yours would work well. If you can pass it down and you don't need the money for it, this might be a great way to get rid of used furniture.
8
Donate to a Charity
When you really don't have a clue about how to get rid of old furniture, why not donate it to those in need! There are many charities that would love to make good use of your old couch. They might turn around and sell it, or they might actually use it. For instance, some charities are designed to help individuals who have lost their homes, for whatever reason. Your old couch might be useless to you now, but it can be a wonderful gift for a family who has just lost their home in a fire – they can use it until they can get back on their feet.
9
Hit Up the College Kids
If you live near a college, put up flyers advertising your used furniture, and offer great prices. Those college kids don't have much disposable income but they need plenty of furniture for their dorm rooms and apartments. They are likely to flock to your home in droves.
10
Consider Antique Stores
If your old furniture is really old, put the brakes on all your other plans for it and take some pictures. Take those pictures to your local antique shop and ask if the furniture is worth anything. You might get lucky and have an old card table that is actually worth a nice amount of cash, or an old sofa that is highly coveted by collectors.
11
Repurpose It
Who says you have to use the furniture in the way it was intended? Do something different with it to give it new life. A good idea might be turning an old bookcase into a hutch for your kitchen, or putting the loveseat in the barn as a comfortable bed for your outdoor dogs.
12
Refurbish It
Do you really love the way a piece of furniture feels – for instance, that couch that fits just right – but you hate the way it looks? Refurbishing furniture can make the whole room look brighter and better, and it can save you a ton of money on buying something new. Consider new fabrics for your couches, new paint for your bookcases, and a new finish for your living room table. The options are endless!
13
Turn to Your Local Theater
Your old furniture might look great on a stage! Many local theater productions can use broken-down furniture in their stage shows. In fact, they might even rough it up even more in order to fit the appropriate feel of a set. Ask your local theater if they can use the furniture you want to part with, and donate it.
14
Put a "Free" Sign on It
Take your used furniture out to the curb and stick a "free" sign on it. Many people will take a look at it and decide that they do, indeed, want to take it off your hands. Don't be surprised if your furniture is gone within hours.
15
Put It to Recycling Center
If the furniture is not gone after trying all of these options, it's time to hit the dump or recycling center. Some areas have a trash pickup that will include furniture. Some areas might have a special day during which they encourage residents to put out furniture and other large trash for pickup. Recycling centers might be able to use the furniture, too. Look into the local rules for trash collection in your area to determine how to get rid of used furniture that you no longer want.
ANY IDEAS ABOUT THIS TOPIC?