There comes a number of instances in life where you just can't find the time to exercise at all. It might be due to the pressures of a new job, the birth of a new baby, a painful injury or anything else. Regardless of the reason for not exercising, there would be no stopping your body from losing shape because of it. And by the time you would get back on the treadmill, you would feel burdened and you would find it very painful to move your muscles at all.
So, how to get back in shape after a long break from exercising? Here are a few tips to help you out!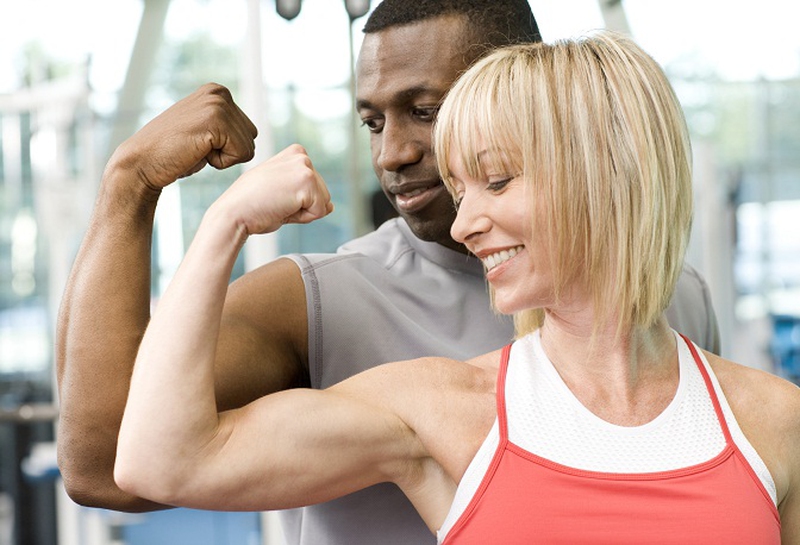 How to Get Back in Shape
1
Talk to Your Physician
While it's not necessary to consult your doctor about your exercising routine normally, it's best to ask your physician about your fitness regime if you are about to return to exercising after a long break. The consultation becomes all the more important if you are a diabetes or heart patient as there are certain precautions that you must take as your body might not react well to the sudden change in routine.
2
Take It Slow
It's important that you build slowly and don't try to directly achieve the level you had
before you took the break. For instance, if you start feeling tired about running half a mile then just run half a mile for the first few days. It's best to build your strength slowly after a long break. So, you should concentrate strengthening exercises like pushups and sit-ups to start with.
3
Make It Enjoyable
Most of the people actually stop exercising because they start feeling bored. In order to ensure that once you have found the motivation to return to exercising you don't start feeling bored again, you should pick up the exercising activity which you would enjoy the most. For instance, when getting back in shape, adopt the strategy of walking for 30 minutes with your dog if you love walking it around. Or if you love music then get those headphones out whenever you step on the treadmill.
4
Go Shopping
When looking for ways to how to get back in shape, you will also have to give some consideration on buying clothing that would keep you comfortable while you work out. Buying the stuff would actually increase your excitement about returning to exercising and would also compel you to exercise as you would only be able to wear the clothes while working out.
5
Set Yourself Some Targets
When returning to exercise, you will have to keep your eye on keeping your motivation level high. A good way to ensure that you don't give up is to set yourself small goals and decide the rewards too once you achieve those goals. It's not necessary that you factor in weight only when setting the goals. You should also consider setting goals like reducing your waist as it's also an important number in showing whether you are actually getting back in shape or not.
6
Manage Your Diet
The secret to how to get back in shape lies with your diet.
Firstly, you should target a diet that can bring down your calorie intake to around 75% of the recommended intake. In order to achieve this goal, you will have to remove all sugary, fried and processed food items from your diet as such food has very low nutritional value but high calorie delivery. If you really love such food items and can't totally stop eating them, then you must at least try to limit taking one serving per week.

Incorporating fruits, vegetables and lean proteins in your diet would help you big time with your fitness regime as such food has great nutritional value.

You should also add a few healthy snacks to your diet as you steadily increase the duration for which you work out. Snacks like carrot sticks and kale chips remain great options.

You should also ensure that you don't skip your breakfast as your body would start saving fat if you would keep yourself hungry for too long.

Lastly, you should also incorporate metabolism boosters like grapefruit and green tea to your diet as well to improve your metabolism.
7
Workout Every Day
Most people feel that they should start with exercising a couple of days a week before steadily increasing it to exercising every day. This is a mistake as once you work out only twice a week; it would become your habit. And when your schedule would get tougher, you would miss out on exercising even on those two days.
So, it's important that you set a schedule which makes you work out once every day. You must ensure that you work out daily as once it becomes a habit, you would find it impossible to leave it completely.
8
Take Breaks While Working Out
When working out, you can improve the rate at which you lose weight and get back in shape by taking breaks or by slowing down regularly. Any exercise that would make your heart pump harder should not be done in one go. For instance, rather than running flat out for four to five minutes, you should run for a couple of minutes and then jog for around four to five minutes. This would increase the rate at which your body will burn fat and would also improve your cardiac fitness.
ANY IDEAS ABOUT THIS TOPIC?