Summer brings long evenings outside around the barbecue with friends and family, but entertaining can get expensive. Go easy on your budget this summer with these dollar-stretching ideas for summer grilling.
We have some ideas for hosting money-saving barbecues this summer. As you plan your summer barbecues make sure and check coupons.com to see all the ways to save.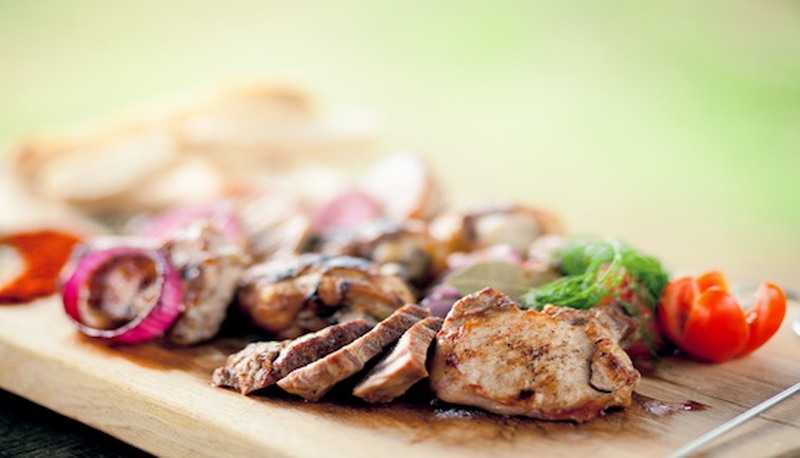 Part 1
1
Grilled Salads
Grill up a Caesar salad or grill fruit to add to your mixed greens. Grilling greens gives them a smoky flavor, which pairs well with tangy vinegars. From salads to dessert you can't go wrong grilling up your favorite summer fruits.
2
Stretch the Burger
One way to stretch your food budget is to stretch your burgers. Stretching a burger means to add other ingredients to make the ground beef go father. Here are a few ideas:
Add chopped mushrooms (if you want to be fancy, sauté with butter before adding to the ground beef)

Add a can of mashed beans to your burger mix

Add 1/4 cup breadcrumbs to your ground beef

Add 1/4 cup quick cook oats

All these additions will add texture, flavor and bulk up your burgers to make that meat go farther.
3
Use Less Fuel
There are ways to save on both charcoal and gas grills. If you use charcoal, don't use the whole bag. You can build a fire with half the bag and have coals for another night.
Gas grillers can save on propane by avoiding excessive preheating. Shop around to make sure you are getting the best deal on propane in your neighborhood. You might be able to find a better deal by refilling the propane tank, instead of trading in for a new one.
4
Think Outside The Steak And Buy Less Expensive Meat
One easy money saver is to purchase bone-in meat versus boneless cuts. Bone-in cuts of meat tend to be less expensive then their boneless counterparts. Using bone-in cuts also gives you added flavor.
5
Don't Ignore Cheaper Chicken Cuts
Buy a bag of cooked chicken wings and put them on the grill. Toss with a Parmesan Garlic Sauce and sprinkle with Parmesan and parsley. Grill up potato wedges at the same time, add a salad, and dinner is served!
6
Use Pantry Ingredients for Glazes and Marinades
Make up a mouth-watering glaze for your pork chops with pantry ingredients like maple syrup, stock, and balsamic vinegar. Cook this sauce on the grill while the chops cook. A sprig of rosemary adds a nice finish.
7
Grill Up Meatless Monday
During the summer grill up healthy Meatless Monday options. Using skewers or a grill basket, grill your favorite veggies. Brush with olive oil, season with salt, pepper, fresh herbs and balsamic. Serve over couscous, rice or quinoa for a hearty weeknight night meal.
8
Make Your Own Rubs
Clean out your pantry and make a spice rub. You will save money by creating your own spice rubs and get the flavors just how you like. Spice rubs are a great way to add flavor to grilled chicken or pork. On a low sodium diet, DIY spice rubs are the perfect way to control the amount of salt in your food.
9
Don't Skip the Bread Basket
Grill bread for an appetizer. Rub with garlic and spread with butter for an affordable and filling appetizer.
10
Expand The Menu
Don't get stuck in a meat rut on the grill. Something simple and inexpensive like watermelon becomes extraordinary when grilled and topped with a little feta and a drizzle of balsamic. Serve as a salad, or start your barbecue by serving bite-size portions on a skewer.
ANY IDEAS ABOUT THIS TOPIC?