A bay window is a combination of windows -- usually three, but occasionally more -- that extend from the side of a room. Bay windows are a highly desirable feature in any area of a home, particularly if they look out onto a lovely view. Even a small bay window makes a room seem more spacious. Use your imagination when accessorizing a bay window to take full advantage of its charm.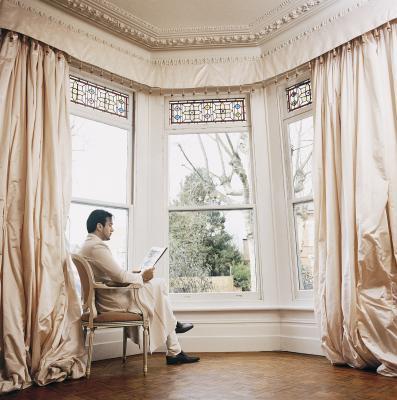 Part 1: What You Will Need
Window seat

Lace or sheer fabric curtains

Curved rod made for bay windows

Narrow, shirred panels

Shirred pockets of fabric

Roman shades

Love seat or armchair (optional)

Large curtain rod with decorative finials

Ring top curtains or pinch pleat draperies
Part 2: How to Accessorize Your Bay Window
1
Build a window seat into the bay. Hang curtains made of lace or a sheer fabric such as organdy to provide privacy while still allowing in plenty of light for reading. Coordinate the window seat's cushions with other fabrics used in the room for a custom decorator look.
2
Highlight a beautiful view by creating a window treatment that adorns but at the same time barely covers the bay windows. Install a curved rod made for a bay window just above the windows. Place a narrow, shirred panel in each of the small sections of wall on either side of the middle window. Cover the other sections of the rod with generously shirred pockets of fabric.
3
Install a Roman shade in each of the three windows for a handsome, tailored look. Flat and smooth when they are down, Roman shades form crisp pleats when you draw them upward. They have the added advantage of creating the appearance of an ornamental valance when completely drawn. Such shades are not only functional but highly decorative.
4
Incorporate the bay window recess, if it is large enough, as part of the room's living area. Consider placing a love seat or an arm chair in the bay; this helps make the bay feel like a part of the room and also extends your living space. If the bay window is part of a dining room, you might want to move part of the dining table into the recess and seat guests there. Employing the same or coordinating fabrics on the windows as you use throughout the room helps make the transition between the spaces seamless.
5
Place draperies outside the bay area, if the room offers sufficient wall space, to maximize the window space. Run a large curtain rod with decorative finials on the wall just above the bay recess. The rod should extend 12 to 16 inches on either side of the window recess to accommodate the curtain fabric. Mount ring top curtains or pinch pleat draperies on the rod. During the day, draw the curtains open to enjoy the view; at night, close them for privacy and warmth.
ANY IDEAS ABOUT THIS TOPIC?