Summer's around the corner and that means backyard grillin'. And since almost every backyard has a grill, almost every backyard has a Master Chef. As anyone knows, the master chef is an artist and artists must have their tools to create their art. I should mention that this article makes no distinction between a master chef who chooses to create his or her masterpieces by charcoal, or gas heat.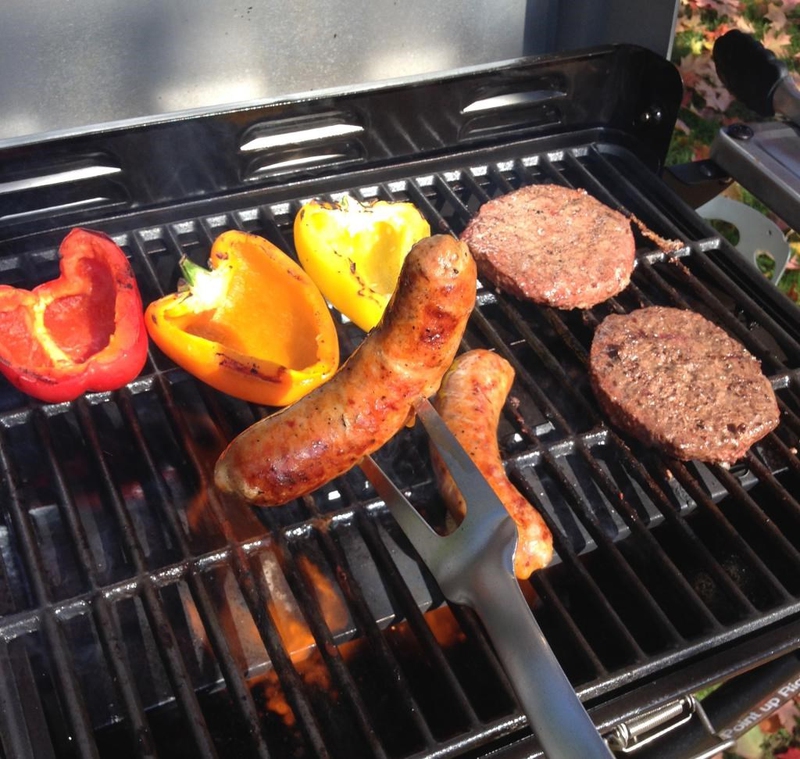 Part 1
1
Tool Sets
There are so many different tool sets available that it makes for a tough decision, but a set of grilling tools must allow chefs to perform their magic without burning themselves. So grilling tools must be long enough to safely reach across the hot grill, while better sets hold up to the creative energy of master chefs.
The basic set is usually three pieces—consisting of a fork, tongs, and spatula, which range in size from approximately 12 inches to 17, 18 or more inches long, depending upon the size of your grill. Prices for a 3-piece set can vary from a few dollars for standard aluminum, to nearly $100 for polished stainless steel set.
The four piece set adds a basting brush and there is the five piece set, which includes a knife, and some larger sets even boast individual meat thermometers to accommodate varying tastes—and of course the matching tool case.
Grilling sets can be personalized. Better tools typically have heat resistant handles made from metal or with a wood inlay. These handles can be engraved with the chef's name and should you wish, the name of the establishment.
2
Accessories
This is the area that usually separates the serious backyard chef from the weekender - from the practical to the gadget freak. Accessories really fall into one of two classes, those necessary for cooking - used by the master chef to create his or her masterpieces - and/or those that fulfill some need. I let you decide.
The master chef is confronted by a host of practical accessories, such as reusable, insulated barbecue gloves and aprons to metal skewers for shish kabob or kabob baskets, which eliminate the need to skewer your food. Rib racks, potato holders on which you can impale your potatoes while they bake. Corn holders allow for the grilling of the perennial vegetable favorite corn-on-the-cob, though cooking corn in the husk right on the grill is the way to go. There are hot dog rollers, hamburger presses, vegetable baskets, grill racks designed for roasting peppers, and for those morning creations, a companion stainless steel or cast iron pancake griddle. You could go with simply salt and pepper, of chose a variety of sauces, rubs, spices, and secret master chef seasonings that enhance the work of art in the first place.
3
The Smoker
In addition to, or instead of sauces, rubs, spices, many folks like the taste of smoked foods. To accommodate his or her aficionados, master chefs can employ the use of smokers - barbecues that are designed to cook food slowly to allow the food to be infused with the smoke flavor du jour. But for that backyard master chef who wishes to use the standard grill to smoke food, there are various flavored wood chips to smolder—pecan, mesquite, hickory, cherry, apple wood to name a few. There are flavored wood blanks on which the food can be cooked, and flavored wood paper designed to burn in flavor. Smoker pellets—herb flavored, sugar maple, orange, mulberry, and oak. Or my favorite whiskey flavored pellet, Jack Daniel's.
4
And Let Us Not Forget
There are beer chicken cookers, the pig-shaped mini barbecue to accommodate overflow, and of course, there is the full sized pig shaped barbecue. There are cook books, cutting boards - standard and pig-shaped, and how can you be without pig-shaped serving plates. And let us not forget - the true culinary artist can personalized his or her masterpiece by signing it. Yes, brandishing a custom branding iron, master chefs can sign their work of art - forged with their initials or, if he or she wishes, even their family crest.
ANY IDEAS ABOUT THIS TOPIC?