There is nothing good on TV and you have already played all your favorite PlayStation games. And there is nothing fun going on around the neighborhood. What are fun and interesting things to do with friends at home? Check our list here!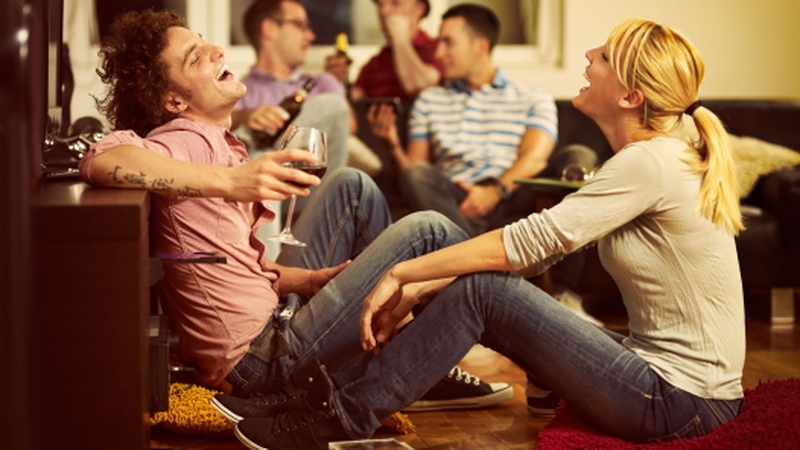 20 Fun Things to Do with Friends at Home
This list of 20 fun things to do with your friends is not in a particular order, but each is worth trying. Have fun!
1
Halloween Any Day
Don't even look at old costumes. Borrow a random piece of clothing from a family member with no fashion sense and add accordingly. Random accessories will turn you from boredom to a superstar or Mickey Mouse!
2
Grab Your Girlfriends for Nail Decorating
Have everyone bring a couple colors of polish. Maybe some glitter and nail stickers. Throw all your ideas together and see who can come up with the newest nail art.
3
Turn Your Favorite Movie into a Party
Love Pirates of the Caribbean? Have some fresh pineapple and eye patches for all your friends. Then find the newest, hottest pirate movie and turn it into a double header.
4
Video Your Toasted Cheese
What? Yes, seriously, grab an apron and see how much fun a simple snack can turn into a half hour show. Then see if your best friend can top your act.
5
Board Games? Combine Them!
To kill time, the game of Magic: The Gathering can take hours. Another idea is to take two games and combine them. What new twists and turns can you develop?
6
BBQ
On the list of fun things to do with friends at home, even the simplest BBQ will make you smile. Use part of your day to prep and get everything ready. Enjoy relaxing and grilling with friends and family. Top it off with s'mores—a must!
7
Learn to Dance
Everyone has a favorite music video that makes them laugh. Why not figure out how to do the moves in it. With a few friends and a couple tries, you will have the routine down.
8
Pin Something
Everyone loves projects, everyone loves Pinterest and…everyone has pinned a project and not finished it. LOL! Find a pin you have been looking forward to but haven't gotten around to it and complete it. It will be fun and satisfying.
9
Bake Up
So many people say they don't have a sweet tooth, but they always have a dessert they "don't mind." Enjoy baking with friends or family, everyone can enjoy the team effort.
10
Lighten Up Your Social Media Profile
Happiness is what people truly want to see on social media. Share your favorite pictures of flowers, good times…whatever makes you smile. Taking some selfies and showing your beautiful face is one of the fun things to do with friends at home.
11
Keep the Media Rolling
Have you ever posted a random thought just to see the response? You will be confusing to some; others will understand your humor. Get your friends intrigued by being vague.
12
Work It Out
Yes, exercise is good for you. It also takes time to get ready, time to get through your routine and time to get a SHOWER! Kill time and calories together.
13
All Dress Up
Now play dress up with your pets! See how much they will put up with, just a hat, or head to toe? Be gentle, be creative, then share your pictures.
14
Movie Star
Now that you are warmed up with your tummy toasted cheese, what else could you do for video? Gardening, how-to's, open heart diary…anything you like. Make yourself a video star and share with the world!
15
Have You Been a Part of a Photo Bomb?
The best part of photo bombs is people don't know, right? Go back through old albums and looked at the backgrounds? Check out your childhood vacationing pictures and see if YOU have been bombed.
16
Get 6 Boxes of Twinkies
Why? Because you are going to have an eating contest! For more fun, don't offer any water. See how many your fiends can eat and watch them as they try not to choke.
17
Is Your Fridge Running?
The oldest prank calls in the book. A few random numbers and a couple of calls before you will be rolling on the floor. See who can come up with the best one-liner.
18
Make Up with Your Girls
One this list of fun things to do with friends at home, this could be beautification or silliness. Work on the new trends to look like a model. Or, pull out all the good stuff from the 80's and see how ridiculous you can get.
19
YouTube It Up
There are gazillions of videos on YouTube. Classic fails, wedding disasters, people whom unknowingly participating in videos… these are all good stuffs. See what new genre of funny videos you can find.
20
Watch Bobsledders on ESPN
So, you are the biggest football fan ever, good for you. Just watch something different, it only takes a minute to get entranced with bobsledding. Every sport is on ESPN, take advantage of it!
ANY IDEAS ABOUT THIS TOPIC?