When you're shopping for swimsuits, it can be difficult to decide which fit is most flattering for your body type. We want you to feel confident in the sun this season, so today we're sharing our best tips for choosing a bathing suit that will highlight your assets and camouflage your least favorite areas. When you follow these easy tips, you're guaranteed to find the best swimsuit for your body type!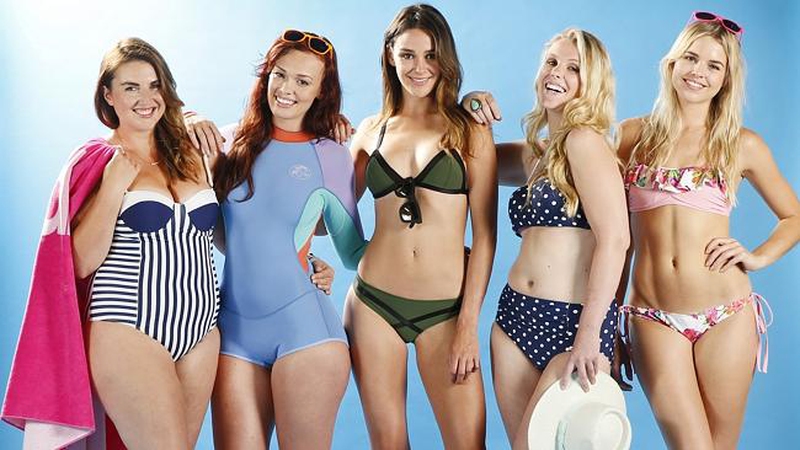 Part 1
1
Shrink Your Waist
If you're looking for a way to whittle your waistline, look for one-piece swimsuits with interesting necklines, ruched details at the waist,or a strategic colorblock design. When you wear a swimsuit with a unique neckline, you can draw attention towards your arms and décolleté and away from your stomach. For an instant tummy tuck, choose a suit with ruched details that camouflage your stomach to create smooth lines. Another trick for apple-shaped women is to wear a swimsuit that features color-blocking in a darker color on the sides of the swimsuit. This design detail will instantly make you look slimmer!
2
Hide Your Hips
Pear-shaped ladies can draw attention to their strengths with mix and match swimsuits, swim skirts, and fold-over bikini bottoms. When you're creating a mix and match bikini, choose a dark color for your bikini bottom and a bold print or bright color for the bikini top to instantly draw attention away from your hips. Another trick for minimizing the appearance of your hips is to wear a bikini bottom with a fold-over detail. You can strategically place the fold of the bikini bottom for the most flattering fit. If you're looking for a little extra coverage around your hips, simply add a sheer swim skirt over your swim bottoms!
3
Increase Your Bust
If you're looking to create the illusion of a larger bust, look for swim tops that feature ruffles, push-up padding, and bold prints. Bikini tops with ruffles instantly add volume to your bust, so choose a swim top with lots of extra detailing around your chest for the best effect. For an instant lift, choose a top with push-up padding in bold print. Floral designs and horizontal stripes draw the eyes outward to create a full appearance!
4
Add Curves
Choosing a swimsuit with color-blocking, ruffles, and horizontal stripes can instantly add curves to your frame. To fake an hourglass figure in seconds, choose a swimsuit with color-blocking details that highlights your bust, showcases your natural waist, and adds dimension to your hips. Another easy way to add curves to your figure is to wear a bikini with ruffles or horizontal stripes. The extra fabric of the ruffles creates a fuller, feminine appearance, and a horizontal striped design will create the illusion of curves!
ANY IDEAS ABOUT THIS TOPIC?