Having dry skin on your scrotum (a pouch of skin containing the testicles) is a common problem, and it is not something to get worried about. However, this area provides good conditions for infection from bacteria and fungi, which is related to dry skin on balls. Therefore, it is best to treat it immediately to prevent complications.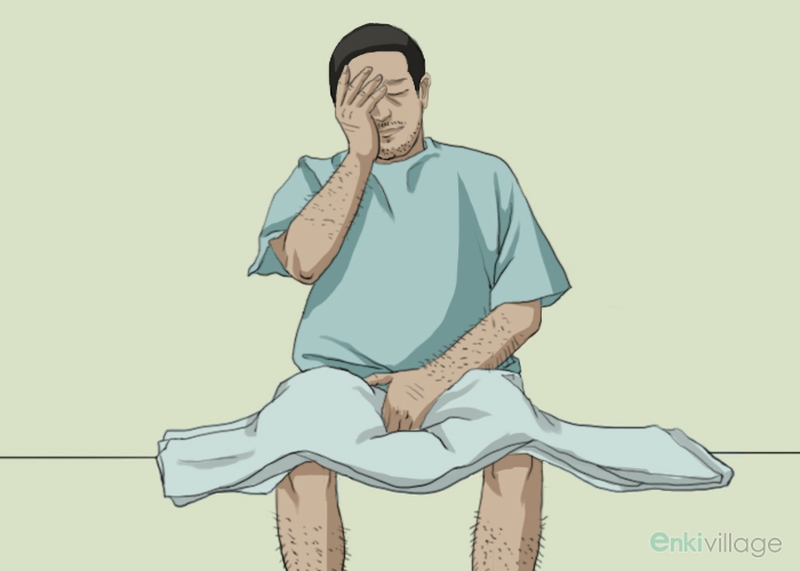 What Causes Dry Skin on Balls?
Dry, itchy scrotum can lead to persistent scratching, which may worsen the redness and inflammation of the area. This may also cause irritation of the skin and infection, so it is best to find out what is causing your problem.
1
Dryness of Skin
The skin of your body may be dry in general so that sometimes even the skin in the genital area is affected and becomes more sensitive.

2
Your Clothing
Sometimes your clothing may cause dry skin to develop when your underwear, pants or shorts chafes the skin around the balls. The type of fabric and the hot temperature can contribute to irritation and dryness of the skin in the groin. It may also be caused by the detergent used in your clothing, which irritates the skin.
3
Some Chemicals
You can develop dry skin on balls because this area is sensitive to harsh chemicals that may be found in certain soaps, body cleansers and laundry detergents.
4
Skin Condition
The skin on your balls can become overly dry when you have eczema, a condition characterized by dry, itchy skin that leads to inflammation and formation of oozing skin bumps.
5
Infections
Skin infection in the genitals may be caused by a sexually transmitted disease (STD) or yeast infection, which may contribute to drying of the skin.
6
Excessive Sweating
Many cases of red, dry skin on the balls occur during summer since conditions are conducive to bacterial growth due to excessive sweating.
7
Poor Hygiene
Sometimes, poor hygiene, such as taking infrequent baths, not changing clothes immediately after workouts, and sharing clothes and towels, may contribute to skin irritation around the balls.
How to Deal with Dry Skin on Balls
Sometimes dry skin does not develop because people have a skin condition or some underlying problem. You may develop it just because you are prone to this skin problem. In such case, here are some easy solutions to deal with it.
1
Drink More Water
Drinking too little water, especially after exercise can cause dehydration. Being adequately hydrated with fresh, clean water helps protect against excessive skin dryness.
2
Avoid Hot Baths and Showers
Try to avoid taking very hot showers or baths, which can make drying of your skin worse. Hot water and steam can take away the natural moisture in your skin.
3
Use a Moisturizer
Apply a skin moisturizer that is fragrance-free and dye-free on the affected areas to improve skin hydration. You can also use topical treatments consisting of anti-bacterial or anti-fungal creams, which can be bought over the counter to relieve dry, itchy skin.
4
Wash and Dry Groin Area Daily
It is important to keep your groin clean and healthy because fungi grow in warm and moist areas like the groin. Keeping it dry will prevent the fungi from growing and causing skin infection.
5
Change Your Underwear Daily
Wearing unclean underwear can encourage the growth of fungi in the skin flakes, which can lead to infection. It is also best to change your underwear after sweaty workouts and after each bath. Wear 100% cotton underwear to keep sweat away and prevent skin irritation.
6
Use Your Own Towel
Use a fresh towel after your workouts and avoid sharing them in the gym. Wear slippers in public bathrooms where bacteria and fungi are present. Fungi on the floor can cause infection in feet that can spread to your groin.
7
Use Fragrance-Free Soap
Your itchy skin may simply be a reaction to harsh chemicals found in soaps. Avoid bubble baths and medicated soaps. Switch to a mild cleanser and gently wash your skin twice daily. Use a special laundry detergent for sensitive skin and avoid using fabric softener or bleach.
8
Keep Your Private Parts Dry
Thoroughly dry the genital area with a clean towel after you exercise and shower. You can also use an unscented powder to avoid moisture in this area.
ANY IDEAS ABOUT THIS TOPIC?