Do you know that there is a difference between tux and suit? Many people tend to use these two words interchangeably but they actually refer to different items of men's formal wear. Nevertheless, the differences are negligible and hence the confusion can occur. A tux and a suit look very much alike but are styled differently.
A tux or tuxedo is the American name for a dinner jacket. The name is adopted from the Tuxedo Park in New York and it was developed during the Victorian era when the less formal alternative to a tail coat was in vogue. The tuxedo is an evening wear that is elegant, smart and not overly showy. It is perfect for a night out with your date. However, a suit is much more formal than tux.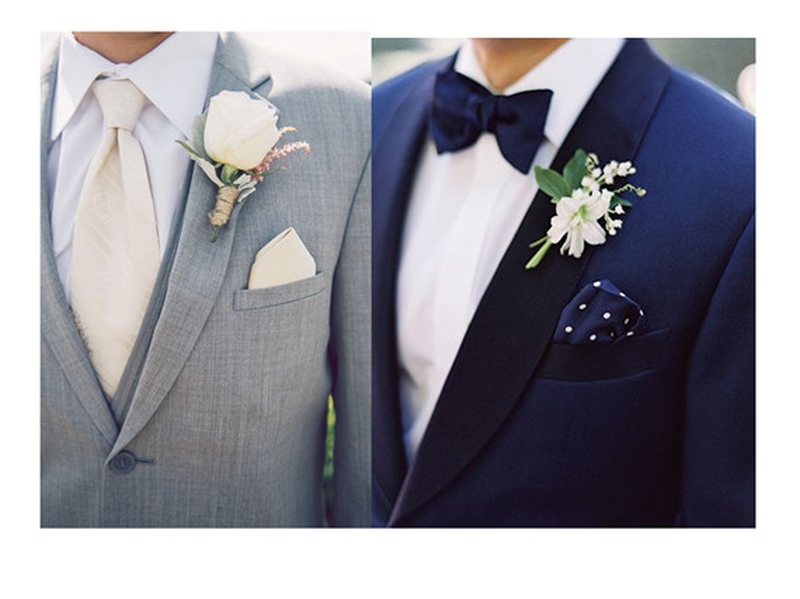 What Is the Difference Between Tux and Suit?
1
Buttons
ŸSuit: Usually have buttons that are either plastic or faced with the same fabric as the suit. They also do not incorporate satin.

ŸTux: Buttons are usually faced with satin.
2
Jacket Lapels
Suit: the lapel matches the suit's fabric.

ŸTux: The lapel is usually accented with satin or another fabric.
3
Shirts
ŸSuit: You should wear a plain front shirt with long sleeves and should be full length buttoned.

ŸTux: Worn with shirts that have a pleated front and have a provision for studs, cuff links and other accessories.
4
Trousers
Suit: No satin stripe on the outside of the trousers.

Tux: A satin stripe goes down the outer leg of the trousers that match the lapels.
5
​Shoes
ŸSuit: Oxfords, smart slip-ons, derbies or any other smart formal shoes.

ŸTux: Patent leather that are shiny.
6
Design and Accessories
Suit: A suit comes in a plethora of designs, cuts and cloth. You can opt for 2 or 3 piece, single or double breasted among other options. They are traditionally worn with a necktie and a collared shirt. If you're outdoors, you can also wear it with a hat. A two piece suit only has a jacket and trousers while a three piece has a waist coat as well. You can either have your suit stitched or buy one ready to wear.

Tux: A tux is normally worn with cuff-links and button studs. They are normally worn with a bow tie and vest or a cummerbund is worn with a bow tie, as well as a vest and cummerbunds. This version of men's formal wear is very traditional in cut and style.
Exceptions:
Despite the difference between tux and suit, here are exceptions to the rule when wearing a tux or a suit. You can even wear a bow tie with a suit or a long tie with a tuxedo. There is even a more modern tuxedo that comes without satin. They are made primarily for weddings.
7
Functions
ŸSuit: Suitable for more conservative and formal affairs like business meetings, weddings or funerals.

ŸTux: Suitable for semi formal evening events like prom, wedding parties, charity events, award ceremonies. But wearing a tuxedo is generally done for a more formal occasion now.
8
Price
Suit: You'll find that the price varies depending on the brands, design or cloth. It is much easier to find yourself a perfect suit. It can be even cheaper to rent a suit and it comes in more cuts and colors.

Tux: A tux is more expensive than a suit at retail. If you are considering tux rental, which is definitely a more popular choice, you'll likely find that its price is lower than suits.

Should I Wear a Tux or a Suit for My Wedding?
You may be still confused about one thing even after you already know the difference between tux and suit- "which one should I wear for my wedding?"
Whether or not you should wear a tuxedo or a suit for your wedding is all down to the message that the tuxedo and the suit sends. While you can wear a suit to work and feel very comfortable, wearing the same suit to your wedding might not work out. You might end up feeling overdressed and too dapper. This is where the tuxedo comes in.
The whole point of dressing up for your wedding is to commemorate this special occasion in an ensemble designed for this purpose. You should therefore dress for the occasion. While a suit says you are well put together, dashing and competent, a tuxedo says this is a special moment and you would rather be here than anywhere else. To top it off, a nicely-fit and well-made tux will never lose out to a suit once worn in the right way.
ANY IDEAS ABOUT THIS TOPIC?