There are many things you're about to throw away that can be transformed from landfill clogger to upcycled, unique lighting. There's something special about the soft glow of a handmade lamp or conversational chandelier that adds character, class or even whimsy to any room in your home. Equally enchanting is creative outdoor lighting in gardens and outdoor rooms.
And of course, you don't have to break the bank or be a qualified electrician to create some really neat light fixtures from upcycled materials. Here are three great projects for the whole family.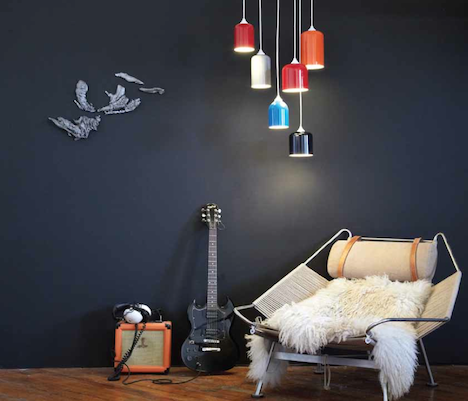 Part 1
1
Wine Bottle Lantern Set
This set of dazzling wine bottle lanterns make a great centerpiece - if you don't want to put up with electrical cords - try battery operated lights.
Supplies:
3 wine bottles, different sizes

Drill and 3/8-inch drill bit for tile and glass

Masking tape

Electrical tape

Eye protection

Mini Christmas lights 25 to 50 light strand
Instructions
Soak the wine bottles to remove labels - allow to dry completely.

Cover a level workspace with newspaper.

Cover a space about an inch above where the glass begins to curve with a piece of masking tape.

Drill a hole where you placed the tape. The hole needs to be large enough to pass a strand of Christmas lights through. Tips on drilling in glass: You have to be very patient when drilling glass. Going too fast, or pushing too hard could result in the glass breaking. Drilling may take up to 15 minutes or more - don't worry, you are making progress even though it doesn't seem like it.

Once you are finished drilling, wash the entire bottle to remove glass dust. Dry thoroughly.

Cover the jagged edges of the hole with electrical tape.

Feed the lights through the hole - leaving enough cord on the outside to plug them in.

Cover the part of the wire that touches the hole with electric tape to keep it from fraying
2
Futuristic Hanging Plastic Spoon Lamp
This looks like something out a sci-fi movie and will truly be a conversation piece in any room.

Supplies
Glue gun

Utility knife

Pliers

Plastic spoons (white or get creative with different colors)

Large plastic bottle

Lamp kit with hanging cable and low watt bulb
Instructions
Wash and dry the large bottle and the spoons.

Cut the handles of all of your spoons.

Cut a large hole in the bottom of the bottle.

Start at the bottom of the bottle and begin placing the spoons so that they overlap slightly.

Cover the entire bottle all the way up to the neck.

Create a collar by gluing some spoon tops together and glue this around the neck.

Allow the project to dry completely.

Thread the cable through the bottom and attach a very low wattage light bulb.
3
Tin Can Lantern
These cute little lanterns are perfect for your outdoor dinner party. Make several using different sized cans for an eclectic display.

Supplies
Tin can

Oil-based primer

Oil-based paint

Paint brushes

Hammer

Nail

Galvanized wire (6 inches)

Pliers

Tea light
Instructions
Soak the can in hot soapy water to remove label and glue. Dry thoroughly.

Apply a coat of primer and let it dry thoroughly.

Paint the can in desired color and let it dry.

Fill the can with water and place it in the freezer until frozen solid.

Punch holes in the can to create a design using the nail and pin hammer.

Punch one hole on each side of the can near the top for a handle.

Allow the ice to melt away.

Use pliers to bend the wire through the holes until secure.

Place a candle inside the can.
ANY IDEAS ABOUT THIS TOPIC?