Crab Rangoon, a typical dish served at Thai and Chinese restaurants, consists of balls of dough, filled with cream cheese and crab meat and folded into a triangular or flower-like shape, before being deep fried in a vat. Unfortunately, this is a high-calorie dish, which varies depending on the type. Nonetheless, it is a greatly enjoyable dish and has a palatable taste. Many have wondered about the Crab Rangoon calories content now let's have a look.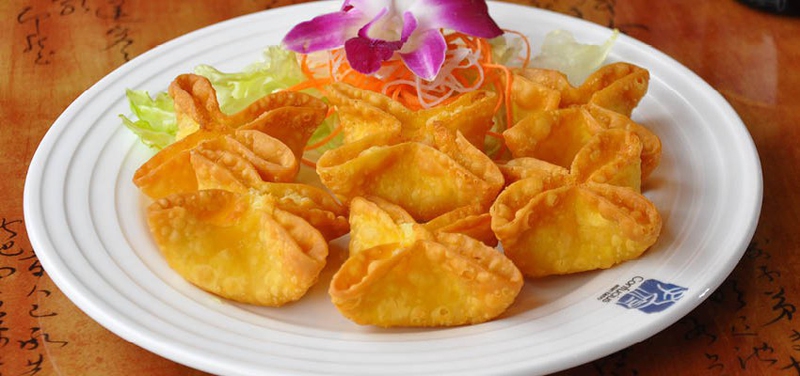 Crab Rangoon Calories
Calories in Crab Rangoon

Rangoon Type

Serving Size

Calories

General

4 pieces

264

Original

3 pieces

270

Hy-Wee

1 piece

122

Pagoda Express

5 pieces

290

Archer Farms

6 pieces

300

Fusia

4 pieces

220

Safeway Select

3 pieces

270

HuHot Mongolian Grill

1 piece

146
Other Nutrition Facts About Crab Rangoon
1
Calories
There are approximately 67 calories in one Crab Rangoon with an average 4.7g of fat. Of those, 1.2g is unsaturated fat, which only consists of 7% of the daily fat intake according to the American Heart Association (AHA). Additionally, it contain of 13.4 mg of cholesterol. It is highly recommended to eat only one Crab Rangoon serving at one time.
2
Sodium
Another negative factor includes the sodium content. One piece of Crab Rangoon contains 127 mg of sodium while the AHA recommended daily intake is 1500 mg. So one Crab Rangoon has 8% of that covered.
3
Carbs
There are also a number of carbs in Crab Rangoon. Depending on the serving size, it can range from 2g to 4.81g in one piece and from 23g to 36g for up to 6 pieces. Relatively speaking, the number of carbs in Crab Rangoon is low compared to other foods.
4
Other Nutrition
On the plus side, it contains 2g of protein, which amounts to 4% and 3% of the protein that women and men respectively need. The meat also contains small quantities of vitamin B-12, working with the central nervous system and zinc, helping speed up the recovery time for injuries and cuts. It also contains protein, smaller amounts of Vitamin A and calcium.
Will Crab Rangoon Damage Your Weight Loss Plan?
Every puff of Crab Ragoon contains a fat content of 4.22 grams. Crab Ragoon, baked or fried, is not good for weight loss. The Crab Rangoon calories level is too high and has very little protein. They are not very filling, so like Lay's potato chips, it's hard to stop once start eating. Soon, more calories were consumed than anticipated; that's why when dieting, avoiding Crab Ragoon at all costs.
How to Make Delicious Crab Rangoon
1
Total Time: 45 minutes Serving: 48 wontons
Ingredient:

16 ounces of cream cheese

¼ cup of sour cream

½ minced onion

1 tablespoon garlic powder

2 tablespoons of white sugar

1 pound of imitation crabmeat

A 14-ounce package of wonton wraps
2
Direction
Preheat the oven to 350°F and prepare a baking sheet for cooking.

Take out a bowl and mix the onion, cream cheese, sour cream, sugar and garlic altogether. Beat them until it is well mixed and soft and then stir the flakes into the mix.

Fill an additional bowl with warm water. Take out one wonton slice and cover the rest with a damp paper towel to preserve moisture. Wet two edges, next to each other, and place some filling, approximately 2 teaspoons, in the middle.

Then fold the wrap into a triangular or flower shape, use water to seal the wonton and keep the air out. Then place it on the baking sheet.

When you finished all 48 wontons, the oven should be set. Place the cooking sheet in the oven and bake for 15 minutes. When the edges begin to brown and becomes crispy, the Crab Rangoon is ready. Take out and serve. It tastes best fresh, but be mindful of the serving size.
ANY IDEAS ABOUT THIS TOPIC?