Bring French country style to a modern setting with one of three classic door stoppers. A breeze to make, this classic cube creates a practical and charming visual for your doorway.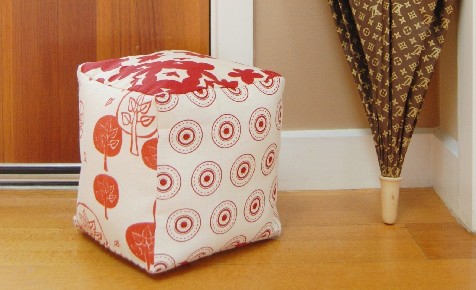 Part 1
You'll need:
Pretty hard-wearing fabric (upholstery weight fabric works best and makes a more shapely doorstop)

Sewing scissors

Thread

Filling and weight - see below
Step 1: Cut six 18cm squares from the fabric of your choice, and arrange to your liking.
Step 2: Sew two pieces together, right sides facing with a 1.5cm seam. Repeat with two more pieces. Lay these two pieced-together fabrics right sides together, measure 15cm outwards from the centre seam and sew outer edges.
Step 3: With right sides facing, pin top square to all four sides and sew all four edges, taking care to make sharp corners. Repeat with bottom square, leaving one side open. Clip corners and turn right side out, pushing out corners.
Step 4: Fill cube with polyfill and/or rags and a weight. Turn edges of opening under and stitch in place with embroidery thread.
NOTE: You can fill each doorstop with rice, small rocks or sand, however placing these items inside a sealable bag and padding it with polyfill makes a far more toe-friendly doorstop!
ANY IDEAS ABOUT THIS TOPIC?