Whether they are thin or thick, fresh or dry, made by mung bean, rice or wheat flour, noodle is a key element of any Chinese cooking. The following list includes many different types of noodle dishes.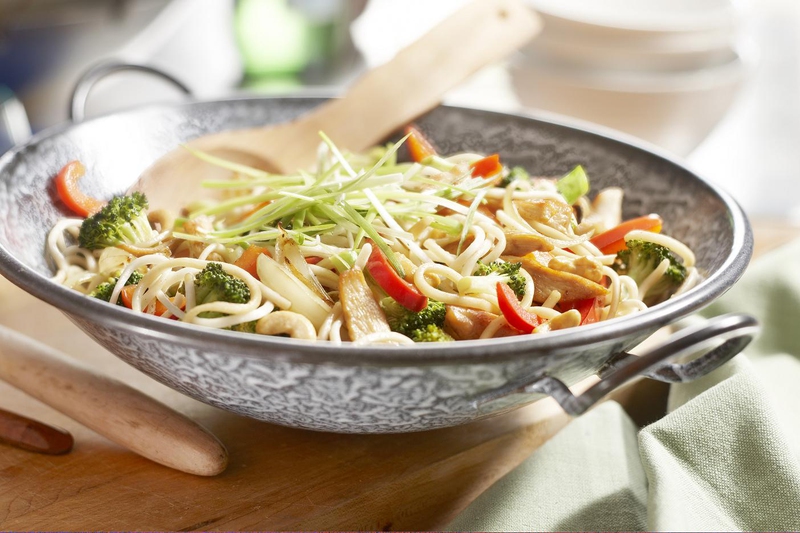 Szechuan Dan Dan Noodles
Ingredients
Ingredients

Amount

Ground pork

250 grams (8 ounces)

Fresh egg noodles

250 grams (8 ounces)

Garlic, minced

3 cloves

Ginger peel, minced

1 inch

Scallions (white and green parts chopped separately)

2

Zhai cai (or ya cai), chopped

2 tablespoons

Cooking wine

1 tablespoon

Roasted peanuts, chopped

1 tablespoon

Salt

1 teaspoon

Light soy sauce

½ tablespoon

Cooking oil

1 tablespoon

Chicken essence

1 teaspoon

Bok choy

Several

Sauce

Chicken stock (can substitute for water)

½ cup

Chili oil

2 tablespoons

Light soy sauce

½ cup

Sichuan peppercorn powder

1 teaspoon, but can adjust for spice

Sesame oil

1 tablespoon

Salt

1 teaspoon

Sugar

2 teaspoons

Sesame seeds

1 teaspoon

Garlic, grated

1 clove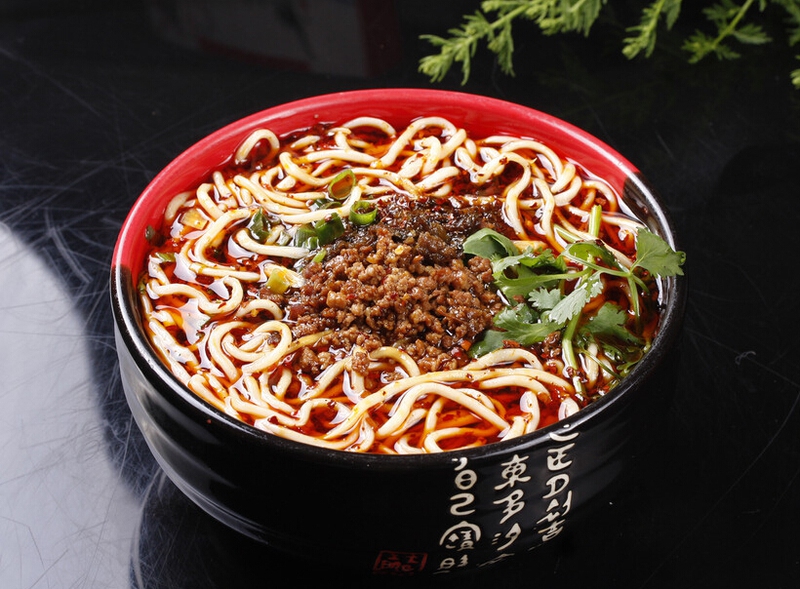 Directions
Begin by preparing your garnishes.

Cook the egg noodles by following the cooking instructions on the noodle package until they are all dente and then drain them.

Make the sauce by mixing the brown bean sauce, hoisin sauce, water, sugar and chili paste well.

Preheat your wok to high heat, add 1 ½ tablespoons of oil. And then add chopped garlic, briefly stir-frying.

Add your pork, stir-frying until it is just cooked and grey. Break it into pieces with your spatula and turn down the heat if necessary.

Add the sauce, stirring it well with pork. Cover the wok and lower the heat. Cook the mixture for five minutes, add the scallions in the last minute.

Serve it traditionally with the noodles, garnishes and sauce in separate bowls.
Stir-Fried Lo Mein with Beef and Broccoli
Ingredients
Ingredients

Amount

Meat

Skirt or flank steak, sliced thin

½ pound

Salt

¼ teaspoon

Sugar

¼ teaspoon

Ground black pepper

⅛ teaspoon

Shaoxing wine

½ teaspoon

Light soy sauce

½ teaspoon

Oil

1 teaspoon

Cornstarch

½ teaspoon

Sauce

Sesame oil

1 tablespoon

Light soy sauce

2 teaspoons

Dark soy sauce

2 teaspoons

Oyster sauce

1 tablespoon

Salt

¼ teaspoon

Sugar

½ teaspoon

Shaoxing wine

1 teaspoon

Water

1 tablespoon

Kosher salt

To taste

Lo mein noodles (fresh)

1 pound

Vegetable oil

4 tablespoons

Broccoli, in bite-sized florets

½ pound

Garlic, finely minced

3 medium cloves (around 1 tablespoon)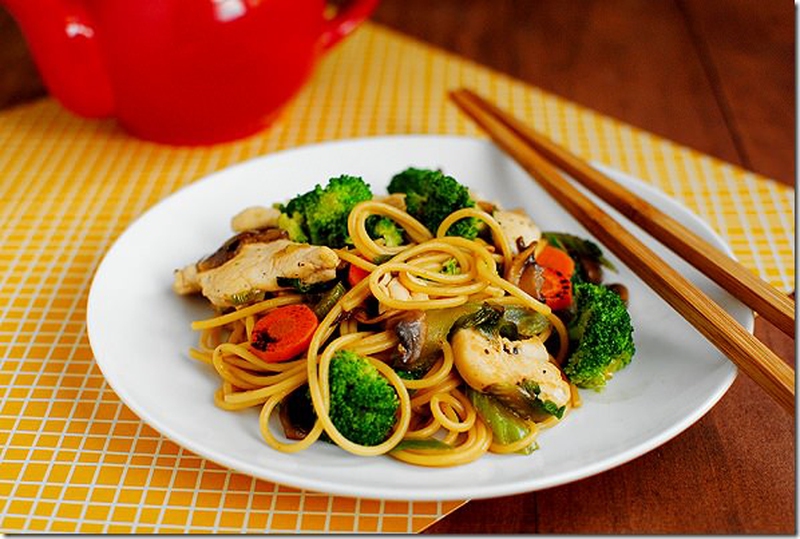 Directions
Prepare the beef by combining it with the sugar, salt, Shaoxing wine, pepper, soy sauce, cornstarch and oil within a small bowl. Toss the mixture with your fingers and let it marinate in the fridge.

Mix the sauce ingredients together in another small bowl, stir the mixture with a fork before setting it aside.

Boil a large pot with salted water, and add in the noodles. Stir them with chopsticks for around three minutes until they are al dente. Drain them, and run under cold water so they chill. Drain again and put aside.

When the beef is marinated, put 2 tablespoons of oil in your wok on high heat until it starts to smoke. Spread the beef out with a spatula and cook it for a minute or until lightly browned (without moving it). Toss the meat and cook it two more minutes, stirring frequently, so it is nearly cooked through. Move it into a large bowl.

Add a tablespoon of oil and heat it on high. Once smoking, add the broccoli and some salt. Cook around 30 seconds, stir so it is lightly browned. Add ¼ cup of water and stir two minutes until the water evaporates and broccoli is steamed. Add to the beef.

Add a tablespoon to wok and add noodles. Cook them, stir constantly for a minute to coat the noodles with oil. Add the sauce and keep stirring for a minute so it coats the noodles. Finally, add the beef, broccoli and garlic, and cook about a minute more. Serve immediately.
Chicken Soup Noodle
Ingredients
| | |
| --- | --- |
| Ingredients | Amount |
| Vegetable or chicken stock | 900 ml |
| Chicken breast, boneless and skinless | 1 (around 6 ounces/1 teaspoon) |
| Fresh root ginger, chopped | 1 teaspoon |
| Garlic, finely chopped | 1 clove |
| Wheat or rice noodles | 50 grams |
| Sweetcorn | 2 tablespoons |
| Mushrooms, sliced thinly | 2 or 3 |
| Spring onions, shredded | 2 |
| Soy sauce | 2 teaspoons, plus some |
| Basil or mint leaves, shredded chili | To taste |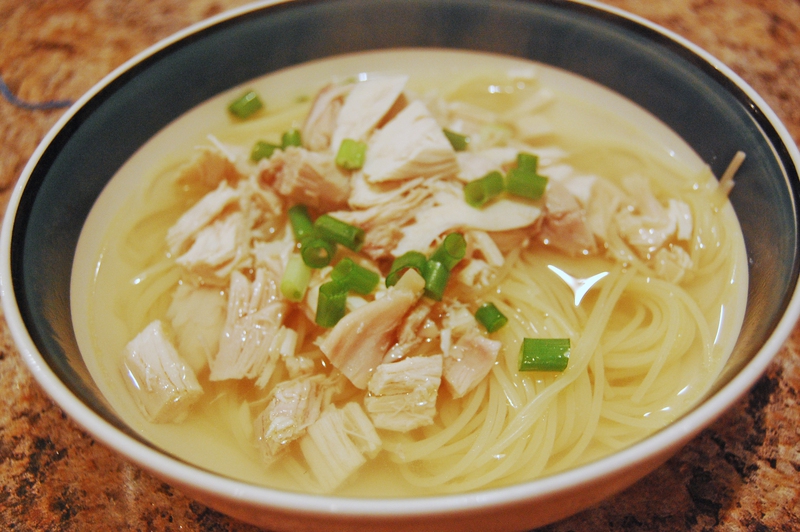 Directions
Pour your stock in a pan with the chicken, garlic and ginger. Boil it, then lower the heat and cover partly to simmer 20 minutes until the chicken becomes tender. Put the chicken on a board, and then shred it into small pieces with a fork.

Put the chicken back in the stock and add noodles, mushrooms, corn, soy sauce and half of the spring onions. Simmer three or four minutes until the noodles become tender. Serve in two bowls and add the leftover spring onions, chili and herbs.
Tips
When using dried Chinese noodles, cook them 3 to 6 minutes in boiling water. Fresh noodles only need 1 to 3 minutes.

Find the ingredients in the Asian or ethnic section of your store.
ANY IDEAS ABOUT THIS TOPIC?