Chapati bread is a staple food and is a kind of widely used traditional bread in many Southeast Asian countries, like Nepal, India, Sri Lanka, Pakistan and Bangladesh. It is known by various names: chapatti, chapati, chapathi and roti as well. Local varieties have been found in the horn of Africa, near modern day Somalia, and in Central Asia. The laobing bread in China has been traced to this local dish. Lots of people want to know the nutrition, especially chapati calories content. Now let's get closer and know more details.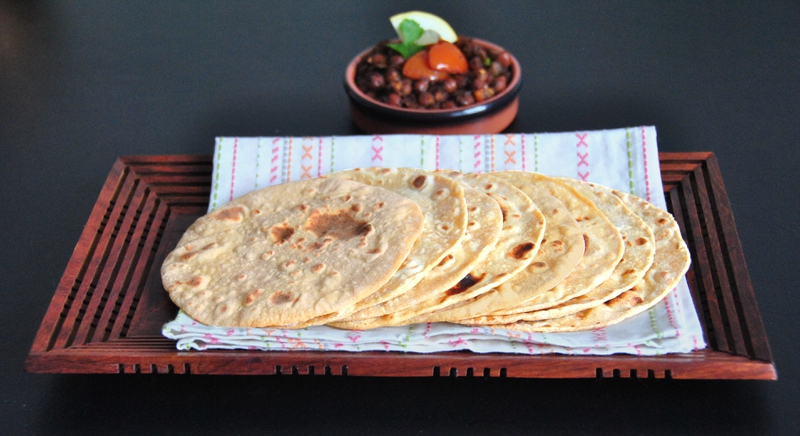 Chapati Nutrition and Calories Chart
The following chart shows the chapati calories content in traditional bread.
| | | |
| --- | --- | --- |
| Chapati Nutrition Chart (Per serving) | | |
| Calories in chapati 68 (calories from fat 6) | | |
| Type | Amount | Daily Value* (%) |
| Sodium | 55mg | 2% |
| Cholesterol | 1mg | 0% |
| Total Fat | 0.62g | 1% |
| Total Carbohydrate | 13g | 4% |
| Potassium | 29mg | -- |
| Protein | 2.34g | -- |
Calorie Content Comparison of Different Types of Chapati
Since we have known the calories in traditional chapati, now let's find out the calories in other types of chapatti:
| | |
| --- | --- |
| Type of Chapati | Calories per Piece |
| Chapati with ghee | 147 |
| Missi roti/chapati | 125 |
| Tandoori roti/chapati | 102-120 |
| Tandoori roti/chapati with ghee | 147 |
| Roomali roti/chapati | 200 |
| Roomali roti/chapati with ghee | 245 |
| Jawar roti/chapati | 104 |
| Bajra roti/chapati | 108 |
Nutrition Facts Comparison Between Chapati and Rice
1
Fiber
Among all chapati nutritions, fiber is a great part. There is 3.3g fiber in every serving of chapati. That takes up about 13% of the 25g of woman's daily fiber intake and 9% of the 38g of man's daily fiber intake. In contrast, a cup of rice only has less than 1g fiber.
2
Vitamin
There are two great vitamins in chapatti: folate, a kind of vitamin B that is essential in forming DNA and maintaining healthy eyes, skin, hair and liver; and niacin, benefiting your digestive system, skin and nerve. One cup white rice has 180mg folate and 3.4mg niacin, while per serving chapati supplies 41mg folate and 14 mg niacin. Just for your reference, a health adult need 400mg folate per day; as for niacin, woman needs 14mg per day and man needs 16 mg per day.
3
Mineral
Woman needs 18mg and man needs 8mg iron daily to aid in normal red blood cell production. Per serving of chapati contains 2mg iron while a cup of rice has about 2.77g.
There is 278mg sodium in every serving of chapati and rice doesn't have any sodium. Sodium aid in controlling blood volume and blood pressure and help to maintain muscle and nerves to work properly. But people with high blood pressure, heart congestion, and liver and kidney issues should limit sodium intake.
A Great Chapati Recipe You Should Try
1
Serving: 10 Total Time: 30 minutes Calories in chapati: 110
Ingredient
1 cup whole wheat flour

1 cup all-purpose flour

1 teaspoon salt

2 tablespoons olive oil

¾ cup hot water
2
Direction
Find a really large bowl, add both types of flour and salt to it and stir in the olive oil and water to create dough.

Knead the dough until smooth, divide into 10 parts and roll into a ball.

For the cooking portion, heat a skillet with light grease. Use a rolling pin (coated in flour to keep from sticking) to flatten the dough, like a tortilla.

As the skillet smokes, add the chapatti dough.

Cook until the underside has some brown spots and then flip and wait for the same on the other side.

Continue with the 9 remaining flat pieces of dough. When finished, just take off, eat and enjoy!
Watch the video to know how to make chapatti step by step:
ANY IDEAS ABOUT THIS TOPIC?