Previously known as the Hershey Foods Company, the Hershey Company is the largest manufacturer of chocolate in North America. The company is headquartered in Hershey, Pennsylvania and was established in 1894 by Milton S. Hershey. Products made by Hershey are sold in over 60 countries and among them there is candy cane kisses. Hershey Kisses candy cane is a minty candy with stripes and candy bits. While many people love it, some often wonder about candy cane Hershey Kisses nutrition.
If you have a sweet tooth, keeping away from this delicacy can prove to be a tall order. The good news is you need not do away with the candy completely. You can actually incorporate it into a healthy diet.
Candy Cane Hershey Kisses Nutrition
You would expect a serving of candy cane Hershey Kisses nutrition to contain a large amount of calories. The typical amounts of calories in candy range from 250 to 280 per serving. However, it depends on the type of candy you pick.
Let's have a look at Hershey Kisses candy cane calories and more nutrition facts:
| | |
| --- | --- |
| Nutrition | Amount in 9 Pieces |
| Calories | 220 |
| Total Fat | 12g |
| Cholesterol | 5mg |
| Sodium | 55mg |
| Carbohydrates | 26g |
| Protein | 3g |
Love Kisses Candy Cane? Use It in Your Cookies!
If you love candy cane Hershey Kisses but are worried about their impact on your weight, you can use them creatively in a delicious recipe that will greatly include the candy cane Hershey Kisses nutrition and taste. This will also reduce Hershey's candy cane kisses calories.
| | |
| --- | --- |
| Ingredients | Amount |
| Hershey's Kisses candy cane | 48 |
| Softened butter or margarine | 1/2 cup (1 stick) |
| Granulated sugar | 1 cup |
| Vanilla extract | 1 1/2 teaspoons |
| All-purpose flour | 2 cups |
| Baking soda | 1/4 teaspoon |
| Salt | 1/4 teaspoon |
| Milk | 2 tablespoons |
| Egg | 1 |
| Granulated sugar, green or red sugar crystals or powdered sugar (for rolling) | 1/3 cup |
Ÿ Directions
Remove the wrappers from the candies and set them aside. Heat your oven to 350°F.

In a large bowl, beat some butter, egg, vanilla and granulated sugar until it is well blended. Add some flour, salt and baking soda to the mixture. Add these with milk and butter alternatively as you beat the mixture.

Once the dough is ready, shape it into small balls – about 1 inch. Roll them in sugar then place them on an ungreased cookie sheet.

Bake the balls for about 10 minutes, making sure they are slightly browned. Remove them from the oven and let them cool for about 3 minutes. Press the candy pieces into the center of each cookie, and then let them to cool completely.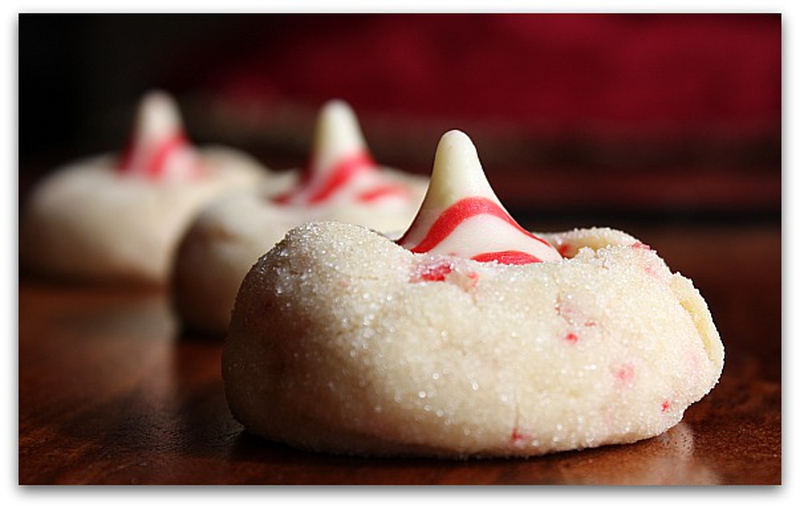 ANY IDEAS ABOUT THIS TOPIC?