Bulb onions can be red, white or yellow. Red onions make up only 8% of the onion crop. Red onions feature a deep purple outer skin and reddish flesh and are mostly used in salsas, salads and other raw dishes. They give these dishes a splash of color and a mild onion flavor. Red onions are much healthier than other types of onion. If you're worried about the health implications of eating red onions, here is nutritional breakdown including the calories in red onion.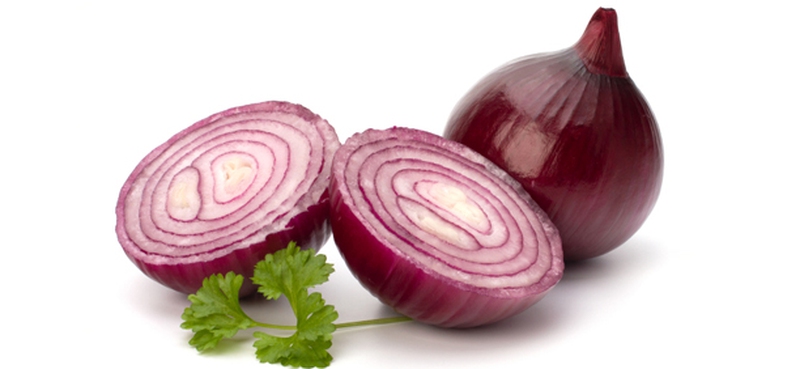 Calories in Red Onion
Calories
Like all other vegetables, red onions contain very few calories. The table below gives a breakdown of the number of calories in red onion based on the serving size.
| | |
| --- | --- |
| Serving Size | Calories |
| 1 thin slice | 4 |
| 1 oz, raw, yields | 11 |
| 1 large slice (1/4" thick) | 16 |
| 1 small | 29 |
| 1 medium | 46 |
| 1 large | 63 |
| 1 cup chopped | 67 |
| 1 medium slice (1/8" thick) | 6 |
| 1 10 ring servings | 25 |
| 100g | 42 |
| 1 cup sliced | 48 |
Other Nutrition
Apart from red onion calories, the vegetable has other nutrition as listed below.
Nutrition Sheets of Red Onion

Nutrition

Amount Per 1 Medium (110g)

Protein

1.06g

Carb

11.63g

Fat

0.09g

Potassium

166g

Sodium

3mg
Benefits of Red Onion
Red onions are very similar to white onions. Both have a low glycemic index with a rating of 10. Both provide 10% of the daily vitamin C value and a similar amount of calcium. Red onions also contain fiber and sulfur and have other beneficial nutrients.
Antioxidant Properties
Red onions contain antioxidant compounds. They have a higher amount than all other types of onions. They contain between 415 to 1917 mg of flavonoids. One of the key components of red onions is quercetin which helps destroy free radicals in the body.
Cancer Fighting
Due to the high amount of antioxidants, red onions are an excellent protection against cancer. The allicin and quercetin in red onions reduce inflammation and help treat cancer. It helps reduce the chances of colorectal, laryngeal, esophageal, ovarian and stomach cancer.
Blood Thinning
Red onions are natural bold thinners as they are rich in sulfur compounds and flavonoids.
Low Calories and Easy Red Onion Recipe
If you want to make a mouthwatering meal while keeping the calories in red onion dish low, check out the recipe below.
Calories: 102 per serving Total Time: 15 minutes Yield: 4 servings
| | |
| --- | --- |
| Ingredients | Amount |
| Red onions | 4 |
| Olive oil | 4 teaspoons |
| Salt & freshly ground pepper | To taste |
Ÿ Directions
Preheat the grill.

Peel the onions and them up into quarters.

Toss the onions with oil.

Grill until they're well-browned and tender with the cut side facing down.

Season with pepper and salt.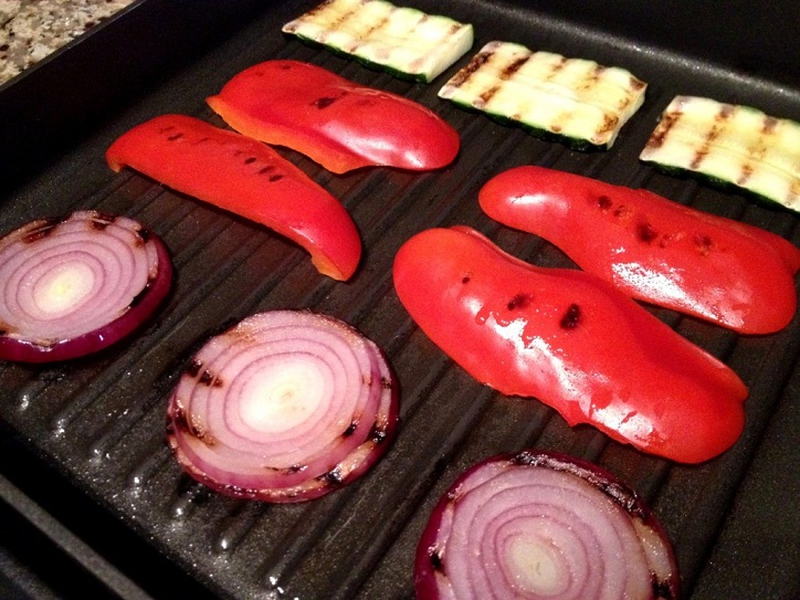 ANY IDEAS ABOUT THIS TOPIC?