Did it ever happen to you that you receive a stylish envelope with embossed and fancy printing of calligraphic text inviting you for a wedding or any event; you plan at the moment how you will get dressed, what accessories you will carry but then suddenly you see the dress code that's hard to understand. Did you felt your heart falling? Did all those plans disappear from your mind? If yes, you are not the only one facing the situation, there are hundreds like you out there. But now, we have gathered a solution for you in this article which will definitely help you to handle the dress code.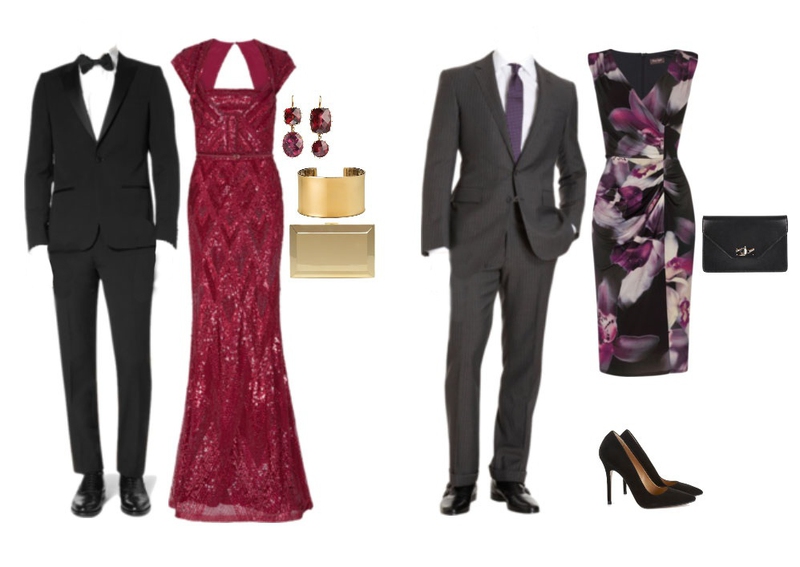 What Does Black Tie Optional Mean?
It is followed usually in large business and formal gatherings, including business dinners and can replace the typical business dressing. If your invitation specifies that, it means the guests have the choice to wear the clothes described in the invitation, like a tuxedos or personalize them a bit according to their choice/preferences. But this simply does not mean that they can wear anything of their choice, it is still necessary to wear proper suit (black or dark midnight blue) and not any sport jacket or a funky T-shirt.
A very famous fashion writer, Mr. Russell Smith stated in one of his writings that this dress code is frequently used by hosts who are insecure. He explained that if a host mentions this dress code in an invitation, then they might try to respect guests who may refuse or don't like to attend events with such elitist and selective dressing. One more reason not to write "black tie only" is the feeling that some guests might do not own a dinner jacket or cannot afford one. This hesitant nature of host makes the guest have no idea what they should wear to blend into this gathering.
Mr. Smith further suggested the hosts to avoid adding these elements in your invitations. He said that if anyone can afford a black suit he'll not in any way say no to black tie party.
How to Dress
1
Man
Guests usually get confused by reading the code "black tie optional", so the first thing should be doing is to directly ask the organizers what they expect their guests to wear. If that doesn't work, then you may follow the tips below:
If a guest personally likes wearing tuxedo, then he should ignore the term "optional" right away and don't hesitate to wear it.

A guest can also opt for a dark colored suit with dress shirt and a conventional tie along with combinational dress shoes, if he is afraid of being recognized as a wait staff.

In case you are tired of this guesting game, then simply avoid the event.
2
Women
Women can opt from multiple options when they have to dress up for this type of event.
The best option is to wear a long evening gown of floor length. It could be the most formal option and will go best with a man wearing tuxedos.

Other options could be a nice and knee length cocktail dress or well-stitched dressy separates. No matter what style you choose, you should go for colors, like navy blue, black and other bold colors such as emerald and magenta.
3
Great Accessories
Only a dress is not enough for a great look but accessories along with it make you look better. Here are some suggestions for you.
For Men: Leather shoes of dark shade, along with a pair of socks of dark combination. A matching leather belt can enhance the look as well.

For Women: There are thousands of options for women to highlight their looks by adding appropriate accessories that goes perfectly with their dress. They can add jewelry like beautiful pearl necklace, diamond bracelets, pendants, ear-rings, etc. Heels like stilettoes, open-toes, high heel pumps or wedges are great options.
Other Dress Code You Should Bear in Mind
Since we have known black tie optional, men and women, means, here are other dress codes that may help you out when facing an invitation and wanting to know what you should wear.
| | | |
| --- | --- | --- |
| Dress code | For Men | For Ladies |
| White Tie | Tuxedos with black long jacket with a tail, black trousers, collared shirt with cufflinks, studs, white vest and a bow tie. Leather shoes (black) and gloves. | Evening gown of floor length with appropriate and modern jewelry and shoes. |
| Black Tie | Tuxedo with a bow tie and a vest, black lace-up leather shoes, studs (optional). | Evening gown (floor length) or a knee length nice dress separates like a nice skirt and a blouse. |
| Semi-Formal | Dress suit with a tie, or formal pants with shirt and jacket on top and leather shoes. | A cocktail dress (preferably knee length) or a short dress or simple skirt with a classy top. |
| Creative Black Tie | Tuxedo with modern items like charming black shirt with a bow tie (preferably patterned) and a cummerbund. | Formal dressing but not necessarily a gown, it can be a knee length dress, separators such as satin ball-gown skirt and cashmere blouse, or a formal top with a tuxedo pants. Accessories you carry should be fun and not so formal. |
| Cocktail Attire | Jacket with trousers, no need of a tie. You can include more colors and designs in your dressing. | Knee length dress or separators like dress pants or a skirt with simple but stylish top. |
| Business Casual | Dress pants (preferably black and grey) or khakis, Collar or decent polo shirt. Shoes with a pair of socks of same color as your pants. A coat or a blazer is optional. | Dress pants or a decent dress with casual shirt and blouse. |
ANY IDEAS ABOUT THIS TOPIC?