So you want to get inked, or for some of you tattooed mamas, MORE inked! Now it's time to decide on the perfect tattoo design. It's going to be there forever (wherever you decide "there" is going to be), so you better love it. Trust me, I have a few little tattoos myself that may or may not have been decided upon under the best of circumstances.
So, of course, before you get anything inked onto your skin, make sure you pick a tattoo artist with some experience and talent. Don't be afraid to ask to see their portfolio and shop around. Because, um, FOREVER!!!
There are lots of cool ways to personalize a tattoo and make it meaningful for life. And the quality and color of ink today is out of this world if you pick a great artist to do the work.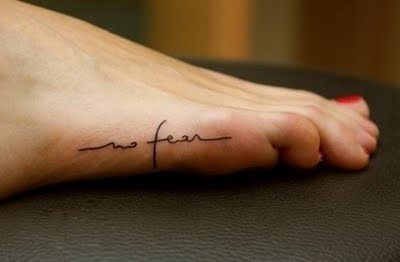 Part 1
1
Kids names.
This mom's wrist tattoo incorporates her kids' names into a pretty infinity symbol. Delicate, meaningful, beautiful!
2
Kids' initials.
You can also celebrate your kids or family with their initials. This tattoo has four initials around a lovely rose.
3
Kids' footprints.
Put those hospital footprints to good use! This mom has footprint images for both her kids and their names and birthdates. So sweet.
4
Someone you love.
What better way to express love and admiration for your favorite person than with a tattoo of their name. It'll make you smile every day.
5
Something subtle.
This butterfly tattoo is so small but absolutely gorgeous!
6
Something bold.
Sleeve tattoos or a back tattoo this lovely and detailed take some time and planning, but the outcome can be a jaw-dropping piece of body art.
7
Something secret.
Go ahead. Get a secret tattoo that shows off your wild side. Only that someone special needs to know.
8
Something nostalgic.
All of us have memories we hold dear and they can inspire lots of different tattoo ideas. Here we have a simple "Home." Awww.
9
Something symbolic.
Perhaps you've made it over a huge hurdle in life, made an important change, or are simply proud of the "free bird" that you have always been.
10
Something sacred.
Spiritual women can find great comfort in a tattoo that celebrates their faith. This cross is simple and in a perfect place to provide a daily reminder of a spiritual presence.
ANY IDEAS ABOUT THIS TOPIC?