Among the season's releases, to find unique picks packed with fresh, simple recipes that work every time.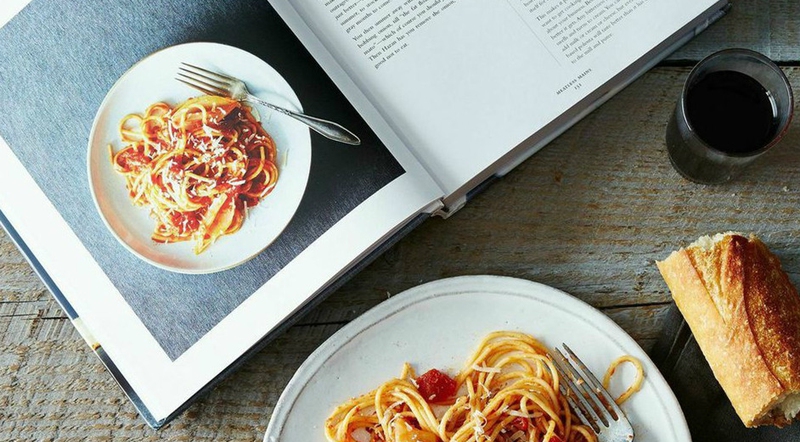 Part 1
1
Breakfast: Recipes to Wake Up For, by George Weld and Evan Hanczor
From the Brooklyn-based restaurant Egg—which serves breakfast food all day long—this compendium of delicious, simple Southern classics will convince even the most morning adverse to eat real food instead of reaching for a processed snack bar. Methods for cooking perfect eggs (and expert tips, like how to avoid browning them) are paired with appealing recipes like Spring vegetable hash browns, Broiled tomatoes, Lemon cornmeal cake, and more.
To buy: $25.30, amazon.com.
2
Root to Leaf: A Southern Chef Cooks Through the Seasons, by Steven Satterfield
Breathtaking photographs of fruits and vegetables fill this thick hardcover volume, a visual treasure that's too useful to relegate to the coffee table. Satterfield's appreciation of produce shines through in the careful way he describes proper storage and preparation techniques, and his tenderness towards ingredients is contagious. Many of his recipes are fairly minimalist, but still contain an unusual twist—like Shrimp and fava beans in fruity white wine, Sautéed cucumbers with dill, and Whiskeyed peach shortcakes.
To buy: $45, amazon.com.
3
A Bird in the Hand: Chicken Recipes for Every Day and Every Mood, by Diana Henry
This indispensable guide contains one hundred and twenty family-friendly ways to cook a bird. Home cooks will be charmed by the new takes on classics and globally inspired recipes that all stem from Henry's philosophy that making chicken is easy—and there's no reason to over-complicate it. Short conversational chapters on braising, roasting, sauteéing, and quick-cooking (for those times you're so ravenous you're tempted to just eat a bag of potato chips instead) are informative and delightfully humorous.
To buy: $30, amazon.com.
4
The Picnic: Recipes and Inspiration from Basket to Blanket, by Marnie Hanel, Andrea Slonecker, and Jen Stevenson
No aspect of dining al fresco goes overlooked in this collection of tips and recipes. Some highlights include packing checklists, food transportation tricks, twelve variations on deviled eggs, ninety-nine uses for mason jars, and a rosé wine tasting glossary—complete with beautiful illustrations.
To buy: $20, amazon.com.
5
The Summer Table, by Lisa Lemke
Food cooked from the heart and enjoyed with beloved friends: these are the foundations of a good dinner party, according to Lemke. Here, she helps you tackle the details—like how to calculate food quantities—and offers eleven fun, inspiring menus including a Father's Day barbecue, Lazy days at the beach buffet, and Chic cocktail party in the city.
To buy: $25, bn.com.
6
Back in the Day Bakery Made with Love: More than 100 Recipes and Make-It-Yourself Projects to Create and Share, by Cheryl Day and Griffith Day
The husband-and-wife owners of a popular Georgia-based bakery share their insider secrets to creating sugar-fueled smiles. In addition to inspiring tutorials on topics like making tiered celebration cakes, this handbook also includes tasty and dependable recipes that would be great any day of the week. Some of our favorites included a Double-chocolate mint chess pie, a Lemon buttermilk fudge, and Pimento cheese crackers.
To buy: $25, amazon.com.
7
Simply Ancient Grains, by Maria Speck
Here: the ultimate grain decoder. Not only does this impressive book include an "A to Z" list with information on history, texture, flavor and nutrition, but also an arsenal of make-ahead, speedy satisfying meals that pack in protein. Bonus: over half of the recipes are gluten-free.
To buy: $28, amazon.com.
ANY IDEAS ABOUT THIS TOPIC?