Among the most popular bathroom sink options are vessel sinks. They are set on a countertop or vanity. The faucets are separate from the sink and mounted through the countertop or to the wall above the sink. Any exposed plumbing is likely to be decorative.
The water flows from the faucet into the vessel. Some faucets create a waterfall effect. There are unlimited options for sink materials and the shapes. Instead of a white sink, you can have an art piece made of materials like pottery, stone, glass, or even wood. You can have art in the bathroom for a reasonable price.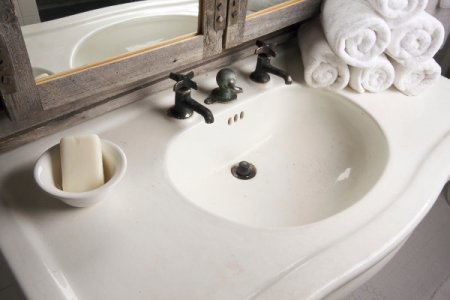 Part 1
1
Stone
A stone sink can be made in any conceivable shape from a simple bowl to a flat rectangle with a groove around the edge. Common stones used for sinks are granite, marble, travertine, limestone, and onyx. The most fanciful of the stone sinks are made from precious stones like jasper, turquoise, and amber. They often come in a natural free-form style.
2
Copper
The moldability of copper allows it to be formed into endless shapes and forms. The finishes can be clear to keep the bright copper shine or a darker patina to give it an aged look. The surface can be embossed or hammered, offering even more decorative options.
3
Glass
Many glass sinks come in a simple bowl shape with an incredible range of colors and finishes. You can also get rounded squares, ovals, and even free-form art glass.
4
Wood
Wood sinks are hand crafted from hardwoods. They are sanded, smooth, and finished with a water proof varnish. Typical woods for sinks are teak, oak, and rosewood. There is a variety of styles from which to choose.
5
Porcelain
Porcelain is one of the most affordable options for a vessel sink. Although porcelain is a traditional material for sinks, the vessel sinks come in hundreds of shapes. Most are white or black. The most decorative are decorated like fine china, or they are glazed to resemble artisan pottery.
6
Factors to Consider
When choosing a vessel sink, there are several things to consider. What kind of upkeep are you willing to do? Glass sinks are beautiful, but they are easily smudge and may show water marks. They might be a good option for a sink that is not used often, such as a guest bathroom. Even though stone sinks are durable, you must be careful not to use chemicals that will harm the surface. The manufacturer will normally give you cleaning instructions if that is the case. Porcelain sinks are the easiest to maintain.
7
Another consideration is the space that you have. Vessel sinks take up more room that an inset sink. Be sure that you have enough clearance for the bowl and the faucets.
ANY IDEAS ABOUT THIS TOPIC?