There was a push for more diversity on the runway by the Council of Fashion Designers of America but did it deliver? Designers and celebrities worked to make the fashion's takeover of the city mean more than pretty clothes. Tastemakers used their talents to bring awareness to causes that affected everyone on or off the runway.
New York Fashion Week has the reputation for being a shallow, exclusive affair. While it still attracts the elite, the definition of the insider crowd has evolved. When a star walks the runway, it does more than sell clothes. When a new supermodel is crowned, she may not look like what you expect. While the industry will always love the beautiful people, they just might be talking about what's inside, not just the outside.
So how did New York Fashion Week make beauty further than skin deep?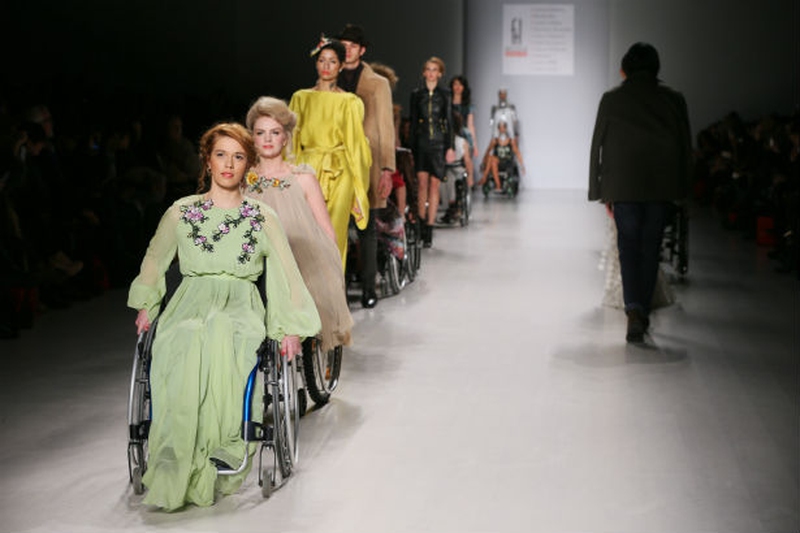 Part 1
1
Desigual's star model
One of my favorite fashion shows to shoot each season is the Desigual runway. The Spanish brand's signature esthetic involves lots of colors and patterns. They embrace the customer who is atypical and unique. The model they hired to represent that ethic was Toronto native Chantelle Brown-Young. She has a skin condition called vitiligo which causes skin pigment to disappear. She was mocked for her appearance as a child but now has the last laugh from the end of the runway. You might have watched her compete on America's Next Top Model after being scouted by Tyra Banks personally. For years, it was difficult enough to find models of color cast in major designer fashion shows. While progress is still slow, how great is it to see a model that represents multiple colors?
2
Go Red for Women
The American Heart Association's Red Dress Collection hosts one of the most popular fashion shows each season. The event for Heart Truth opened with Rosie O'Donnell making us laugh while her personal experience having a heart attack moved us emotionally. She stressed the importance of knowing the symptoms of a heart attack for women, which are noticeably different than men.
The models that walked the runway included celebrities of all ages, cultures, and shapes. Each woman shared how she was personally affected by heart health. Models included everyone from "I Dream of Jeannie" Barbara Eden to Donna Mills. YouTube star Bethany Mota, fitness guru Tracy Anderson, divas Thalia and Ciara graced the catwalk. "Orange is the New Black" stars Dascha Polanco vamped it up and her co-star, transgender actress Laverne Cox, gave the best twirl of the night. The fashion industry's top designers collaborated to outfit each star in a gorgeous red dress. Fans attended in their own red frocks in support.
3
Thrive Causemetics
I encountered beauty makeup artist and founder Karissa Bodnar backstage at the Charlotte Ronson fashion show. Thrive Causemetics provided the lashes for the models. Karissa conceived the premium cosmetics brand after losing her friend to cancer. She developed her luxury false eyelashes so that for each pair purchased, a pair would be donated to someone being treated for cancer that had lost her lashes through her collaboration with the Look Good Feel Better organization. Each style in her collection was named after someone affected by cancer.
4
Naomi Campbell's Fashion for Relief
The supermodel gathered her top designer and celebrity friends to host a fashion event to raise funds for the Ebola Survival Fund. The organization works with community-based groups in Liberia and Sierra Leone to help those affected by Ebola. Singer Mary J. Blige, Paris Hilton, Michelle Rodriguez and a group of other celebrities were cheered on by their most passionate fans. Naomi Campbell established Fashion For Relief back in 2005 to inspire the fashion industry to produce events in cities around the world to support timely causes in need.
5
FTL Moda's diversity casting
The Italian manufacturing promoter worked with Models of Diversity, a London agency that works with physically challenged models to work the finale of their Mercedes-Benz Fashion Week show. The runway presentation included a range of designers for handbags, evening wear to the avant-garde. Gorgeous models with prosthetics, amputee or wheelchair models drew cheers from the photographer's pit and audience as they displayed the fashion beautifully. I am happy to say this has not been the only fashion show featuring models overcoming physical challenges. Over the past year, I have seen shows around the world featuring models such as this in what I hope is not just a trend.
ANY IDEAS ABOUT THIS TOPIC?